Chancellor, students greet former vice president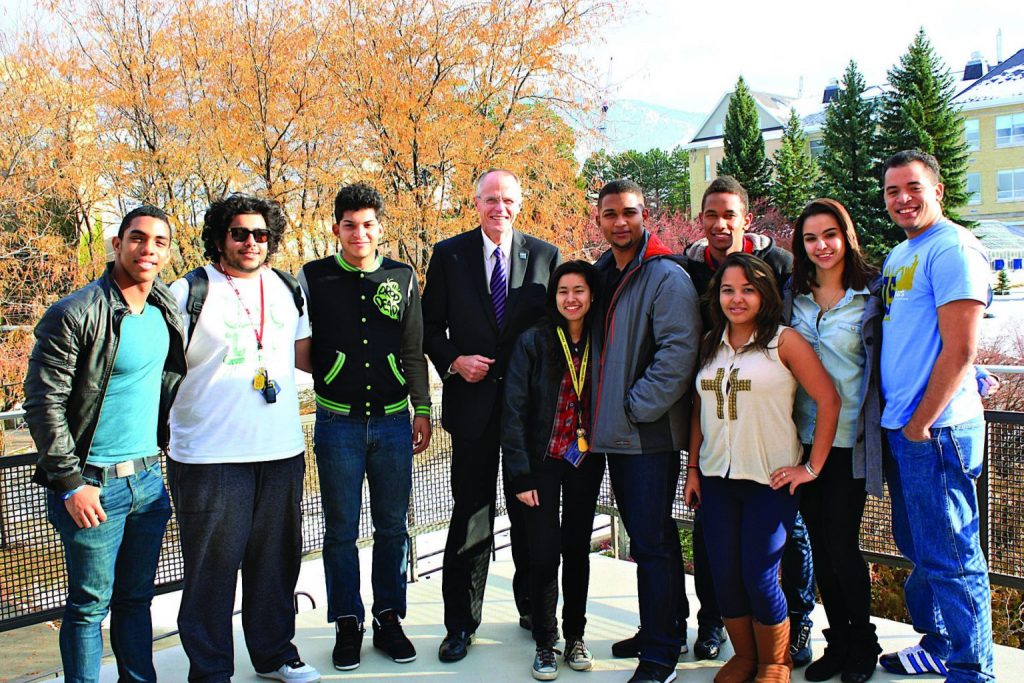 Utah State University Eastern Chancellor Joe Peterson joined 13 of his students from the Dominican Republic to welcome the former vice president of the D.R., Rafael Alburquerque De Castro, to the USU campus on Nov. 15.
The USU Eastern D.R. students were, in turn, welcomed by 96 of their peers who are studying on the Logan campus. They were all part of USU's International Education Week, Nov. 11-15.
Alburquerque told the students that his country, the second largest island in the Caribbean, needs to continue to expand and improve scholarship programs for its young people. He told them that their scholarships from the D.R. to attend USU is proof of his country's ongoing commitment to higher education.
The commitment to partner with USU in this endeavor is also demonstrated by the fact that the minister of higher education in science and technology, Ligia Amada Melo de Cardona, will be on the USU campus Nov. 25 for a signing ceremony. The event will commemorate the renewal agreement between USU and the D.R.
Alburquerque's visit and the upcoming signing ceremony attests to the growing bond between his country and the university dating back to 2000. It was then that USU and the Dominican Republic Ministry of Education arranged for 36 full-time students from the D.R., both undergraduate and graduate, to study in Logan as part of a presidential higher education scholarship program.
Since that time, USU has gone on to house and educate more than 336 full-time students, including 240 undergraduates and 96 graduates, said Shelly Hernandez, program coordinator with the Office of Global Engagement and International Scholarships and Programs.
USU is the only university in Utah and only one of six in the United States participating in this unique joint educational venture with the Dominican Republic. D.R. students who attend USU must first qualify as superior students in their country's presidential higher education scholarship program in order to participate. The intent of the millions of dollars the Dominican government invests in this scholarship program is to ensure that it has a highly skilled and educated workforce to meet the demands of its growing economy. Special emphasis is placed on science and technology, Hernandez said.
To date, 215 D.R. students have earned degrees at USU in engineering, business, language teaching, landscape architecture and biology. Of this number, 52 students have earned both undergraduate and graduate degrees, with 91 receiving only undergraduate degrees and 72 solely earning graduate degrees.