The Real Inspector Hound opens at USU Eastern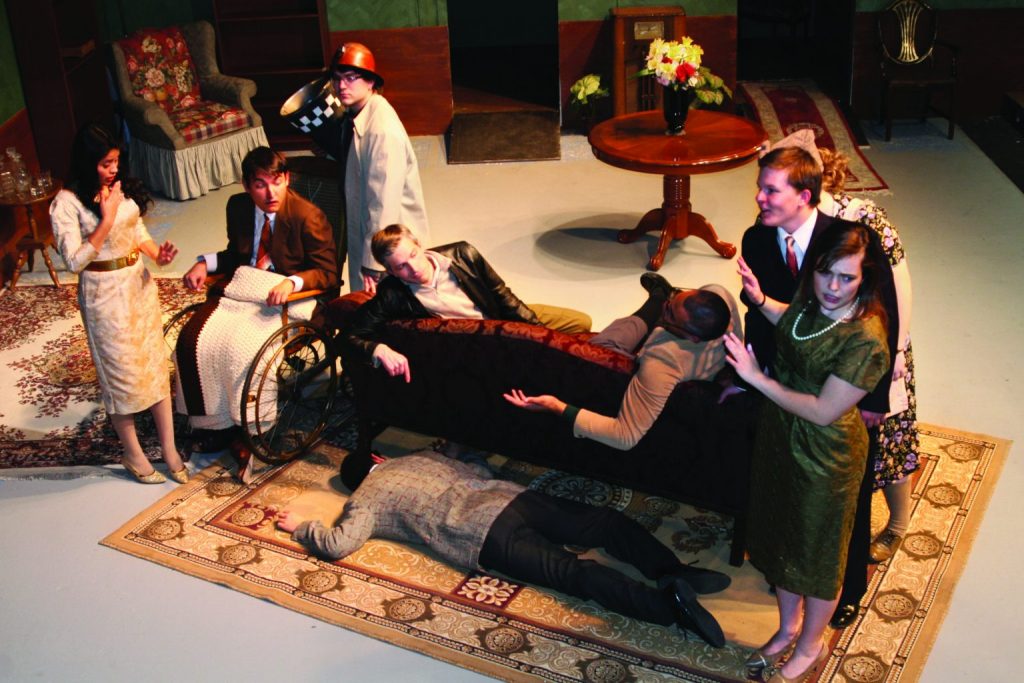 This archived article was written by:
This is not your stereotypical parlor mystery. Be prepared for affairs, murders and a play within a play as The Real Inspector Hound, a farce written by Tom Stoppard, opens at USU Eastern's Geary Theater Nov. 14-16, 21-23.
The Real Inspector Hound begins with two theatre critics reviewing a production and find a body on an empty stage. Though the critics don't want to play a part in the action, they may find that they have no choice and the whodunnit begins.
The one-act play features veteran USU Eastern actor Braden Nelsen playing the critic Birdboot and McKylin Rowe plays Moon. Unavailable critic Higgs is played by Julian Fowler and the cast within a cast includes: Austin Giles as Simon Gascoyne, Josh Bone as Magnus Muldoon, Lesly Gaona as Cynthia, Josie Slade as Mrs. Drudge, Jennifer Thomas as Felicity and Josh Zelasko as Inspector Hound.
The cast thoroughly enjoys the chance to act in this production. "This play is extremely entertaining and very fun to watch. If you enjoy things that keep you on the edge of your seat, this show is for you," Fowler said.
"Because it's a production like nothing I've ever seen," Giles said, "The cast, director, stage manager and stage crew have really put in the effort to create a truly magnificent play that's filled with suspense, laughter and mystery." In a short amount of time, the play has come together quickly.
"It is an amazing production and everyone will find things about it to enjoy," Thomas added.
"The play is a wonderful comedy that all people could and will benefit from," Slade commented. "So much hard work is put into it and it should be appreciated."
Corey Ewan, Ph.D, directs the play with Annie Zelasko as stage manager, Libby Peteseit as assistant stage manager and Brett Innes is the set designer. This clever parody farce will intrigue any audience that attends, Ewan said.
This production is presented in a more intimate setting so patrons will want to get to the theatre early to get a seat for what the New York Times referred to as, "zanily, crazily funny," and the New York Post wrote, "comedy satire of delightful quality." Mark your calendars!