College: with or without a car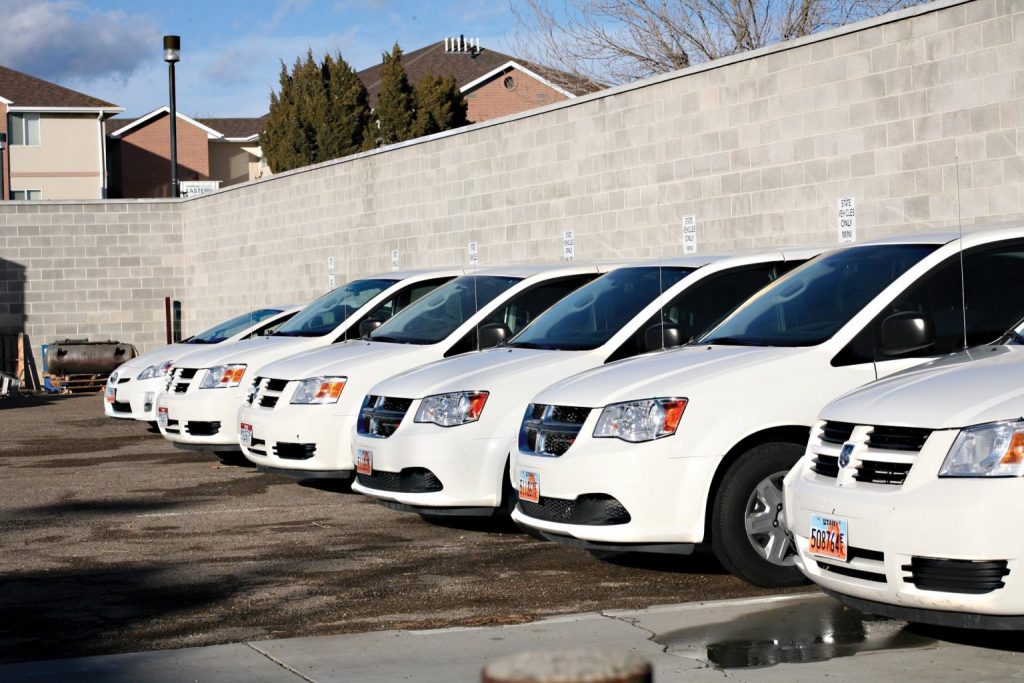 This archived article was written by: Bonnie Blackburn
Transportation: it has changed over the years and there is a plethora of ways to get around, from trains to cars, bikes to walking. The need to move from place to place applies to college as well. How do students get around at USU Eastern? Does having a car at college make a difference?
First, the perks of having a car: You get to drive to Walmart or McDonalds whenever you please. Harley Earl said "Even if I don't use it a whole ton, I like knowing I can leave whenever."
Cars have a certain freedom attached to them, but along with that comes responsibility. Car owners have to worry about gas and maintenance. What about those who don't have a car at college? How do they get around? Marissa Urie says she depends on her roommates and she always goes shopping when her mom comes up to visit her. The James twins from Alaska have walked to the grocery store a time or two. They say they get a ride when they can, but are comfortable walking places.
Even though the USU Eastern campus is smaller than other universities campus', students still need to get from place to place. Some walk, others bike or longboard and the distance is even covered by scooter.
At USU Eastern, many students attend from the community or commute from neighboring towns. Their cars line the roads by the Western Instructional Building and the Reeves building during class hours. Conveniently, if you have a car, parking is hardly a problem here.
Parking on campus is free for everyone. If you have a car and live on campus, you should talk to Sharon Jones in Student Services on the second floor of the Jennifer Levitt Student Center about getting a parking decal for your car. It is a sticker that goes on your car and identifies you as a USU Eastern student. It is also free and only requires you to give information about your vehicle. They are not a requirement, but are highly recommended and are there for informational purposes. For example if it snowed and a plow couldn't get past a car, if they had a decal displayed, the housing office could look up who owns the car and ask them to move it. Another case would be if there was a hit and run, car owners could be contacted. Although you won't get towed if you don't have a car decal, having one would be a good idea.
USU Eastern also has its own motor pool, with mini vans, cars and buses. Robyn Sherriff is at the head of this asset to USU Eastern. The motor pool is there for, and is used by, campus faculty and students. The groups that use it the most are: the athletic department, which travels to games all over Utah and out of state. The recruitment office also uses the motor pool when they visit high schools, host open houses and attend college days. They do this to help bring more students to USU Eastern.
The student government and the clubs on campus also have access to the motor pool. Faculty from USU Logan who are down here use our vehicles as well as Upward Bound and Gear-Up, which are both grant based programs that help young adults choose to go to college. The motor pool houses golf carts for campus use. They are used for maintenance as well as for student leader groups when needed.
The last form of transportation I ought to mention is the train. The Amtrak Train which travels nonstop, all across the country makes a stop in Helper, Utah, only eight miles from Price. I have ridden the train to Salt Lake more than once and it has been a good experience. You can find information about the train at amtrak.com. To travel from Helper to Salt Lake City costs twenty-five dollars and it is about a three hour trip.
Drivers should be safe and responsible as they travel around. Pedestrians, make sure to be safe when crossing the street, especially from the Student Center to the WIB and between the Reeves field and the Institute. Students have been hit by cars in both of those areas of campus.