Eagles shoot their way to third in SWAC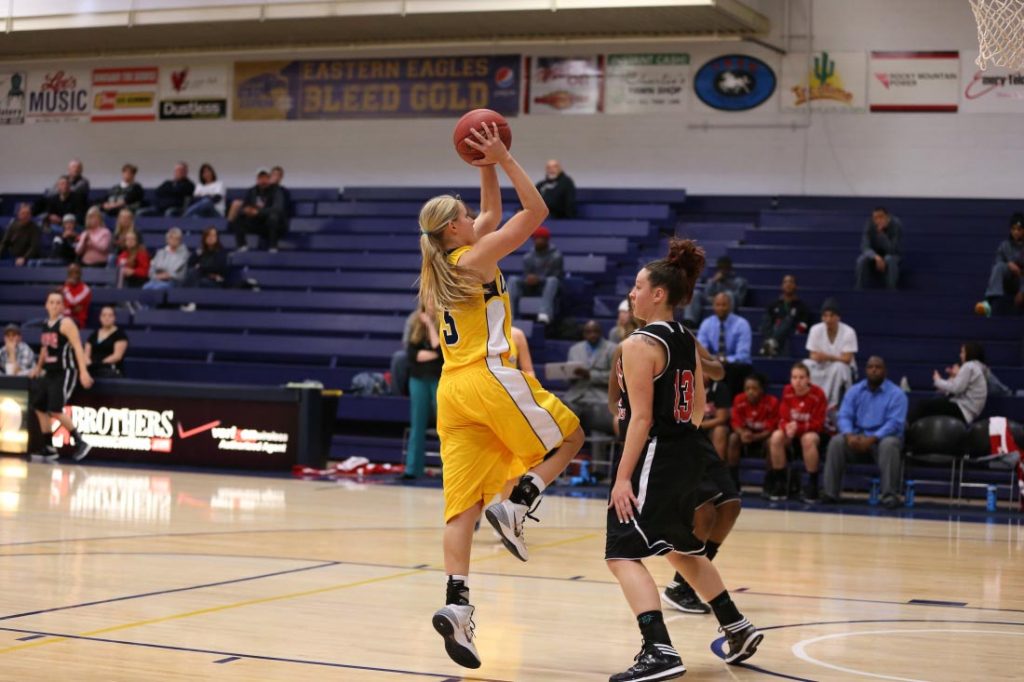 This archived article was written by: Jordan Weihing
The USU Eastern Lady Eagles overall record this season is 9-9 going 3-2 in Conference. Lately the Lady Eagles have been tearing it up winning seven of their last 10 games.
On Dec. 6, Eastern dominated the floor beating the Valley All-Stars 84-67. Bryanna Adams was the high scorer with 18 points. Eastern played some amazing defense causing the All-Stars to commit 42 turnovers.
The next day, Dec. 7, Eastern went on a scoring frenzy beating the Salt Lake All-Stars 111-63. Eastern shared the ball beautifully; six Lady Eagles scored 10 points or more. Controlling the boards helped Eastern receive second chance opportunities and go on a rampage.
On Dec. 12, Eastern continued the winning streak beating North Idaho College 88-80 in overtime. Jamie Smith, former player for Riverton High School, led the team to victory with 16 points and dishing out seven assists to her teammates. Lejla Hadzialijagic controlled the boards with 10 rebounds and blocked six shots. Overall Eastern shot 40 percent from the field and 76 percent from the free throw line.
On Dec. 14, Eastern's three game winning streak was brought to a halt, losing to the College of Southern Idaho, 77-73. Adams led Eastern in scoring with 16 points and Isabella Costa achieved the elusive double-double with 12 rebounds and 10 points. Despite their efforts CSI hit some key shots to take the victory.
On Jan. 4, the Lady Eagles destroyed Colorado Northwestern Community College 90-53. Eastern shot the lights out hitting 11, 3-pointers and hitting 64 percent from the charity stripe. Their defense was just as impressive with 18 steals and 28 total turnovers. Adams lead the team in scoring again with 16. Costa was just one rebound shy of a double-double with 9 rebounds adding 14 points.
In their most recent game the Golden Eagles went up against their rivals Snow College on Jan. 9. The Eagles caused Snow to commit 36 turnovers which allowed Eastern to score 31 points off of turnovers. Their defense gave a big boost and helped them defeat Snow 71- 63.
Next up on the Eagles schedule is College of Southern Idaho on Jan. 16, where the Eagles will be looking for revenge for their close loss in their prior meeting with CSI. After that game on Jan. 18, USU Eastern will face off against North Idaho College in Coeur d'Alene, Idaho.
The Lady Eagles will finish their road stand against Colorado Northwestern Community College on Jan. 25.
Luckily after finishing five straight away games the Lady Eagles will return home to host SLCC on Jan 30. After facing the Bruins they will stay at home to play against Snow College on Feb. 1st.
Some exciting games lie ahead. "We have a tough weekend because of the length of travel. We need to refocus and take more shots, and get offensive rebounds," said head coach Dave Paur.
The lady Eagles have caught fire. They have shown that they have what it takes to win games. In the second half of the season, they get another chance at all SWAC opponents to up their ranking in the conference playoff in February.