Theatre moves from "Hound" to "Doubt"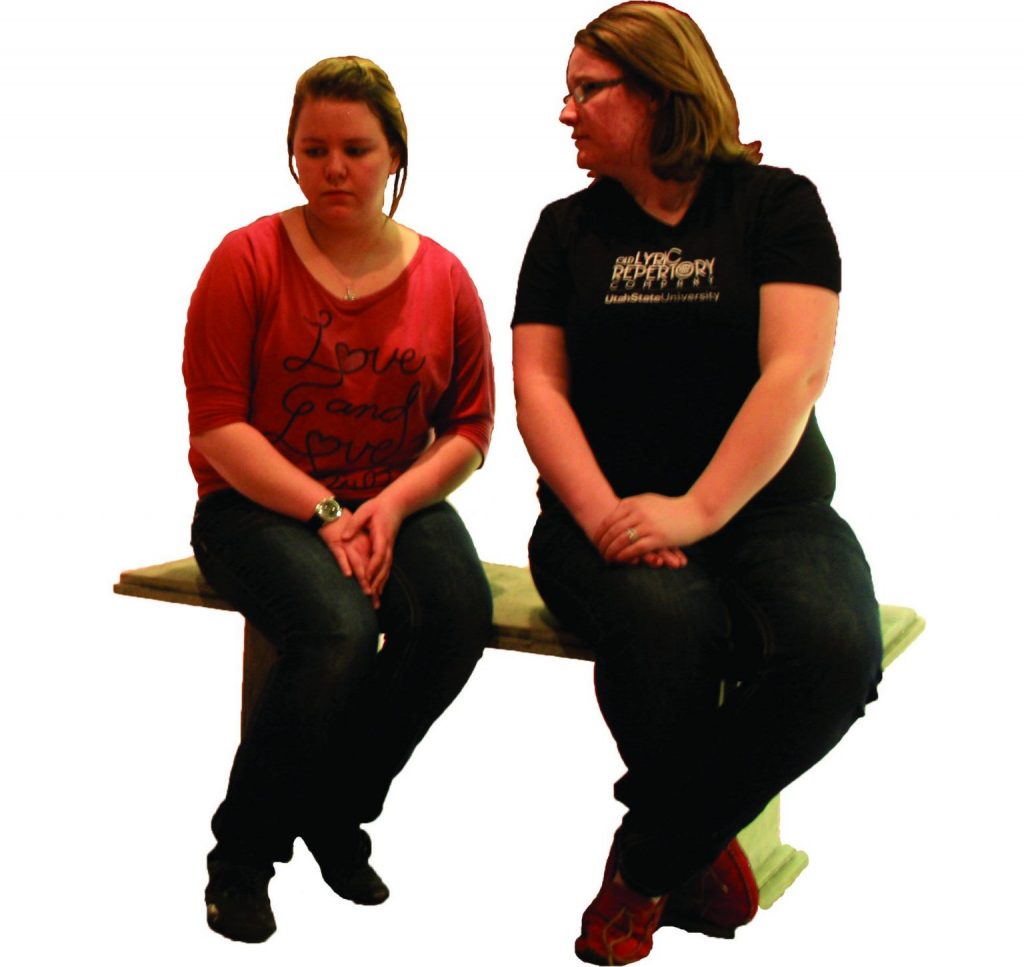 This archived article was written by:
Rehearsals are well under way for John Patrick Shanley's Pulitzer Prize and Tony Award winning play Doubt. "We have a strong cast of seasoned performers, I am looking forward to seeing what they will bring to their respective roles," said director Dr. Corey Ewan.
Two sophomores will bring the leading roles to life. Annie Zelasko from Olympus High School is playing Sister Aloysius and Josh Bone, Carbon High School graduate, is taking on the role of Father Flynn.
We are fortunate to have two very strong freshman to play the supporting roles of Sister James and Mrs. Muller; Olivia (Libby) Pietereit from Juan Diego High School and Lesly Gaona-Partida from Pine View High School.
"There were many actors to choose from at the auditions, many who could have easily been cast," quipped Dr. Ewan, "Sadly, at the end of the audition we had to narrow the casting to only four people." Doubt runs February 13-15, and February 20-22nd, 2014 with a 7:30 p.m. curtain. Seating will again be more intimate so get to the theatre early. USU Eastern students with a current activity card get in for $1. "Such a deal!"
In this brilliant and powerful drama, Sister Aloysius, a Bronx school principal, takes matters into her own hands when she suspects the young Father Flynn of improper relations with one of the male students. Doubt was made into a major motion picture starring Meryl Streep, Philip Seymour Hoffmann, Viola Davis and Amy Adams, all of whom were nominated for an Academy Award.
Among other highlights for spring semester, Eastern Utah Theatre will be performing "The Real Inspector Hound" at the Utah Theatre Association conference at Weber State University. "This is quite an honor for us. We have been asked for several years when we would be bringing back a show to perform at the conference. This was the perfect opportunity and a great recruiting tool for us."
Hound will perform Saturday, January 18th in the Austad Auditorium on the Weber State campus. Dr. Ewan, Brent Innes, the newly hired scenic designer and technical director, and Wade Arave will be presenting workshops and attending the Theatre Screening auditions. "This is our biggest in-state opportunity to see the talent out there and invite them to come to Eastern Utah," said Dr. Ewan
On a final note, we were able to secure the rights to perform Les Miserables next fall semester. Dr. Ewan reports that, "We paid for the royalties well in advance of the October performance dates and they were accepted." Rights were closed in mid December in anticipation of the Broadway revival scheduled for May 2014.
"This will be big and scares the living daylights out of me," Dr. Ewan mentioned, "My goal is to get the entire community involved along with those in Emery County who want to work in and on this massive production. Brent Innes and I are starting work on preliminary ideas and sketches so we can start this production running in August."
We look forward to seeing you attending our plays and supporting our students and staff.