USU Eastern star transitions from high school to college ball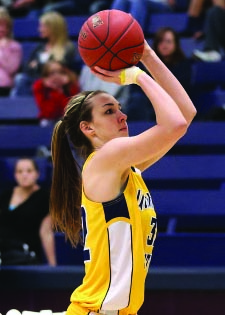 This archived article was written by: Rachel Scoggins
Lejla Hadzialijagic is a five-foot 11-inch post player from West Jordan High School in Utah. During high school, she played basketball from her freshman to senior year.
Her sophomore year she decided that she would also try volleyball, but decided after one season that she would just stick with what came natural to her, basketball.
During her senior year, she was picked to participate in the 5A all-star game at the end of the season. She graduated in June 2013. During high school career, Hadzialijagic played the guard positon and when she came to USU Eastern, she was moved to play as a post player.
Hadzialijagic likes playing basketball for the college, likes the new stuff she has learned, but she feels that playing for the college is definitely a lot different than playing high school ball.
Speaking about the season thus far, she said, "The past few games have been really good team wins and playing has been very fun."
Her favorite trip for basketball was when the team traveled to California for a tournament, in which they took second place. It was her favorite for two reasons; First, she had never been to California and second, she absolutely adored the beach.
Most people as a freshman in college are nervous and think that the classes are different than what they experienced in high school. A positive thought about college that Hadzialijagic has is, "I like having my freedoms and having the experience of being on my own for a while." But like everyone far from home, she misses her family.
The classes at USU Eastern in Hadzialijagic's words, "are not as hard as I thought they would be, but you still have to study a lot."
She is the youngest of three children: she has two older brothers and a boxer named Tito.
She was born in Austria, but when she was young, her family moved to the United States. She has lived in Chicago, Illinois, Detroit, Michigan, and Utah. She speaks fluent English and Croatian. Some of her hobbies include swimming, boating (almost anything involved with water) and eating. Her favorite food is seafood, especially shrimp.
One of Hadzialijagic's favorite quotes is, "You can be the ripest, juiciest peach in the world and there is still going to be someone that hates peaches." In other words, be yourself and don't change who you are just because someone doesn't like you. Stay true to who you are and you will find those that love you for you.