Bennett officially on campus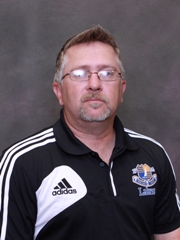 This archived article was written by: Hailey Evans
New head soccer coach Ammon Bennett is extremely passionate and competitive when it comes to the game of soccer. However, winning isn't always everything. He feels it is necessary to have a team that wants to not only play together, but compete together and ultimately win together. His philosophy on winning is "I don't win games. My players win games." To him, winning starts with the eleven players that are out on the field. Bennett looks for players that possess individual skill, but according to him, that individual skill is only as good in relation to how the players feel about each other.
He says he doesn't preach to his teams, "We have to win this game today." Instead, when his team was at the national championship, he coached them with, "We're going to go out there, we're going to do the things we've always done, we're going to enjoy this, and we're going to have fun doing it."
He has been able to keep this strategy, and in return, he has been able to be successful. He doesn't come across to his players for talking about always having to win, instead, he tries to demonstrate his competitiveness through his actions, and expects them follow in the same likeness. If his teams go out and play their best and perform well, but as a result aren't able to win, Bennett does not become disappointed. Because he takes pride in knowing that they have done their best and the mistakes can be learned from. However, he believes that "If you underachieve, you are going to fail."
In his past, Bennett has often recruited players to leave Utah, in order to come play for him in Iowa Western Community College. Because of this, he knows the quality of the players that are available, for these players have been able to help him achieve success in the past. He is excited to be here in the state, because athletes are more likely to be willing to stay here and play. He says there is a possibility there may be some foreign athletes brought in, but the majority will probably be more from the local area.
He has been in touch with some players from Arizona, Nevada and California as well. Bennett is excited to come here, because he will not only be closer to his family, but he and his family will be able to be closer to his wife's family as well. To be back in Utah, to be with the athletes that have been so successful with him in the past, and to be closer to family as well, were the top two factors for him to search out a coaching job here in this state.
Some of the things Bennett looks for when he recruits is not only that the student is a good talented athlete, but one that is also good in their schooling. Of course he wants big, strong, fast athletes that understand the game well, but he is also looking for kids with good character – those who will not only be dedicated to the game, but also dedicated in the classroom.
The whole purpose of going to college is to gain a higher education and being able to play soccer is merely just a bonus. To him, there are many factors that go into what make a "good player," and "good players make up good teams, and its good teams that will be successful." For the students that come here and play, many will most likely have the chance to go on and play at higher levels.
Bennett says that he has many connections all over the country, and that will hopefully offer opportunities for many of his players.
In life, family is what has the most meaning to him. He said, "As a coach, I'm going to lose games. I'm going to have players that don't like me. I'm going to have things go wrong with that; I'm also going to have success with that. We're going to win games, we're going to do well. But all those things are temporary. Family is more permanent, its forever, it's eternal." He also stated that God and his country, fall in line with his family as well.
Bennett sticks to the life motto, "What difference can I make today?" He says even though it may be something small and trivial, he tries to make a difference in the lives of his athletes. He recalls this is not usually the case, because he usually finds that they are the ones that end up making a strong impact in his life. He finds it fascinating to learn of each one's different story and background, and of the struggles which each of them have gone through.
A quality that he admires in others is hard work and honesty. The flaws that he doesn't like, is quite frankly the very opposite – those who are lazy and dishonest. He said he is one that is not easily satisfied, he is always looking for ways to improve not only himself personally, but as a coach as well. He says, "When you become completely satisfied, that is when it is time to retire." He is driven by what he thinks other schools and coaches are doing. He strives to find ways to outdo them.
There were close to 100 applicants for this job, therefore Bennett feels fortunate for landing this position. He's been coaching collegiate soccer for the past 15 years. When going through the interview, he felt that there wasn't anything that he had not done before. He also has started new soccer programs before, at Iowa Western Community College. Because of all his experience, Bennett felt confident in his qualification for the job.
The current field at USU-Eastern is in the process of improvement. Work is in progress on the drainage systems and in the widening of the field as well. Bennett really likes the setting of the field due to the fact that it is located in the center of campus. The track around the field restricts the field from being widened to the full 80 yards. Right now it'll be extended to about 70 yards, so it will be slightly narrow. Bennett is also hoping to use the field across the street for practicing purposes.
Bennett says the first thing he is going to do when he arrives this week is getting set up and working on recruiting. He looks to bring in 25 players for both the women and men teams. A schedule hasn't been made yet, but there are Wyoming, Idaho, Nebraska, Arizona, Colorado, all have junior college teams that have been contacted. North Idaho, who is in USU-Eastern's region, has a team, and Salt Lake Community College sponsors a club team that the future Eagles will be able to play against as well.
Coach Bennett also wants to invite any students that have previous soccer experience to come visit him. His office will be located in the BDAC.