Lady Eagles perservere on the road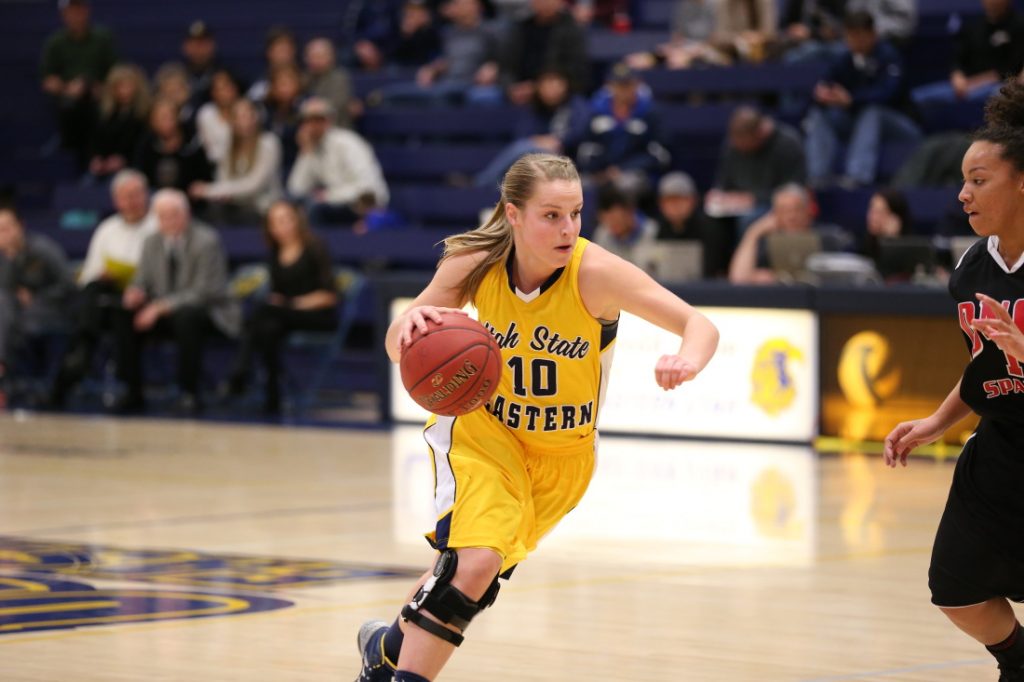 This archived article was written by: Jordan Weihing
It was a memorable road trip for the USU Eastern Women's basketball team achieving something they hadn't achieved in over 10 years; beating North Idaho College in Coeur d'Alene, Idaho. After a somewhat rough start to their season they have persevered to even out their record at 11-11. Head coach Dave Paur said, "the first part of the year we were 2-8 and since then we are 9-3".
The Eagles out of state road trip began in Twin Falls, Idaho on Jan. 16 against College of Southern Idaho. It was a rough shooting performance for the Lady Eagles only shooting 31 percent from the field compared to CSI's 54 percent. Maddy Murphy and Bryanna Adams Each scored 14 points to mount a comeback for the Eagles but it wasn't enough, CSI won 106-75.
Starting off the road trip with a loss however did not stop the Lady Eagles from winning their next game against NIC on Jan. 18. USU Eastern hadn't beaten NIC away from home in 10 years, but that didn't stop the team.
Paur said, "It was a heck of a team effort… they made three or four runs at us, but we didn't fold. We would come back down and hit a three immediately. We persevered through some good shooting." Eastern played particularly well to finish out the game strong. Paur said "We made some key three-pointers down the stretch of that game."
Caroline Fisher led the team in scoring with 12 points, and Lejla Hadzialijagie controlled the boards with 8 rebounds. Overall this game was a team performance. The Lady Eagles showed their ability to overcome adversity on the road and came away with the victory beating NIC 63-61.
Following the victory in Idaho on Jan. 25 USU travelled to Rangely, Colo., to face off against Colorado Northwestern Community College. It was another team effort with five Eastern players scoring above ten points and three different players all grabbing seven rebounds. The Lady Eagles played some hard nose defense and caused 33 turnovers. Despite CNCC having a better shooting percentage the team was able to acquire more possessions through their hard defense and thus defeat CNCC 73-67.
Paur said "Colorado could of easily beat us, it was two point game with 50 seconds". The Lady Eagles continued to persevere and finish the game ahead by six points. Now we will have to see if the Lady Eagles can persevere through adversity at home.
This next couple week's games will be at home on Jan. 30, the team faces 7th ranked Salt Lake Community College. On Feb. 1 the team faces rival Snow College. In the following week, on Feb. 6 College of Southern Idaho and on Feb. 8 NIC visit the BDAC.
Paur is already preparing to face off against SLCC. He said "Salt Lake shoots the ball really well from the perimeter… they got a lot of people that can score." When asked about stopping them he said, "They got three players. Yack and Parsons are perimeter 3-point shooters. We have got to find a way to stop those two. They have a freshman that is probably their best player. We got to stop two of those three." The Lady Eagles are going to be looking to guard the perimeter a little more tightly than they have their past couple games. Last time the Eagles faced SLCC Parsons hit 5 three-pointers.
Paur is looking to give fans a good game to watch next week. He said "The seasons not going to get any easier." Eastern is going to have to continue to persevere through the season to finish strong.