Lady Eagles end road woes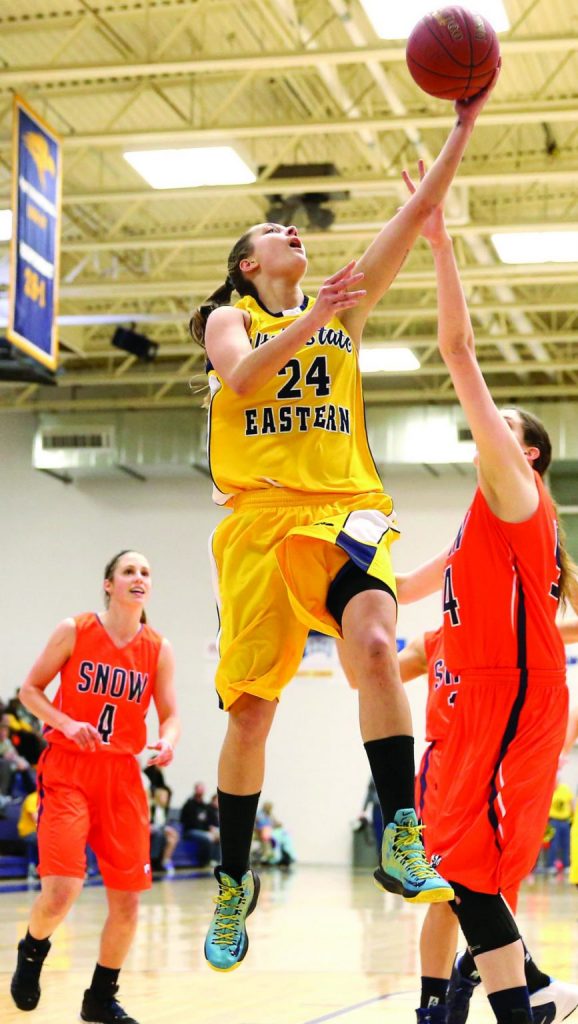 This archived article was written by: Jordan Weihing
On Feb. 15, The USU Eastern Lady Eagles faced off against Colorado Northwestern Community College. The Eagles were looking to end a four game losing streak. Maddy Murphy lead the Eagles in points with an incredible 18 points. Shantaya Strebel had a great game achieving a double-double with 10 points and 10 rebounds.
The Lady Eagles as a whole shot 40 percent from the field. Defensively, the Eagles dominated Colorado forcing 24 turnovers. Due to their stellar performance, the Lady Eagles were able to take home the victory, beating Colorado 76-91.
On Feb. 20, Eastern hit the road and headed up to Salt Lake to play against the Salt Lake Community College Bruins. The Lady Eagles struggled shooting from the field with a 24 percent field goal percentage which didn't help when SLCC shot a 45 percent field goal for the night.
Jamie Smith led the Eagles in scoring with 14 points and shot 100 percent from behind the arc. Despite Smith's efforts, USU Eastern couldn't keep a hold of the ball and ended the game with 20 turnovers. They lost 61-79.
The road trip for the Eagles continued on to Ephraim where the Eagles went up against their rivals, the Snow College Badgers. It was a close game that went into over-time. It was an impressive scoring performance all around for the Eagles. Five players ended scoring over 10 points. Bryanna Adams led the team in scoring with 21 and Strebel led in rebounds with eight.
Eastern shot a 37 percent from the field but Snow wasn't giving up and shot an impressive 44 percent. Eastern attempted to make up for the loss on the offensive end by playing aggressively on the defensive end. Their defensive game plan made a huge difference, causing Snow to turnover the ball 30 times.
Paur said, "Both teams had their chance to win it." In the last 12 seconds of the first overtime, Eastern had a three-point lead, but SLCC hit a clutch three-pointer to tie it up and send the game into a double overtime. Then with one second left in the second overtime Easter was given three free throws to tie the game, sadly they were only able to hit two of the three. The game ended 94-95.
Injuries have really affected the last half of the season. Caroline Ficher is out with a meniscus injury and will need surgery. Since the loss of Ficher, Eastern has only had two games. Isabella Costa hurt her foot and was unable to play in the Snow game. Coach Paur is hoping her foot will heal in time for the first game in the SWAC Tournament.
The Southwestern Athletic Conference games start next week on Feb. 27. They will be hosted in Ephraim, Utah. In the first round the Lady Eagles will face off against Snow College. If they win they will then go against Salt Lake Community College.