Upward Bound's Justin Orth fosters student success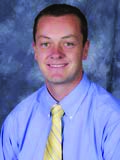 This archived article was written by: Emily Manley
The investment into a student's success is the best reason the Upward Bound program fits Justin Orth's education philosophy, "The success of the next generation is vital to the economic and cultural well-being of the region."
Orth, director of the Upward Bound program at USU Eastern, is originally from Sandy, Utah. He attended Utah Valley University, and left to go on an LDS mission. When he returned he attended Salt Lake Community College. During the summer break, he met Julianne Orgill who played basketball at USU Eastern (then College of Eastern Utah) and he decided to earn his associate's degree at the College of Eastern Utah so he could be with her. The two got married and settled in Price.
One of Orth's greatest accomplishments was starting his own business with his wife. Julianne's Upholstery was started early in the Orth's marriage. It is still in business and working to serve the community. They recently made a donation to the BDAC by re-upholstering the gym equipment. The Orths feel it is important to give back to the school that gave them a great educational foundation.
Orth earned his bachelor's degree in psychology through USU's distance education program. At the time he was working with Utah American Energy, but he wanted to do something more related to his degree in psychology. Seven years ago he became involved with the Upward Bound Organization. The program had recently received its first five-year grant and Orth was working as a coordinator for Carbon and Emery counties. After spending three years working with Upward Bound, an opportunity arose for him to become the director of the entire program in Carbon, Emery and Grand counties. Because Orth loved working with youth so much, he jumped at the chance to increase his involvement with the Upward Bound program. His new position required him to write an 80-page grant proposal.
Writing the proposal was a daunting task, but Orth understood how important the Upward Bound program was so he dedicated a significant amount of time and energy to the project. It was a great experience for him because he was able to devote himself to a large project, on which several jobs and the success of many students depended, and he succeeded. Because of the funding received, this program is able to help students throughout Eastern Utah attend college and earn a degree.
The Upward Bound program is designed to help disadvantaged and economically challenged students. The program focuses on building skills to prepare student for all aspects of college life, including academic, social and student success. Sixty students are part of the program at any given time. Students are usually referred by counselors or parents who want to see the children succeed. Beginning in the ninth grade, students are prepared by the Upward Bound program to attend college.
Each month workshops are held at the junior high and high schools focusing on a different college-prep subject, such as financial aid, understanding the admissions process, improving study skills and preparing for the ACT. The Upward Bound staff gives monthly campus tours to schools throught the state, and engage with students to know their needs on a personal level. They even offer tutoring to students who are struggling with their course work.
Everything that Upward Bound does during the school year is to prepare the students for a six-week academic summer program held on the USU Eastern campus. The summer program gets the students familiar with the setting of a college campus, teaches them valuable study habits, familiarizes them with the resources available to help college students succeed, and provides a positive social environment. In Upward Bound, students make lasting friendships and support groups that will continue with them as they pursue higher education.
As a first-generation college graduate, Orth understands how important it is for students to have someone support them as they enter the unfamiliar world of higher education. He knows that one of the biggest factors of a student's ability to succeed is not their IQ or test scores, but the confidence they have in themselves. Many students simply need to be encouraged and to know that someone else believes that they have what it takes to earn a degree. This is something that Orth loves about his job. He enjoys seeing students unlock their potential and realize that they can make their own dreams come true.
Because Orth is constantly motivating students to earn a degree, he decided that he would continue his own education by earning a master's degree. Orth is nearly completed with a master's in organizational leadership from Gonzaga Universtiy. Although it is challenging to work full time and complete an MA, Orth knows that he is leading by example and showing the students he works with that he truly does have a passion for gaining knowledge through higher education.
Upward Bound's mission is not only to get students into college, but to help them complete a degree. As students attend college, Upward Bound supports them in any way that they can. They do this by facilitating assistance through other college support groups available, answering any questions the student might have, ensuring the student receives any tutoring needed, and providing positive encouragement when the task may seem overwhelming.
This task becomes significantly more difficult when students attend a college or university that is outside the Eastern Utah region. For this reason, Upward Bound is located on the USU Eastern campus and encourages students to attend USU Eastern when possible. However, even if a student is far away, Upward Bound keeps in touch with them through e-mail, social media and visits whenever possible.
In the future, the main goal of Upward Bound is to stay funded. The funding for the program is granted on a five-year cycle and is dependent upon performance. The organization recognizes that in order to continue to help students they must always be improving and finding new ways to increase student's success. One specific goal is to increase involvement with students who have Hispanic, Native American, or other diverse heritage.
Orth understands that the investments that Upward Bound makes in the success of students ultimately benefits the entire community of Eastern Utah. When college graduates enter the workforce they are better prepared to be skilled and valuable workers. Having a skilled workforce allows the economy to grow and the community to flourish. The success of the next generation is vital to the economic and cultural well-being of the region, and Upward Bound is dedicated to giving today's young people all the tools and resources necessary to build a bright future.