Eastern out in first round of the SWAC Conference Tournament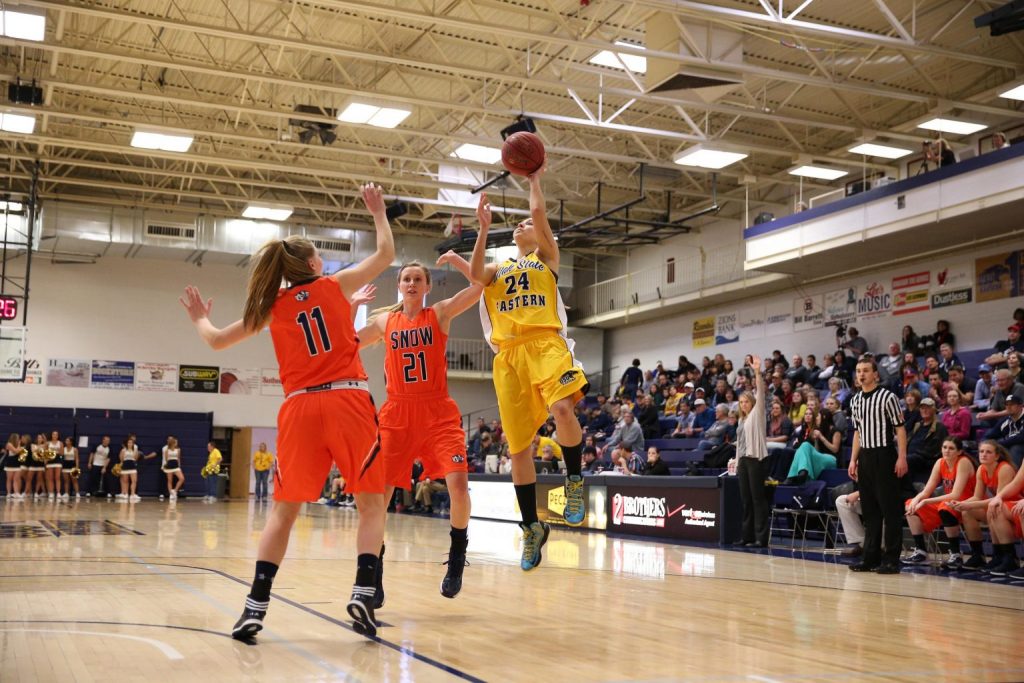 This archived article was written by: Jordan Weihing
After a devastating game to Snow College on Feb. 22, losing by just one basket, USU Eastern was bumped out of third in the conference to fourth. If Eastern had beat Snow, they would have played Colorado Northwestern Community College in the first round of the SWAC Conference Tournament, a team that USU had beaten every time this year. Instead, the Lady Eagles were forced to face their rivals Snow College again, this time on Snow's home court.
In the season, Eastern had beaten Snow one time out of the three times they faced them. This game was no different than any of the others; fiercely competitive.
The scoring load was shared evenly throughout the Eastern team. Five players scored 10 points or above. Shantaya Strebel lead the scoring with 16, hitting an amazing 100 percent from behind the arc. For Snow it was a completely different story. One player, Whitney Saunders, carried the scoring load with 29 points and also grabbing 15 rebounds.
In the end, Snow turned out to be too much for the Lady Eagles. They dominated the Eagles on the boards, snatching 44 rebounds compared to Eastern's 26.
Head Coach Dave Paur wasn't satisfied with the amount of shots Eastern was taking. He said, "We scored 77 points and took 54 shots. That means Snow won that game because they forced us to do what they wanted… we can't let that happen in the future." Paur's goal for the season was to attempt 90 shots a game but in the end, they averaged about 80 shots a game. The final score for the game was 82-77 in Snow's favor.
Eastern finished the season with a 13-17 record. They were second in the nation in offensive rebounds and third in three-pointers made.
The stat Paur is most dissatisfied with is points per game, which was almost 81.
His aim for next season is to increase the athleticism of his players to be more prepared defensively. He has also focused his attention to recruiting exceptional shooters to help increase the field goal percentage.
Paur said, "I want to be entertaining and this year we were. People want to see a game where there is a lot of shooting." Paur is aiming to make this next year even more entertaining than the last.