CEU alumni make WSU Hall of Fame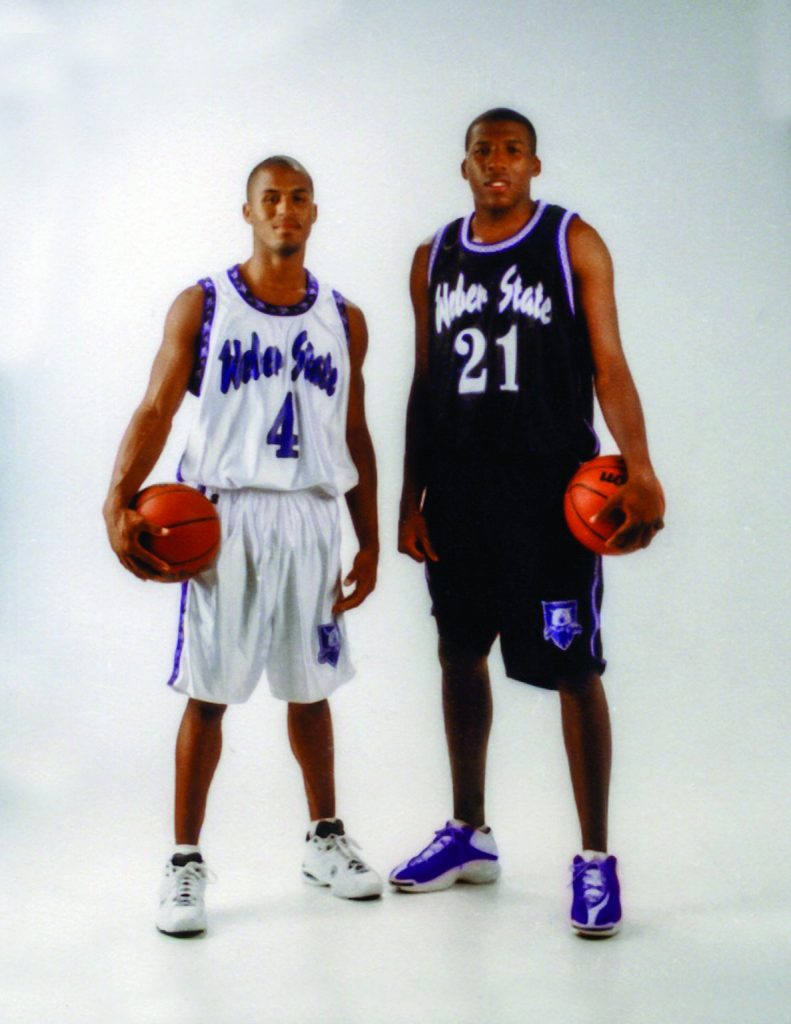 This archived article was written by: David Osborne Jr.
Two former College of Eastern Utah basketball players were honored by Weber State University as inductees as the 2014 WSU Athletic Hall of Fame. Harold "The Show" Arceneaux and Eddie "The Thrill" Gill both received the honor after helping lead the Wildcats during the 1999 season where they won the Big Sky Championship and knocked off the University of North Carolina Tar Heels during the first round of the NCAA Tournament.
Arceneaux
Arceneaux came to CEU in 1996 as a freshman where he helped lead the Golden Eagles to a 28-5 record, winning the Scenic West Conference during the regular season. While at CEU, he shot 57.3 percent from the field, 40.9 percent from behind the three-point arc, helping him average 17.3 points per game.
While a member of the Wildcats, Arceneaux set the single-season record for points for WSU scoring 713, which would not be broken until Damian Lillard in the 2011-12 season. He also earned the Big Sky MVP honors, won the Big Sky title leading to meeting between WSU and UNC. Arceneaux scored 36 points in the meeting with the Tar Heels, knocking down five three-pointers.
Arceneaux played basketball professionally in several leagues ranging from the NBA Summer League to leagues all over the world. He played for professional teams on every single continent, except Antarctica. He started coaching as a player's coach for the Lechugueros De Leon in Leon, Guanajuato, Mexico.
Gill
Gill came to CEU with Arceneaux, during the 1996 season. While a Golden Eagle he was averaged 6.1 points and 2.4 assists. Before the 1997-98 season, Gill transferred to Salt Lake Community College ending his career as a Golden Eagle, but still earning NJCAA All-American Honors.
After his year at SLCC, Gill met up again with Arceneaux at WSU to create what would become known as the Thrill and the Show. As a Wildcat Gill averaged 14 points, 4.6 assists and 2.7 steals. His stat sheet earned him First Team All-Big Sky honors along with the Big Sky Newcomer of the Year Award. He was also named the Big Sky Tournament MVP, averaging 18.5 points, 7.5 assists and 3.5 steals in the two WSU tournament wins.
Gill continued his basketball career professionally in the NBA, playing for seven seasons with seven teams. As a professional, he appeared in 187 games, the second most by any WSU player. Gill was a part of two outstanding events in the NBA during his career including being the player to score the eight millionth point in the history of the NBA in April 2001 and as a member of the Indiana Pacers, he was a part of the event that would become known as "The Malice in the Palace" between the Pacers and the Detroit Pistons.