"Mousetrap"production opens April 10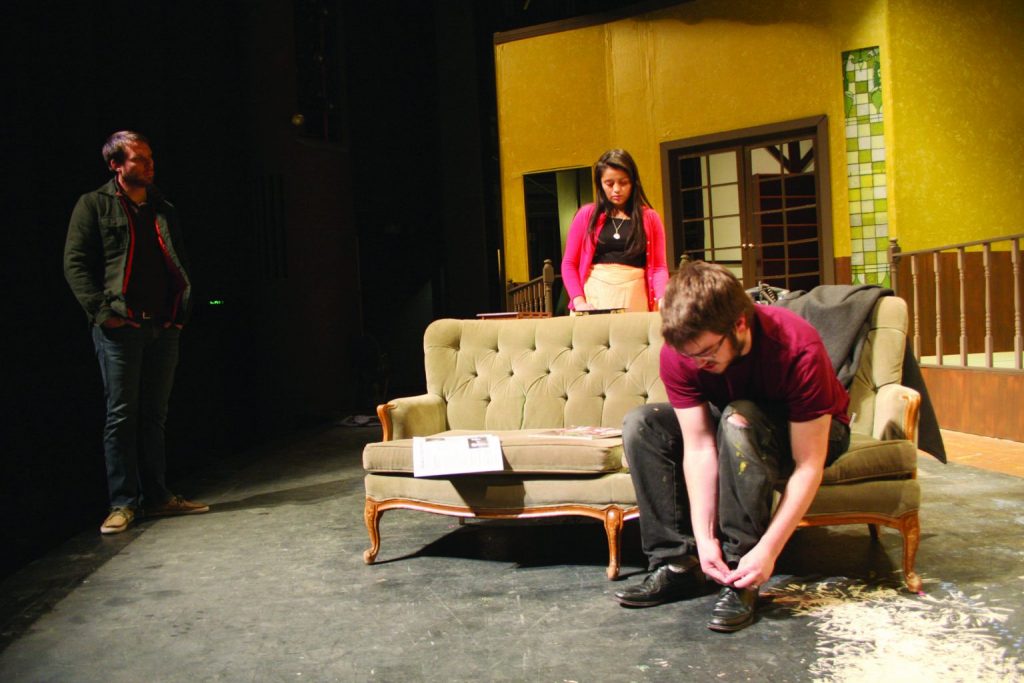 This archived article was written by:
Directing his first play at USU Eastern, "Mousetrap" is not as daunting as it sounds. Wade Arave, enrollment services admission's adviser, spent almost his entire educational background in theatre with eight years of college majoring in theatre. The past two years working at Eastern has given him a reprieve from the world of theatre up until now, that is.
Arave is in full theatrical mode this month as he readies his actors for opening night on Thursday, April 10. After working three years at Canyon View Middle School and Canyon View High School in Cedar City with teenagers, he is working with college theatre majors at Eastern whose actors "have direction, their state of mind is different because they are on stage to become better at their craft."
At first Arave was apprehensive about getting back into theatre. He was living in his comfort zone working at recruiting students to USU Eastern. However, up until the summer of 2012, he had spent pretty much his entire adult life working in the trade. His magical "comfort ball" was broken after his first night of rehearsals on the Geary Theatre stage. Being back in theatre is like riding a bike, "you never forget how."
"Directing plays is taxing on a lot of levels: physical and mental," he said. "I am always thinking about the artistic process and how to make it better, more believable."
He started planning to produce "Mousetrap" last summer when he collaborated with USU Eastern theatre chair, Corey Ewan, while on a recruiting trip to Nebraska. "We pretty much planned the next two years of plays," Arave said.
Why did he pick "Mousetrap"? "If you work at a professional theatre, you have to produce plays that make money…plays that most people are familiar with; musicals and murder-mysteries come to mind. At USU Eastern, the goal is double sided, we have to think about how directors can push actors into different directions plus please the audiences with a recognizable name of a play," he said.
"We like our audiences to enjoy the show, make them family friendly which is important to our Utah audiences," he said.
Most everyone knows Agatha Christie's "Mousetrap" and we want everyone to come see our adaptation of the play. It's been running for over 60 years and is considered the world's longest-running stage play.
The original play opened in the West End of London in 1952 and is known for its twist ending where the murderer's identity is divulged near the end of the play, which is unusual for playing with the very basis of the traditional whodunit formula.
Arave made his first act incredibly funny, I think Agatha Christie wrote it that way. I want the atmosphere light, then change into the real world where one's fears are coming true.
His eight actors are in three-hour rehearsals, six days a week. "I think they are adapting well to my style of directing," he said. They include: Lesly Gaona-Partida playing Mollie; Joshua-David Zelasko, Giles; McKylin Rowe, Christopher; Annie Zelasko, Mrs. Boyle; Josh Bone, Major Metcalf; Libby Petereit, Miss Casewell; Julian Barone Fowler, Paravincini; Ryan Pettingill, Trotter; and Aaron Bone, male character's understudy. Brent Innes designed the lighting and sound; Zelasko the stage; and Ewan, the set dressing; and Lisa Giacoletto, costume design.
"Mousetrap" plays two weekends, April 10-12 and 17-19 at 7:30 p.m. in the Geary Theatre. USU Eastern student admission is $1.