"Mousetrap" exhibits work of student-set designer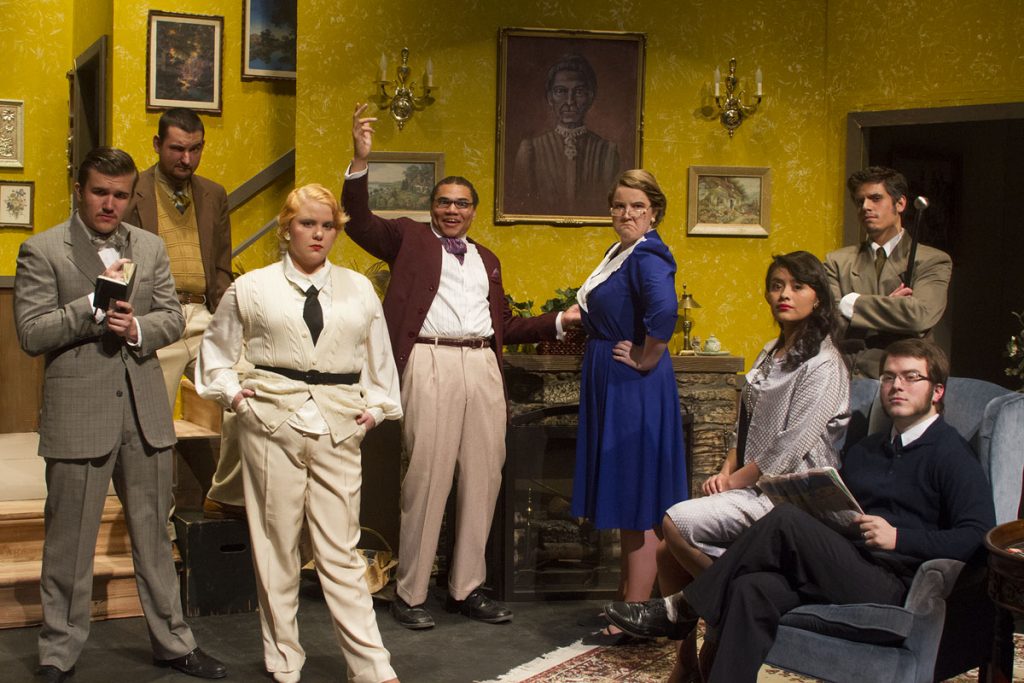 This archived article was written by: Josie Slade
Theatre student Joshua-David Solomon Zelasko always wanted to design a set for a theatre production. Under USU Eastern's Brent Innes, he got his wish. At the start of the Spring 2014 semester 'theatre special problems' was given as an option to one student: Joshua-David Solomon Zelasko. The class was offered to the student because he wanted to study set design under Innes. The class only holds the one student and eventually paid out for him. Zelasko got the opportunity not only to design a set for Mousetrap but also got to see it come to life as the official set for the final production of the year.
It started as an idea. Zelasko would bounce ideas off other theatre majors of what he thought he might want to do. He spent hours reading over the script, finding pieces that would help him build a better idea. He knew what he wanted to do, but the actual finished project seemed so far away. From the drafts came a full and finished sketch. The 2-D sketch began to explore the various options he had envisioned. Did he want to have paint on the walls or a wood grain? How many entrances could he provide for the director? Would there be multiple levels?
After the 2-D draft came the 3-D design. Zelasko got on the computer and made his design a reality. He spent hours drafting the perfect design, and when he thought he got it, he checked with the director, Wade Arave, to make sure it was just right. After the design was perfect, it was time to bring it to life. With the help of theatre majors the set began to be built. After the platforms were up, the walls were next. Then it was time to paint. A base coat was decided and then after it was on the decision was made to repaint to a yellow color. More time was put in until finally the set was ready to be dressed.
Corey Ewan was set dresser, and with the help of Zelasko managed to get the set to its cluttered and claustrophobic feel at the request of the director.
"The set is spectacular, and very well thought out," said Josh Bone, a fellow member of the cast. Corey Ewan was quoted saying, "There is plenty of playing space for the cast as well as some funny gags."
Did you know that there is clue pieces hidden all over the set? It was a long two-month process that was both frustrating as well as rewarding. It was a learning experience for Zelasko that he won't forget.