Plans to build new Prehistoric Museum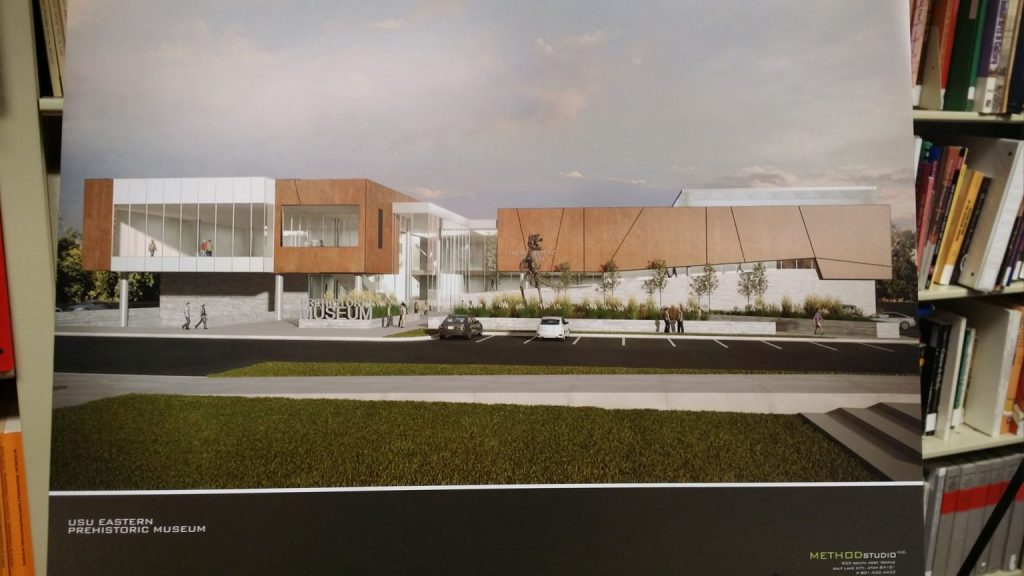 This archived article was written by: Steven Cloward
Some chitchat at the USU Prehistoric museum about a new "dig" might become a reality. The museum is looking into upgrading to a new building. The design of this new building is to match closely to the CIB Building on campus to closely relate USU Eastern with the new museum.
The location for this new building is on Main Street in Price, directly north of the current museum. The new building will be twice the size of the one that they are in. Part of the old building would be demolished and turned into additional parking after the new building is built.
The project has yet to be approved. As for now, it sits in limbo. The funding is yet to be found for this new building. The museum is hoping there will be interest in investing in this new building. However, until it is approved, the museum is taking extra measures to revamp the current exhibits.
The current exhibits, as Museum Director Ken Carpenter explains, are out of date. For that purpose they are getting additional information added and some changes made to them.
The museum is adding bilingual text, including Spanish and braille to the exhibits, as well as adding interactive slide-out trays in the section of the exhibit itself. In regards to the refurbished ones they have completed, Carpenter said, "Ever since we put this Spanish text up, we have noticed an increased number of Hispanics coming to visit the museum." In addition there is more interest in the exhibits from every day visitors.
In the anthropology section of the museum, it will be changed to show early Native Americans to the more modern section of the Native American tribes. One section has already been redone to show the more modern Native Americans. It features a Fremont Indian husband and wife in their pit-house home. They are doing daily things like grinding corn.
The changes to this section included adding more features such as a motion sensor that plays when people walk by it. They will hear two native people speaking to each other. Other features include details such as storage of items on the ceiling. It also features weapons and shields that resemble that of Native American murals or most commonly referred to as Indian writings.
The museum is also rearranging the fossils to replicate what their actions would be like in real life compared to being on pedestals. This includes a Stegosaurus whipping its tail at a predator as a defense.
The plan is that the current building will be remodeled until the new building is approved. Although the new building is not set in stone, Carpenter and the staff at USU Eastern's Prehistoric Museum are hoping this new building will be approved so they can expand and update their acquisitions.