Spanish Fork to Price: six carry on tradition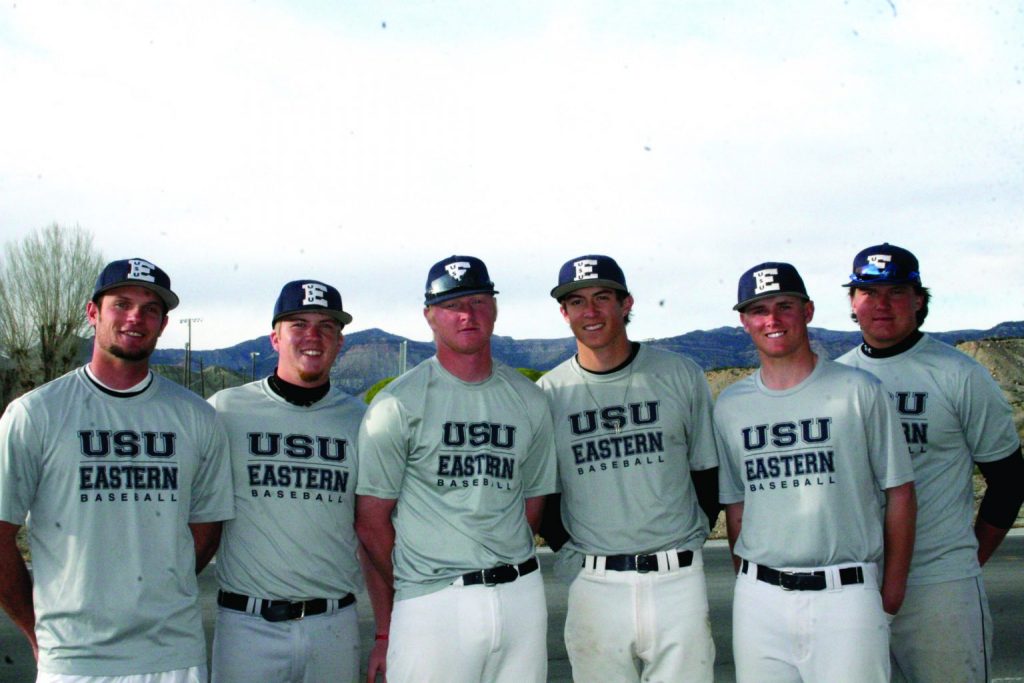 This archived article was written by: Chase Castleberry
Coming from a small town filled with a winning tradition and high expectations, the USU Golden Eagles have six players from Spanish Fork, Utah, striving to carry on this same precedence. They may differ in age, but they all have the same objective, winning.
Cooper Beck, Cortlen Nielsen, Hadley Thorpe, Greg Money, Cameron Money and Chase Castleberry all grew up playing baseball in Spanish Fork.  They spent their summer days on fresh cut grass hitting and throwing a ball around a baseball diamond. 
Neilson explains, "Growing up in Spanish Fork, you're kind of destined to play baseball. You grow up loving the game and everyone loves it in that town. The whole town wants the program to succeed." Playing at a young age, winning was an expectation.
G. Money said, "You learned how to be competitive at an early age, and you're expected to perform." Spanish Fork may be a small town, but baseball couldn't be any bigger.
After playing as youngsters, all six played for Spanish Fork High School. "I remember when I tried out for the team, and saw my name posted on the team's roster my freshman year. I knew this was the beginning of something special." Thorpe, G. Money and Castleberry graduated in 2009, four years earlier than C. Money, Nielsen and Beck. 
As their senior year rolled around, expectations grew. Thorpe said, "In other places, football or basketball is big, but in Spanish Fork, baseball was the main sport. The bleachers were full at every game and everyone in the town was involved. My goal was to win a state championship."
After their hard work and dedication, in the spring of 2009, the Spanish Fork Dons became 5A State Champions. Spanish Fork High School is known for a winning tradition. In the last seven years, the Dons have won four state championships in baseball. 
After playing together in high school, all six had a chance to play side by side once again at USU Eastern. Beck explained, "It's every kid's dream to play college baseball, and playing with your high school buddies makes it that much better." Beck, Neilson, and C. Money just recently graduated from Spanish Fork. "It's been fun, and we've known each other since first grade," Cameron explains, "We have been through a lot; it's fun to come here and have somebody you already know how to play with." The game of baseball is a simple game when players have friends on the field.
The adjustment from high school to college can be strenuous. The schedule is difficult and the lifestyle is different. Luckily for these six, the adjustment wasn't too complicated.
G. Money explains, "For me, it's different because it's full time. We only played three months out of the year in high school, now we play year round." However, he said, "Playing in Spanish Fork taught me how important hard work is, and helped me compete at the college level."
Nielson added, "The work ethic I learned in high school has helped me continue to be successful." The Spanish Fork program nourished these players to become a phenomenal force for the Golden Eagles this season.
Spanish Fork is more than a baseball program. The players influence the younger generation, and excites the town with its winning tradition. The support that the baseball team generates is incomparable to any other sport. People, young and old, come to watch every game. The "old-timers" sit along the first-base line, and the kids play catch during innings, looking up to these high school players.  It's almost like Spanish Fork has its own major league baseball team. 
Beck remembers growing up watching the older players. "We looked up to the older guys growing up. I remember watching those older players (Thorpe, G. Money, and Castleberry) and now we get to play with the older generation. It's great to be playing on the same team."
Baseball is more than a game, it brings people together. These six players have been surrounded by the game their entire lives. They've learned how to play the game the right way and accomplished things that cannot be taken away from them. As these six continue to play together, they continue their amazing baseball traditions and high expectations.