Spotlighting Callor: first in customer service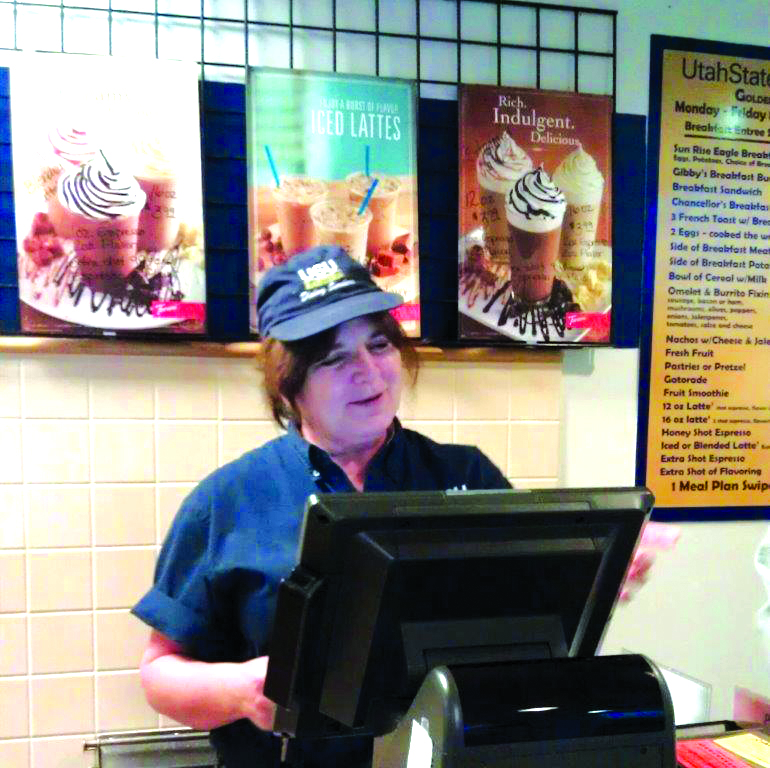 This archived article was written by: Hailey Evans
Lenora Callor has been serving the students of USU Eastern for the past three years. Her friendly smile and personable attitude leaves a lasting impression on the many that visit the Golden Grille.
Working in customer relations her entire life, good customer service has been something that just comes natural for her. To Callor, the students aren't just a number. She makes a conscious effort to call each student by name because she feels that it makes it more personal, and helps make the students recognize that they are important to her. The advice she gives to other employees is to "treat them like they're somebody – they're important."
A sense of humor is a must when it comes to working with college students. Callor believes humor helps open the door for students to become more comfortable, knowing that they are welcome and wanted here.
Something she stands by with all of the students is that "What we can do for you matters, and if there is a problem, let us know." She tries to remember that when a student comes to them with a problem to make sure to not take it personally, just focus on a solution, because it is all about the students and the quality they are getting.
Skydiving is at the top of Callor's bucket list. She would also love to become an inspirational speaker, for at least a short while of her lifetime, to remind people that life isn't that hard. She says, "There are so many things that you let bring you down, and those things really don't matter. If you look at it from the perspective of where you're at, ask yourself if it's really going to matter tomorrow because you are going to be in an entirely different place." Speaking from experience of being bullied in the past, Callor shared that even in relationships with those who bring you down, who bully you, they're not always going to be there.
Callor's motto is to "Forget about the past – learn from it. Live in the now – because that's what's important. Don't worry about the future – because it's going to be here tomorrow. What you do right now is what matters. Just love people. Respect them."
She says her one last wish would be to go on an investigation with the Ghosthunters. She said she would love to be on the show even if she was 80 years old. She says even if she died of a heart attack, she wouldn't mind because she would die doing something she loved.
For the past 18 years, she has been serving as a volunteer EMT and firefighter for 18 years. She is a mother of six, and a grandmother of eleven, and does spiritual healing and meditation as well.
As a very admired staff member at USU Eastern by both students and faculty, Callor's personal dedication is something that she will always be known for.