"America in the '30s" art exhibition at Gallery East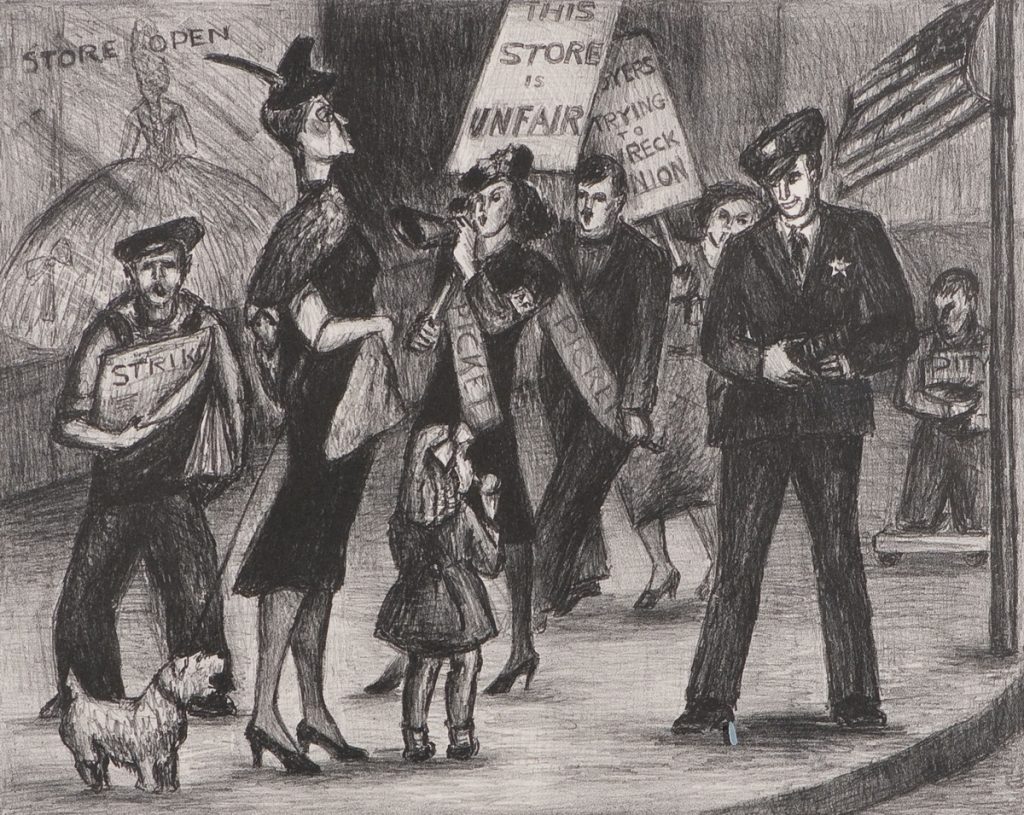 USU Eastern presents "America in the '30s: Prints from the Federal Art Project," which is part of Utah Arts & Museums' Traveling Exhibition Program, on display from Sept. 2 through Oct. 2 at Gallery East located in the Old SAC Building.
The prints selected for this exhibit are by artists associated with the California division of the Works Progress Administration. WPA was created in 1935 to provide employment, encouragement, and, in part, support for American artists during the Great Depression.
A major success of the program was in bringing the language of arts to remote areas of the United States. The project is also credited with initiating graphic arts workshops and commissions for printmakers throughout the nation and sponsoring the production of some 95,000 prints.
This printmaking initiative made it possible for artists to produce high-quality multiple versions of their originals. Much of the work produced was democratic in nature and in theme, consistent with the Federal Art Project goals.
This exhibition of prints by California artists includes strong images that help the contemporary viewer understand day-to-day life during the Great Depression in the Western U.S. Among the pieces are examples of both lithography and wood-engraving techniques.
An opening reception for the exhibit is Friday, Sept. 5, from 6 to 8 p.m. in USU Eastern's Gallery East. The exhibit is open Monday through Thursday from 11 a.m. to 5 p.m. or by appointment through Oct. 2. The gallery is closed on weekends and holidays. Attendance to the gallery is free and open to the public.
Any questions about the exhibit should be directed to Noel Carmack at 435-613-5241 or by email at [email protected].
About Utah Arts & Museums and the Traveling Exhibit Program
Utah Arts & Museums' Traveling Exhibit Program is a statewide outreach program that provides schools, museums, libraries, and community galleries with the opportunity to bring curated exhibitions to their community.
This program is supported in part by a grant from the National Endowment for the Arts. For more information on participating in the program, please contact Fletcher Booth at [email protected] or call 801-824-9177. For media inquiries, please contact Alyssa Hickman Grove at [email protected] or call 801-236-7548.
Utah Arts & Museums is a division of the Utah Department of Heritage and Arts (DHA). To enrich the quality of life for the people of Utah, DHA creates, preserves and promotes Heritage and Arts.
The Division provides funding, education and technical services to individuals and organizations statewide so that all Utahns, regardless of race, gender, ethnicity or economic status, can access, understand, and receive the benefits of arts and culture.
Additional information on the programs and services can be found at artsandmuseums.utah.gov or by calling 801-236-7555.