USU Eastern presents "Les Miserables"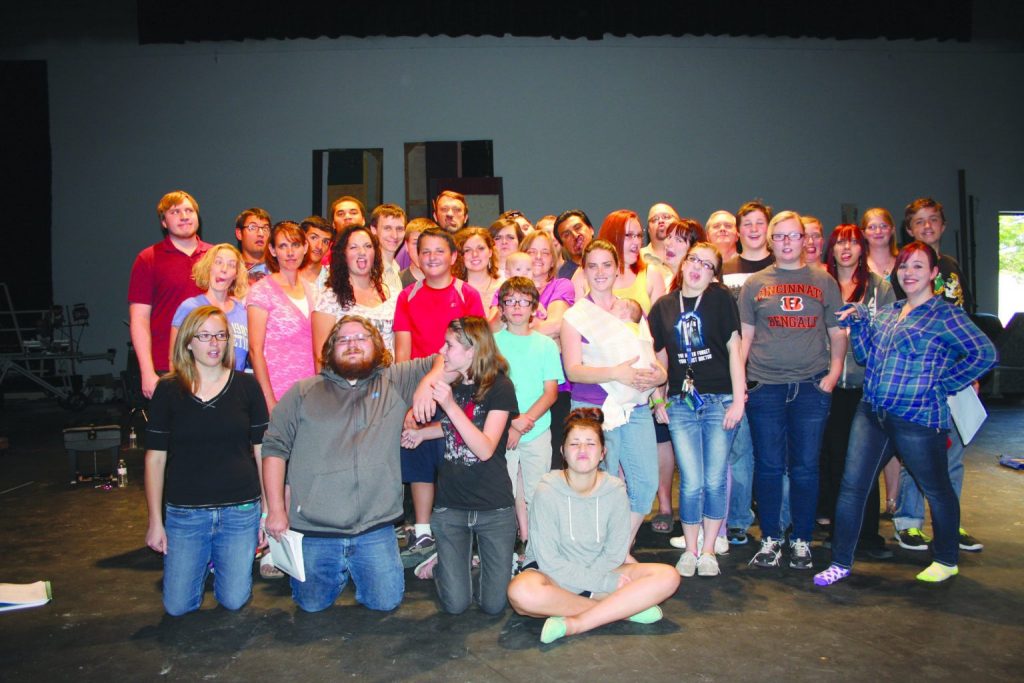 This archived article was written by: Christopher Palo
The date? October 16-25. The occasion? Victor Hugo's "Les Miserables." The place? Geary Theatre. Who is expected to be there? Well you the reader of course, on said date at 7:30 p.m. USU Eastern will present Les Miserables, under the direction of Corey Ewan. Some of Carbon County's most talented singers, actors and technicians will help bring this world renowned musical to life on the Geary Theatre stage.
Ewan, portrays the wisdom of Obi-Wan Kenobe and the sass and sarcasm of R2-D2. He has a gift with not only directing and teaching but, takes the lump of unmolded clay that is a college freshmen and turns that clay into a beautiful work of art. His personality is such that you cannot help but enjoy being in his presence and hanging on everyone of his sassy and deeply profound words.
He said that what he found so intriguing about this play is that "the socio-political issues mirror those of our time." With the current state of affairs in America one would be hard pressed to find someone to disagree with him.
The most challenging part about the play according to Ewan "was not knowing exactly how to block the scene." Most play scripts give direction more detailed than others, but with the current script there is very few notes on how the scene should go. With a confident smile and eyes full of wisdom he said, "I just have to get out of my head and stop worrying if it will be good and just do it."
Ewan directs with kindness and friendship allowing the players to feel out the part and see what they do with it. He moves about the stage with grace and poise as he watches the players perform their parts, making subtle tweaks to the actors and singers but never taking away from what the actor wants to do.
The technical director is Brent Innes, who hails from Canada. This man, whose eyes are like deep comforting pools of sapphire, has taken on the play and has many wondrous ideas to make it great. With a tremendous amount of technical know how and a team of incredibly capable individuals, he attacks the play like a Canadian, or myself, would attack a box of Timbits.
Innes says the hardest part of this particular play is the sheer magnitude of it. He is, of course, speaking of the size of the stage and how he will turn it into a world of "Les Miserables." Determined, he says, "if it doesn't scare you, it isn't going to be awesome." After seeing some of the ideas he has sketched on the computer, we are all in for a visual treat.
Stage director, Libby Petereit, performs like a seasoned veteran of the stage. Though it is her first time as a stage manager, she makes what she does seem like child's play. Handling the cast, the schedule, the blocking and notes, she tackles what would seem like tackling Mount Everest to the rest of us. With two assistant stage managers, Jennifer Thomas and Drew Behunin, the three make greatness happen. Their insights, experience and direction are invaluable to the cast and crew of the play.
Although, the entire cast is a treasure trove of talented singers and actors, the stars of the show are individuals with voices that seem to come down from heaven its self. Picked for their tremendous ability, these singers have the ability to bring a tear to your eye and a smile to your heart with a simple sheet of music.
Darrin Brandt, ex-professional opera singer turned therapist, plays Inspector Javert. Though Brandt retired his voice and now assists students with guidance acceptance, it seems as if he never left the opera world. His voice turns every word and note into a feeling and that allows him to reach deep into your heart and help you feel what the play is truly about.
Ben Jones, a customer service representative for JoyGlobal, rips the roof off of the theater with his glorious voice. Jones plays Jean ValJean. He states that the play is the ultimate depiction of hope. He mentioned having seen the English version of the play a few years back and from that point he was hooked saying, "How have I not seen this?" Once Jones heard of the play's auditions, he knew he had to try out and with his voice and acting ability, we are all lucky he did.
Nicole Manley plays Fantine. Her angelic voice will have you weeping with sadness and love for the character. Her portrayal of Fantine brings out the struggle and depth of the character not seen before. You will be at the edge of your seat hoping against hope that everything turns out OK for her character. The acting and singing ability of Manely makes for the perfect Fantine.
Cast and crew alike take simple pieces of paper and turn them into wondrous and emotional events turning a mere stage into a world or wonder, of hope and sadness of anger and joy, reaching right into your heart and making you fall in love over and over again.