Lady Eagles fall short in Idaho matches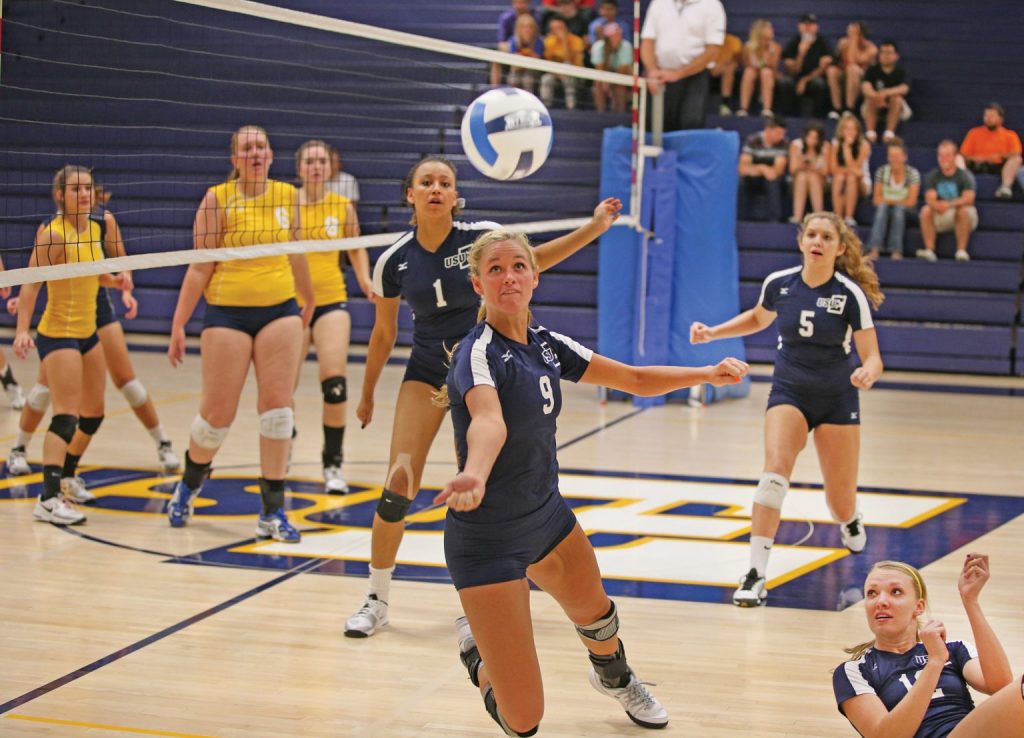 This archived article was written by: Masi Steel
Conference weekend opened for the Eagles in Idaho where the Lady Eagles dropped matches against North Idaho College and the College of Southern Idaho. They started on Sept. 25, against NIC after a 13-hour drive to Coeur d'Alene, Idaho.
The Lady Eagles lost to NIC 2-3. It was a devastating game for the team to be so close. Michaella Crooks Middle said, "It is a game that will haunt us, but we can only learn from it and move on." All the scores of the games were close and a hard battle for every point. NIC defeated USU Eastern 25-18, 26-28, 25-27, 25-11 and 17-15.
Crooks said, "It is hard to be so close and not finish with the win, but now we know what we have to do to beat them and we are excited for them to come to our house."
The top hitters of the game were Melissa Judd with 18 kills and Carly Dalton with 12 kills. Koralys Gonzalez led the team in digs with a total of 20. Judd, Dalton, and McKenzie Burrows followed with 11 digs each. Whitney Riffle standing at 6-feet tall led the team in solo blocks with a total of three followed by Crooks at 6-foot-5-inches with two. The team had 11 total blocks for the night.
Captain Carly Dalton said, "We gave NIC a tough fight, we should have won have won the fifth set, we had the opportunity to do so but, just couldn't push through and finish. But the loss has taught us a lot and we will work on the fundamentals that we need and will keep moving on and learning as we go."
After the loss to NIC the Lady Eagles headed off to Twin Falls, Idaho, to face CSI Golden Eagles, ranked third in the nation. The team struggled during this match and CSI defeated USU Eastern 25-12, 25-15 and 25-11.
Riffle led the team in kills this match with a total of seven and Judd had six kills. Gonzalez led the team in digs with seven with Chloe Brooks and Mason Steel followed with five digs each. Brooks also led the team in service aces with one.
Crooks said, "We went into the CSI game scared and timid because they are nationally ranked, which greatly affected how we performed. We need to not focus on what they are ranked, every team is beatable that's why we play the game. We need to show up and just play how we are capable of playing and battle hard and leave everything out on the floor."
Co-captain Melissa Judd's thoughts on the weekend were, "This weekend was rough for us because we had a couple of really close games and tough losses. The kind that leave a nasty taste in your mouth.
"I think we have grown a tremendous amount as a team, but we still have quite a few fundamental fixes to make before the rest of our conference games. We have definitely made a lot of progress though. Now we just have to work harder for the next round."
The Eagles first home game is Saturday, Oct. 4, at 1 p.m. at the Bunnell-Dmitrich Athletic Center against the Colorado Northwestern Community College Spartans.