Eagle staff interviews ABC 4's news anchor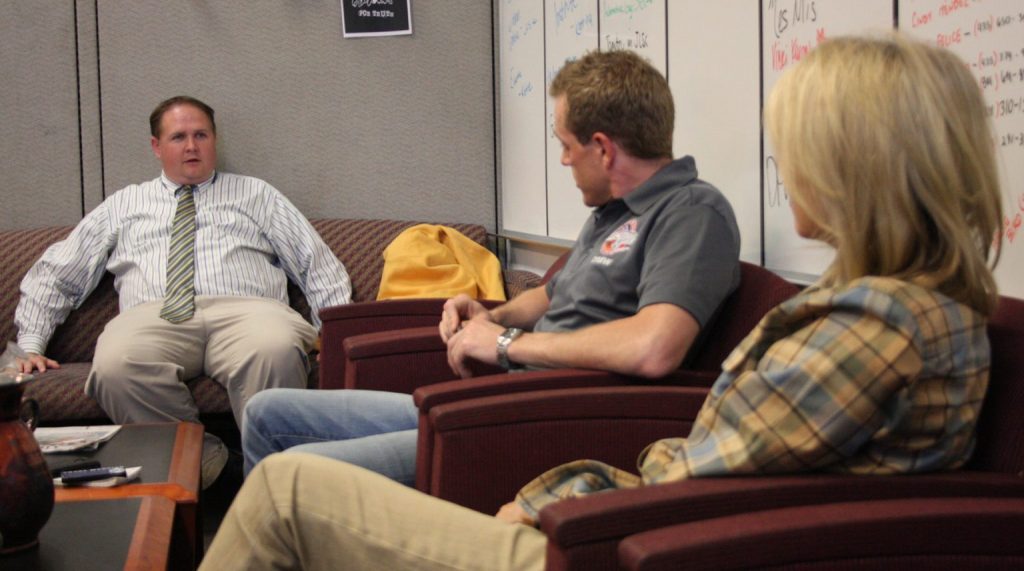 This archived article was written by: Josie Sue Slade, viewpoints editor
ABC 4's news anchor Brian Carlson arrived on USU Eastern's campus to explore and meet with students prior to the station's broadcast from campus on Oct. 15. Carlson took time to sit down some of The Eagle's staff and discuss his road to becoming an anchor and how students can get internship's and employment in the broadcast world.
Carlson grew up in West Valley, Utah, and attended Granger High School. He said he belongs to Granger high class of 1997.
Carlson always had a love for being on television and told students, "In my family's home videos, you can always see me trying to get all of the attention." His love for broadcasting didn't truly start until Channel 2 began a high school newscast that was written and run by students. He auditioned for the show and was given the first anchor position.
Carlson attended Brigham Young University and graduated with a degree in broadcast news. While attending BYU, he took part in the various news programs, but his favorite was creating a sports program. "I love sports at BYU, and this became my favorite broadcast job while a student," he said.
After graduation, he landed a job in Washington in 2004 to hone his skills.
After four years, he returned to Salt Lake City for an anchor job at ABC 4. He works the afternoon and evening shift with news at 4, 6, and 10 p.m.
The hardest stories to report on were, "Honestly, the hardest stories are the ones where I have to interview an official that has gone home for the day. When heartbreaking stories come along you have to distance yourself or you can't do your job."
Carlson had a lot to say to the aspiring journalists at The Eagle. Carlson offered advice on how to land a job in broadcasting, "Find an internship. Channel 4 is always hiring new interns." If a student is registered through a school, they can find an internship and
get a first-hand look at what broadcasting life is like.
Before Carlson left to see more of Eastern's campus, he offered some advice that can apply to everyone. "First, make sure you have determination. You have to know that this is what you want to do. Second, if you have that determination, the answer is always yes, if someone says no, then they're lying. If someone says no, someone else out there will say yes. Last, learn time management. That may be the most important thing you ever learn."