Ladies beat CNCC, lose to SLCC, Snow College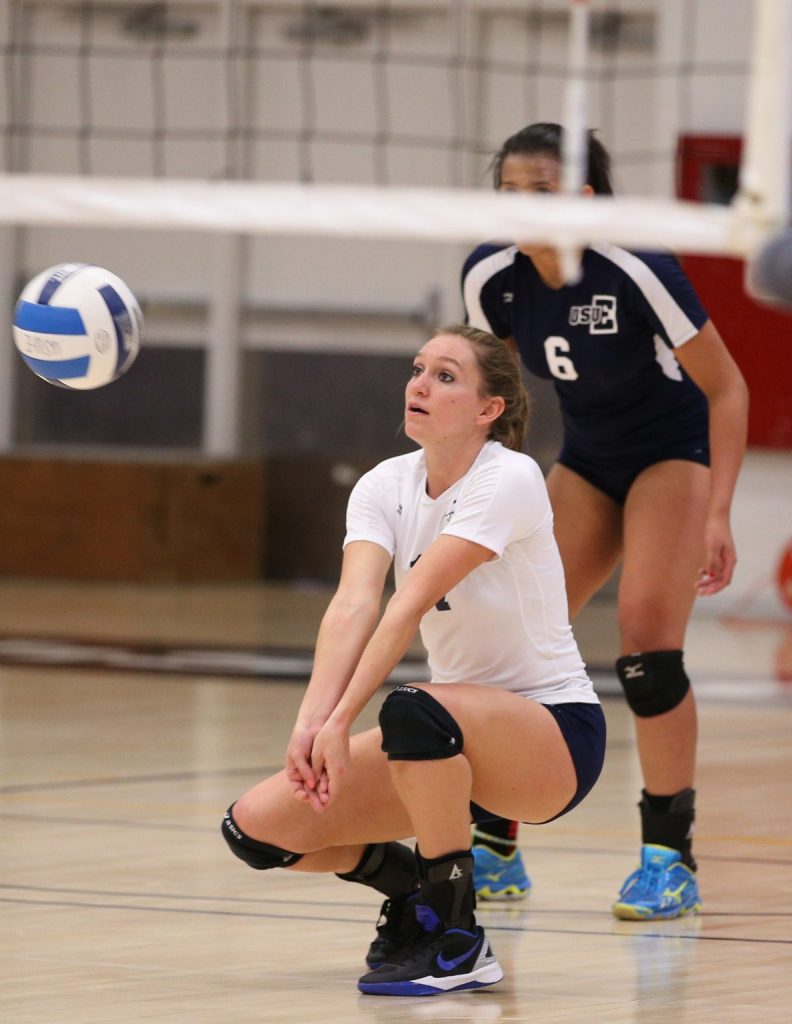 This archived article was written by: Masi Steel
Half way through the season, the Lady Eagles are 1-2 in region at home with a win against Colorado Northwestern Community College and tight losses to Salt Lake Community College in five sets and to Snow College in four sets.
The Eagles played CNCC on Oct. 4, beating the Spartans in three sets: 25-11, 26-24, 25-18. Whitney Riffle led the team with 11 kills, Melissa Judd followed with nine kills and Jasmine Covington eight. Judd also had 16 digs, to lead the Eagles with Chloe Brooks following closely with nine. Riffle also led the team in blocks with five.
Middle blocker Michaella Crooks said, "It was a very intense and fun game, I am really proud of the team and how we came together and took what we had been practicing and used it during the game in order to come out with the win."
The next weekend in a tough five-set battle, SLCC defeated USU Eastern 23-25, 21-25, 25-11, 25-19, 15-13. SLCC is ranked number sixth in the nation. Leading the team in kills was Shania Hurst with 10 kills while Covington and Carly Dalton added nine kills each. Koralys Gonzalez, with 20 digs led the Eagles, Judd had 15 and Hurst 11 digs. Covington, with six blocks leading the team.
Defensive specialist Chloe Brooks said, "It was a really close game and a hard loss, but we definitely learned a lot from it. I can't wait till we face them again next time. We now know we can beat them, we just need to stay positive and fight through and finish in three games."
The next afternoon, the Eagles returned to play Snow. The Badgers are ranked eighth in the nation. The ladies lost in four: 23-25, 25-18, 25-20, 25-19. Dalton led the Eagles with 15 kills and with Covington follow closely with 11. Gonzalez once again led the team with 22 digs with Judd following with 19.
The Eagles start the second half of their season this weekend over fall break at home. They face the College of Southern Idaho on Friday, Oct. 17, at 7 p.m. They then face North Idaho College on Oct. 18, at 1 p.m. This will be the Eagle's last home game and their sophomore night.