Golden Eagles growing with new season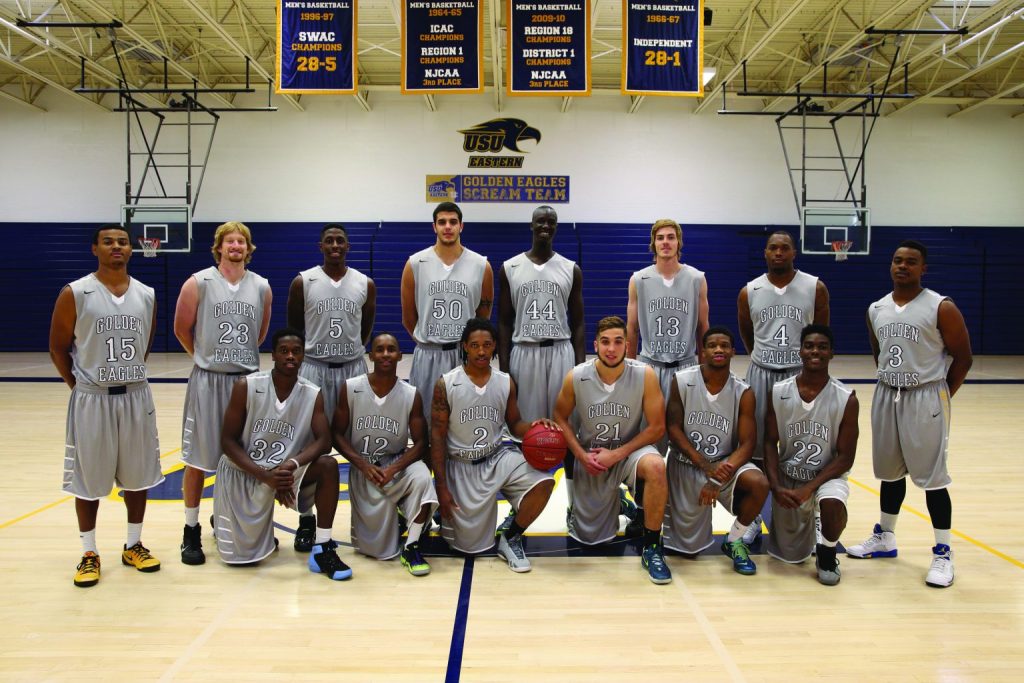 This archived article was written by: Jordan Mellen
It is that time of year again. After two weeks of play, Utah State Eastern's mens' basketball team has a 3-1 record. Assistant Coach Justin Brown says that the team is happy with their results but are looking for improvement and more consistency. "We need to work hard to improve and develop good habits in practice, and then carry that into the games," says Brown.
The Utah Eastern men's basketball team opened up their season on Oct. 31 with a 128-69 blowout win at home against West Wind Prep. Leading the team offensively for the Golden Eagles was Gemaal Davis with 16 points, followed by Josh Van Weezep with 15 points. Brandon Sly had the high of 10 rebounds on the game. Amounting the most rebounds for Utah State Eastern was Nathaniel Wright with 12, followed by Mark Guyman with 10.
The following day the Golden Eagle's second game resulted in close loss to Arizona Western College 78-75. Sly was the leading scorer for Utah State Eastern with 17 points, as he also led the Golden Eagles in assists with 6. Andre Hogan was the second leading scorer with a total of 12 points. Van Weezep, Nathaniel Wright, Sly, and Guyman all accounted 3 rebounds on the night.
On Nov. 7 the mens' basketball team traveled to Central Wyoming College, resulting in a 76-74 win. Hogan led the Golden Eagle's offensively with 15 points and 4 assists. Van Weezep, and Royale Ewing both had a solid game offensively with 14 points each. Leading Utah State Eastern with rebounds on the game was Wright with 6, followed by Sherman Daye and Guyman who each had 5.
Utah State Eastern's mens' basketball's most recent game resulted in a cushioned win over Little Big Horn College 103-83 on Nov. 8. Of the Golden Eagles 103 points, the leading scorer was Van Weezep with 18 points. Hamdi Karoul had 13 points as well as 6 rebounds on the game. Also with 6 rebounds were Wright, and Daye. Ewing had 5 assists, and both Sly and Phillip Winston had 4.
The team had different starters each of the first four games, and according to Brown they will continue to have different combinations of starters until they find a group of guys that compliment each other and play well together.
The Golden Eagle's next games are against Impact Academy at home on Nov. 14 and 15. The following week the team heads to Twin Falls, Idaho, where they will play Treasure Valley Community College on Nov. 21, followed by Planet Athlete Academy on Nov. 22.