Lady Eagles jump out to hot start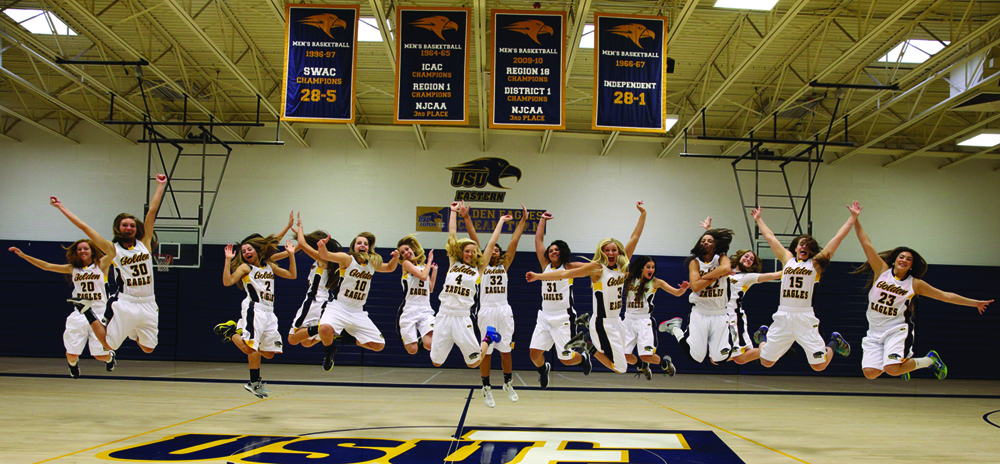 This archived article was written by: Abbie Bird
The Lady Eagle's basketball season has started, and they are starting off the season with a 3-0 record. They played an All-Star team Nov. 1, which consisted of former USUE Alumni players. They were able to pull out with a win of 89 to 64. Guard Bryanna Adams led the game with 17 points, and five other players scored in double digits to help seal the win.
On Nov. 7, the team headed to Ephraim, UT, for a tournament, where they played Northwest College. The Eagles pulled away an 85 to 78 victory, which didn't come as easily as the first game. They had to come back from a 10-point disadvantage at half time.
After the half time break they started making three point shots, and really picked it up on the defensive end. Sophomore Jessica Anderson led the team in rebounds with 6, and blocks with 3. Bryanna Adams led in scoring with 25 points, following her was Jamie Smith with 17 points, and Anderson with 14. The Eagles ended with a 45.5 percent made field goal percentage, which made a big impact on the final score of the game, where Northwest had 42.1 percent.
On Nov. 8, Eastern had another game versus a Utah Select team. The team consisted of former Division 1 basketball players and Alumni for Snow College. The Eagles pulled out another win of 95 to 90. The game started off intense from the beginning as both teams traded three-point shots and lay ups simultaneously. Barbara Cousino really helped the Eagles pick up the pace towards the end of the first half. She had four three-pointers in a matter of just a few minutes and went 5-10 on the three-point line. Cousino also led the team in points with 22. Adams pitched in 19 points, Smith had 15, and Anderson had 12. Adams led in rebounding with 11, Smith followed with 10. The team finished the game with a field goal percentage of 45, and a three-point percentage of 46.9.
The Eagles came together to pull off these wins and head coach Dave Paur believes this is his best shooting team that he has ever had. The team heads off to Casper, Wyo., Wednesday, Nov. 12, 2014, for their next tournament.