From Olympic gold medalist to coach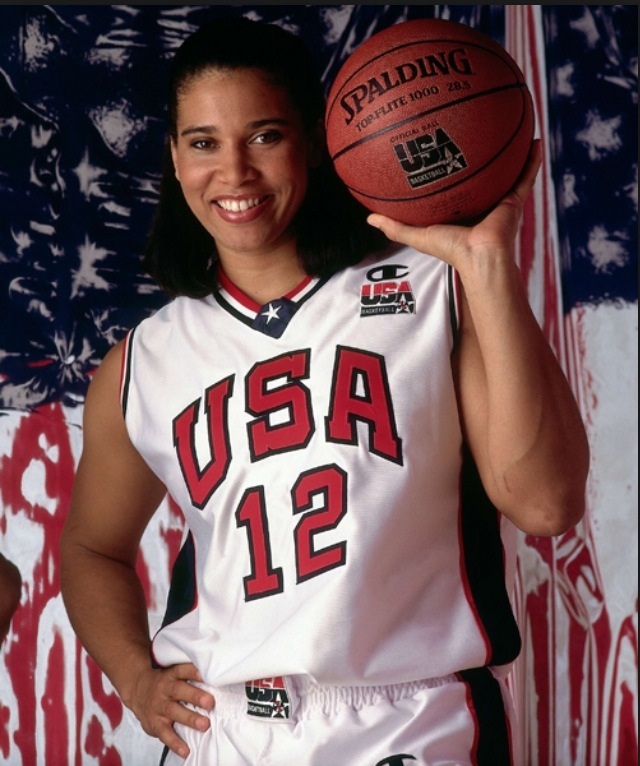 This archived article was written by: Masi Steel
The 2000 Olympic gold medalist in basketball, Natalie Williams, lives by "Our Biggest Fear" mantra and applies it in her coaching. Williams was born Nov. 30, 1970, in Long Beach, Cali., the daughter of Nate Williams who had a successful basketball career. (For eight years Nate Williams played for the Cincinnati Royals, Kansas City-Omaha Kings, New Orleans, Jazz and the Golden State Warriors.)
She has two half-brothers and one half-sister; her brothers both have had successful basketball careers, but her sister has pursued a different athletic career in tennis. She moved from California to Taylorsville, Utah, in high school and was a multi-sport athlete.
During her years at Taylorsville High School, she averaged 21 points per game with 14 rebounds. She was offered a volleyball scholarship to the University of California Los Angeles where she also played basketball for the Bruins.
She graduated in 1994 after leading the Bruins to two national championships in 1990-91 and named NCAA D1 player of the year in 1992 and also lettered all four years in both basketball and volleyball. Williams is the first woman to ear All-America honors in both sports in the same year.
"To me being a multi-sport D1 athlete was tiring at times, but it wasn't hard. I loved both sports very much and I did it all the way through high school, so it wasn't that different going from volleyball to basketball in college. I just felt like I had to play catch up during the basketball season a little bit; because I missed preseason every year," she said.
After college, she played three years for the Portland Power in the American Basketball League. She was a two-time ALL-ABL first team and in 1998 she was the MVP of the ABL. She finished her career in the ABL as the top rebounder with 12.5 rebounds per game.
After her ABL career she was drafted to the Utah Starzz Women's National Basketball Association in 1999 where she was the first-round pick and the third-overall pick. She stayed with the Utah Starzz four years before she was traded to the Indiana Fever and stayed with them for three years. Finishing with the Indiana Fever in 2005, she announced that she would retire and return to Utah to be the assistant girls basketball coach at Skyline High School in Salt Lake City, Utah.
Williams said that if she had not continued with athletics she would, "probably be a firefighter." After her successful basketball career, she settled down to have a family. She was an exceptional basketball player and is an even better mother. She is always happy to talk about her children and their accomplishments. "I have four children, three of which are daughters who am teaching the game to and I hope to one day get the opportunity to watch them play college basketball. Now that I am no longer able to play, living through my children and watching them grow and succeed is the greatest thing in the world."
The advice Williams gives her children through their hard times is, "Enjoy the little things in life, appreciate everyday and what you have and to give your best effort in everything you do. Good things will always happen if you just have faith and believe."
After all the places that she has been, she chose Utah as the place she wanted to start her family. "I decided to stay in Utah, because most of my family lives here and I love the mountains and that we have four seasons. I love that it is a great place to raise kids as well."
Williams has made another name for herself in the basketball industry by starting Club Utah Flash. She is a hard worker and still has a love for the game of basketball. "I am now the director of the Utah Flash Club program that trains, mentors and coaches young lades ages 5 -17 years old.  
"I absolutely love coaching and know it is what I am meant to do. I believe that all my experiences have lead me to do what I am truly here for, which am to give back to young athletes. Giving them the knowledge and confidence to compete at the college level and not only playing college basketball, but also helping to make them incredibly powerful, resilient and intelligent young ladies," Williams said.  
Williams said that between being a coach or a player, "they are equally as hard. One is more physically demanding, with the added pressures of what you expect of yourself and what your coaches and teammates expect of you.
Being a coach is like playing chess, constantly having to out maneuver your opponent with young athletes that you work hard to mold, but have no idea what they are going to do or how they are going to respond on any given day.  
"I learned early on in college, what a mental game sports are and so I work hard to help my athletes see how they can overcome so many obstacles and conquer great things if they believe in themselves. 
"Good athletes are a dime a dozen, but great athletes are those who overcome the mental fatigue, mental challenges and learn to outsmart their opponents." Williams stated.
The best and worst moments of Williams' athletic career were, "[worst] losing to Stanford in the NCAA Championship game my senior year, tearing my ACL at Stanford in a basketball game my senior year, getting cut from the 1996 Olympic volleyball team five months before the games after training with the USA volleyball team for a year and a half. My three best moments are winning two volleyball national championships at UCLA, especially the second one, where we were down by two games and came back to win the next three on our home floor in Pauley Pavilion.
"My second was winning the Olympic Gold Medal in Sydney and being the high scorer with 15 points. The third hasn't happened yet. It will be either an incredible coaching moment, or watching my young daughters excel at the game of basketball.  #Veryproudmama."
Williams said that if she could write a letter to her younger self with the knowledge she has now, she would say, "youngest self – enjoy college as you did, but major in athletic administration or communications. Knowing what I know now, it would have given me a major I could use now to be an athletic director or commentator if I so choose. Also, save, save, save. Managing money and preparing for the future is not a lesson that is taught as much as it should be. It should be more important than English or a foreign language."
Williams' advice to college athletes is, "to enjoy every minute of your time in college. It goes by so fast and it is a wonderful experience like no other that you will never be able to replace. The friends and teammates you meet will forever hold an incredible place in your heart that you will cherish forever. Always work your hardest. In practice and in games and have no fear. You will always be respected and appreciated win or lose, if you lay everything you have on the court everyday."
Williams also gave her favorite quote "Our Deepest Fear" by Marianne Williamson. She lives her life by this quote and is the quote that she gives to all of her players.
Williams is not only a great basketball and volleyball player, she is an inspiration to me. She has accomplished so much and has not lost touch of who she is and what she wants to accomplish in life. She always gives back to the community and is always striving to be her best self.