Harrison Groutage work in Gallery East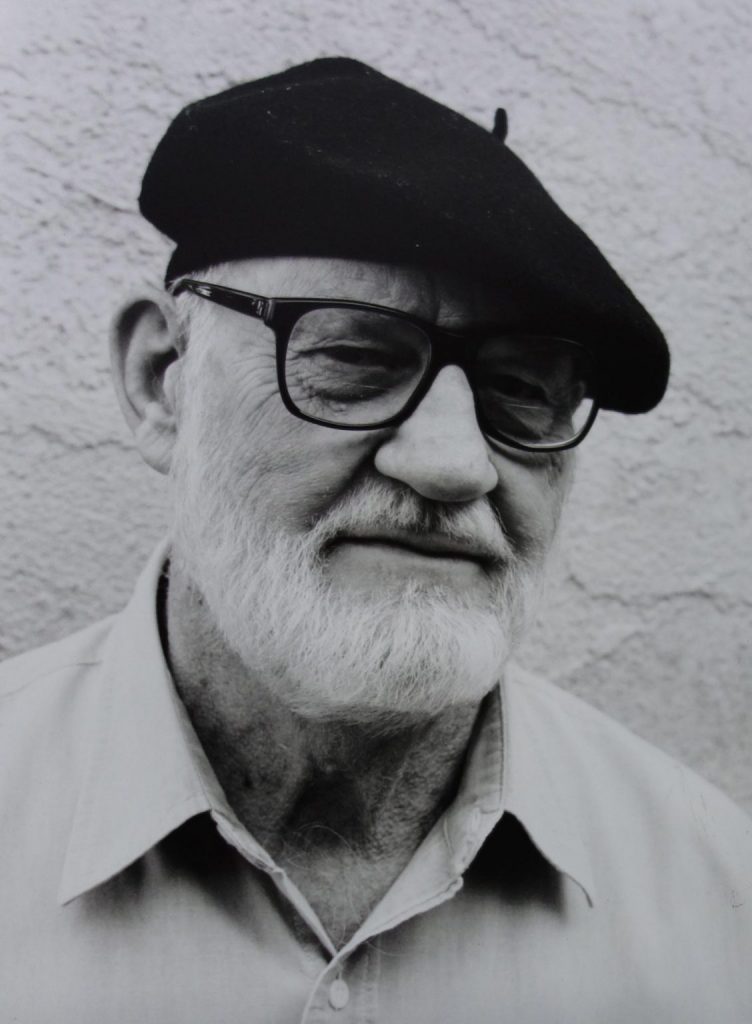 A retrospective of work by renowned Utah artist and educator, Harrison Groutage (1925-2013), will be exhibited at USU Eastern's Gallery East from Jan. 12 through Jan. 29, 2015. The exhibit, entitled "A Passion for Place: Harrison Groutage Retrospective," will include some of the most impressive examples of his work from his long and prolific career.
An opening reception for the exhibit is scheduled for Friday, Jan. 16, from 6 to 8 p.m. at the gallery, located on the northwest corner of the SAC Building. The exhibit is open Monday through Thursday from 11 a.m. to 5 p.m. or by appointment through January 29th. The gallery is closed on weekends and holidays. Attendance to the gallery is free and open to the public.
Any questions about the exhibit should be directed to Noel Carmack at 435-613-5241 or by email at [email protected].
About the artist
Born and raised in Cache Valley, Groutage would often paint and draw beside his mother as she enjoyed this pursuit.  His father, an accountant for JC Penny, Co., shared with him a passion for penmanship and lettering. This particular skill Groutage developed and enjoyed throughout his life. His interest in lettering and sign painting is evident in later work, and no doubt was valuable as he began his career as a designer and illustrator with Intermountain Theaters, Inc. and Young Electric Sign, Co.
Beginning his formal education at Utah State Agricultural College and Weber State College, Groutage received a Bachelor's of Fine Arts from Brigham Young University and a Master's of Fine Arts from the University of Utah. He acknowledged the influences of artists Ev Thorpe, Harry Reynolds, Calvin Fletcher, and Henry Moser.
Groutage began teaching at Utah State University in 1953, and did post graduate work at Iowa State University. His teaching career spanned over fifty years and included not only courses at USU, but many summer sessions and workshops at Snow College, Boise State, U of U, many locations throughout Utah, the Intermountain West, California and Mexico.  'Grout', as he became widely and affectionately known, was a rigorous teacher and popular with students, not only because of his artistic talents, but also because of his facile mind and quick wit.
Highlights during his tenure of more than thirty years at USU included the inception of a life drawing program, and ten years as department head, leading with strength and vision a vibrant and productive art faculty. He was also instrumental in beginning and supporting ongoing collaborations with the U of U Department of Art. Summers of study in Mexico and Monterey, California were popular for many years with students of both universities.
A gifted, productive and extremely versatile artist, Grout's work encompasses printmaking, ceramics, drawing, and woodcarving. He is best known as a painter, always an experimenter, always exploring new techniques, working in watercolor, acrylic and oil. A confirmed westerner, his landscapes exquisitely portray the land he so passionately loved, in which he lived and worked.
Grout exhibited in many galleries in the state of Utah, California, Idaho and Wyoming. He participated in countless group exhibitions and one man shows. He received many awards and honors from noted organizations including; National Academy of Design, National Watercolor Society, Watercolor USA, Western States Art Foundation, Jackson Hole Art League, Snow Bird Institute, Utah State Institute of Fine Arts, Cache Valley Artist of the Year, Springville Art Museum, and The State of Utah Governor's Award.
Grout considered himself an abstract realist. "Without a doubt, I consider myself a realist, but of a special variety. I have no interest in copying from nature or any other source – artists don't 'copy', they project their ideas through symbols," he wrote. "The symbols I prefer are elements around us in the landscape; however, one cannot go any place and 'find' my compositions. Components are collected, stored, edited, shuffled, organized and utilized to orchestrate a concern. As his friend and colleague, Carlton Culmsee noted, "The role of the artist is to create something new – something never before seen on land or sea." Although he painted what he observed, he used natural forms to help him create dramatic, sometimes abstract visualizations of the world around him.
As Grout further explained, "My concerns (deal mainly with this) for land features are best visualized through an exaggeration of light, pattern and form.  Subtleties, moods and complexities speak to me from our environment. As I deal with these concerns, I try to develop not pictures, but images of dramatic, and I hope, beautiful relationships."
Grout certainly left us that gift. "He left an outstanding legacy of work for us to enjoy. His influence is far-reaching and we are privileged to be able to show his work at USU Eastern," said Carmack.