France native trades cleats for courts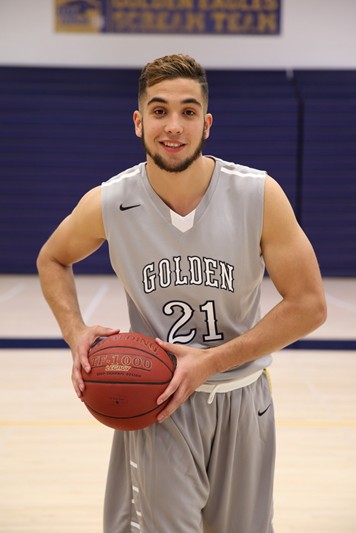 This archived article was written by: Marcelo Ruediger
Hamdi Karoui was born in Paris, France, where he lived his entire life until coming to Utah State University Eastern fall 2014 to play basketball. His father, Moez, is from Tunisia and his mother, Delphine, is from France; Karoui has double nationality.
Karoui is the oldest of two siblings; his sister is 18 years old and his younger brother is 15. His parents divorced three years ago and he lived most of his life with his father. In 2013, Karoui joined the Trappes, a third division team in the French basketball league, since then he lived on his own.
"As a basketball player I have a dream to improve my basketball skills as much as I can. I play college basketball so I can play professional basketball in the next level and make money to provide a better life for me and my family," said Karoui.
In 2012, Karoui played for the under 19 national team of Tunisia in the World Championship in Lithuania. This coming summer of he has been invited, once again, to represent the Tunisian basketball, however this time, for the main team in the African Championship.
Karoui played soccer for Paris Saint Germain, a well-known French team, when he was 12. "In France soccer is very popular and as a French kid, I grew up playing and watching soccer my entire life. No doubt that soccer is my favorite sport." He admits that even though he is a basketball player now, his true passion is for soccer. He started playing basketball when he was 14 years old, encouraged by his friends from school.
Why did Kaoui choose basketball over soccer? He said his real passion is the soccer game. "I was skinny and taller than most of my friends and basketball just seemed easier for me than soccer. I was for sure more talented playing basketball. I improved my game very fast and in a short period of time I started to get looks from different coaches and clubs in France."
What is the one thing Karoui is most proud of in life? He replied; "I do not have only one specific thing, but one that I could use as example was when I was selected the MVP in the Nike Basketball Camp called Basketball Without Borders in Africa. For this camp, the best players from Africa are invited to play for two weeks surrounded by NBA players and coaches. Out of all the best players of my age in Africa, I was selected the best. I am really proud of it and it opened many doors for my basketball career."
"After that Nike Basketball Camp, I had many offers from teams including good Division 1 schools in America. However I had issues with my academics." That was Karoui's biggest regret in life so far. He wishes he had studied more in France so he could take these offers.
Karoui is Muslim and has a lot of faith in God. He says that if it wasn't because of basketball, God and his family, he would probably take the wrong way in life and would be doing illegal things. If he was not playing sports, he said he, "would probably be selling drugs or dealing with some type of illegal activity because where I am from, people who do not have a chance to attend a good school or are not successful playing sport will most likely end up choosing the easier way to survive which is usually the wrong and illegal way."
For Karoui, the most important thing in his life is his family. "Every day I wake up and think about studying and getting better and better at basketball so I can provide my family a better quality of life."
Karoui misses home a lot, and what keeps him going after his dreams is the support of family and the idea of one day give them a better life. "Sometimes is very hard to be so far from home and even that I am kind of used to it, I still get homesick sometimes," he stated. His most satisfying thing to do each day is to call his mother on Skype because she always makes him feel good about things even when he is sad.
As a sophomore playing for the Golden Eagles, Karoui intends to go to another junior college in California next year, so he can get his academic situation fixed in order to play NCAA Division 1 basketball.