Men's BB looks for win against Colorado NW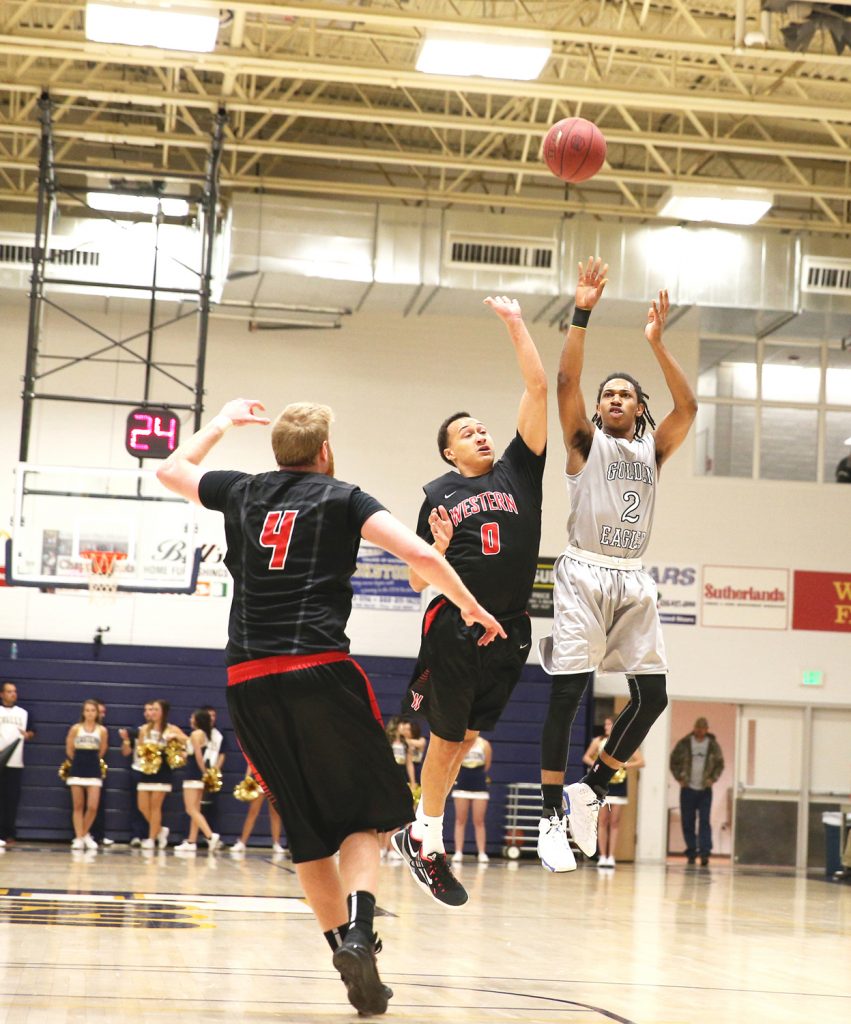 This archived article was written by: Jordan Mellen
Jordan Mellen
sports writer
[email protected]
Utah State University Eastern men's basketball team continues conference play and are still looking for some key wins. Although there has been some rough spots, the Golden Eagles are very optimistic in finding success towards the end of the regular season play.
"We work well as a team. We read each other well and help each other succeed," said freshman Brandon Sly. "We just make little mental mistakes. Things like shooting too early and making bad passes. We just need to listen to coach and trust what he has to say," about slight improvements that can be made by the team.
On Jan. 15, Eastern's men's basketball team traveled to Ephraim to face off with Snow College. The final score was 85-57 in favor of the Badgers.
Juwan Moody led the Golden Eagle offense with 14 points, followed by Sly with nine, and Marcelo Ruediguer with seven. Both Bryan Harris and Royale Ewing had two assists for the Eagles.
Leading with rebounds was Hamdi Karoui with nine, as well as Nathaniel Wright and Ruediguer with eight. As a team, the Eagles went 20-63 in field-goal attempts, 5-24 in three-point attempts, and 12-25 in free throw attempts.
The Golden Eagles continued their road trip as they traveled to Salt Lake Community College on January 17. This game was not decided until the final buzzer, as Salt Lake ended up winning 84-81. Wright finished the game with 14 points, followed by Phillip Winston with 13 and Moody with 12. Winston also had 11 assists on the night. Karoui and Wright each had seven rebounds and both Ruediguer and Winston had five. USUE finished 30-67 in field goal attempts, as well as 7-24 in three-point attempts, and 14-24 in free-throw attempts.
On Jan. 22, the Golden Eagles took a 16-hour bus ride to take on North Idaho College, in which the Cardinals won a 70-64 victory. Ruediguer, Andre Hogan and Josh Van Weezep all contributed 12 points to the Golden Eagle's efforts. Leading in assists for the Eagles was Moody with three, followed by Sly with two. Reudiguer collected eight rebounds for the Golden Eagles, and Sherman Daye contributed with six. The team went 24-66 in field-goal attempts, 7-19 in three-point attempts, and 9-11 in free-throw attempts.
The Eagles played one more road game in Idaho on Jan. 24 against the College of Southern Idaho before making their way back to Price. The game resulted in a 88-56 victory for CSI.
The leading scorers for the Golden Eagles were Van Weezep with 12, along with Hogan and Daye who each had nine. Winston helped the Golden Eagles efforts with eight assists on the night. Apart from the nine points, Daye also accounted 10 rebounds, followed by Reudiguer with eight and Karoui with five. The Eagles went 21-68 in field-goal attempts, as well as 8-29 in three-point attempts and 6-12 in free-throw attempts.
Coach Vando Becheli thinks his team has a lot of talent. "We need to keep from doing freshman mistakes that cost us the game. We still don't know how to finish games. We have control of the game, make crucial mistakes that cost us big games.
"This is a process, my guys need to mature. It's frustrating for me, but I have to tell you that the team is trying hard and want to win.
"Of course the morale is a little down amongst the players, none of them have quit. This is good news for the coaching staff.
"They are still in each game and need to build their confidence. They tell me that they need to win one game to solidify their play."
They continue conference play on Saturday, Jan. 31, as Colorado Northwestern travels to Price to face off with the Golden Eagles. The next week they face two tough teams: Snow on Feb. 5 and SLCC on Feb. 7.