The work of several Utah artists represented in "Out of Print" Exhibit at Gallery East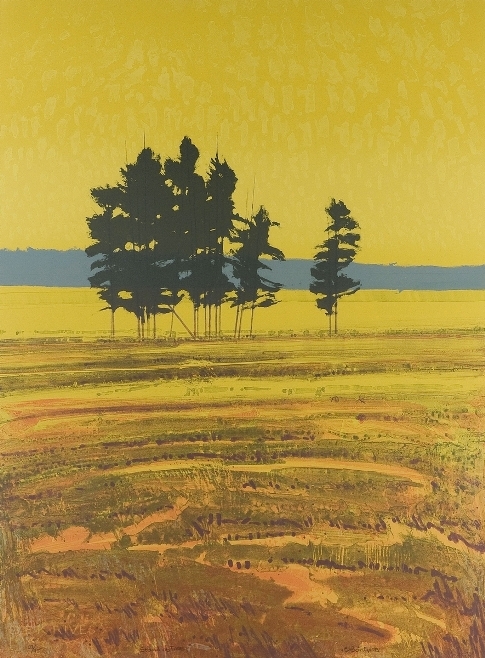 This archived article was written by:
USU Eastern presents "Out of Print," part of Utah Arts & Museums' Traveling Exhibition Program, from Feb. 2- 26 at Gallery East.
"Out of Print" represents 25 of Utah's finest professional artists using the medium of printmaking to create lithographic, intaglio and relief prints. In the early 1990s, master printers Wayne Kimball, Todd Frye and Doug Himes provided an opportunity for their students at Brigham Young University to observe working artists confronting and solving creative problems in their studios.
In many cases, the students and professional artists mastered other media, but had no prior experience in printmaking. Each artist worked collaboratively with the master printers at BYU to explore printmaking media while creating a limited-edition print for this exhibit.
Most of the work was created in the printmaking workshops of BYU's Department of Art. Each piece was designed and drawn directly on printed elements or plates by each artist; 46 impressions of each print were created. All other proofs and impressions related to the project were destroyed when the printing elements were effaced or altered in such a way as to render subsequent printing of similar editions impossible. Thus, the title "Out of Print" signifies that these exact images can never be reproduced.
Printmaking is a fine art using varied techniques and materials to produce multiple "original" works of art. Each piece is considered an original, since it is not a reproduction of another work of art, and is technically known as an impression. Works printed from a single plate create an edition; most are signed and numbered to form a limited edition.
The scope of subjects in "Out of Print" is expansive. The Western landscape, elements of the natural world, animal favorites, commonplace objects, the human figure and the role of symbolism are investigated. 
"We are privileged once again to show works by significant Utah artists at Gallery East for students and the community to enjoy," says gallery director Noel Carmack. "We hope that people will take a few moments to visit the gallery and see and appreciate the work for themselves."
The exhibiting artists represent a breadth of schools, ranging from the super-realism of Edie Roberson to the Mormon Art and Belief movement of Doug Himes. Lee Deffenbach and Tony Smith studied at the Arts Students League in New York City, and Deffenbach studied in Florence on a Fulbright scholarship. Wulf Eric Barsch received the Prix de Rome from the American Academy in Rome in 1975.
The work of Paul H. Davis has been featured at the Corcoran Gallery in Washington, D.C. and the Amerika Haus in Hamburg, Germany. Portrayed in a Life magazine article as a prominent American artist, Doug Snow's work hangs in collections throughout the United States, including those of the Museums of Modern Art in New York and San Francisco.
An opening reception for the exhibit is on Friday, Feb. 6, from 6 to 8 p.m. in USU Eastern's Gallery East, located on the northwest corner of the SAC Building. The exhibit is open Monday through Thursday from 11 a.m. to 5 p.m., or by appointment through Feb. 26. The gallery is closed on weekends and holidays. Attendance to the gallery is free and open to the public.
Any questions about the exhibit should be directed to Carmack at 435.613.5241 or by email at [email protected].
About Utah Arts & Museums and the Traveling Exhibit Program
Utah Arts & Museums' Traveling Exhibit Program is a statewide outreach program that provides schools, museums, libraries and community galleries with the opportunity to bring curated exhibitions to their community.
This program is supported in part by a grant from the National Endowment for the Arts. For more information on participating in the program, please contact Fletcher Booth at [email protected] or call 801.824.9177.
Utah Arts & Museums is a division of the Utah Department of Heritage and Arts (DHA). To enrich the quality of life for the people of Utah, DHA creates, preserves and promotes heritage and arts.
The division provides funding, education and technical services to individuals and organizations statewide so that all Utahns, regardless of race, gender, ethnicity or economic status, can access, understand and receive the benefits of arts and culture. Additional information on the programs and services can be found at artsandmuseums.utah.gov. 801.236.7555.