Former player killed in Mexico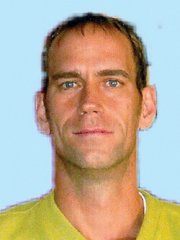 A professional basketball player who played at College of Eastern Utah from '94-'96 was killed in an automobile accident in Tlaxcala, Mexico, Feb. 16.
Tyler Wayman Newton was recruited to CEU from Kent, Wash., by head basketball coach Ronnie Stubbs. The six-foot, 11-inch center graduated from Kent-Meridan High School in '94 and was named to the Washington All-State basketball team.
After graduating from CEU, he continued his basketball career at Fort Hayes State University in Hayes, Kan. After college he played pro-ball in China, Columbia and Mexico. According to his obituary, he played in every part of Mexico except Baja. He was returning from a basketball tournament with his teammates when the accident happened.
Coach Stubbs remembers him as a good person and good basketball player. "He had a great upside."
Funeral services are pending. Family and friends can share memories of Newton online at www.mitchellfuneralhome.net. His family set up a memorial scholarship in honor of Newton with all proceeds going to the USU Eastern basketball program. Contact Vicki Noyes at 435.613.5256 for more information.