Hadzialijagic returns strong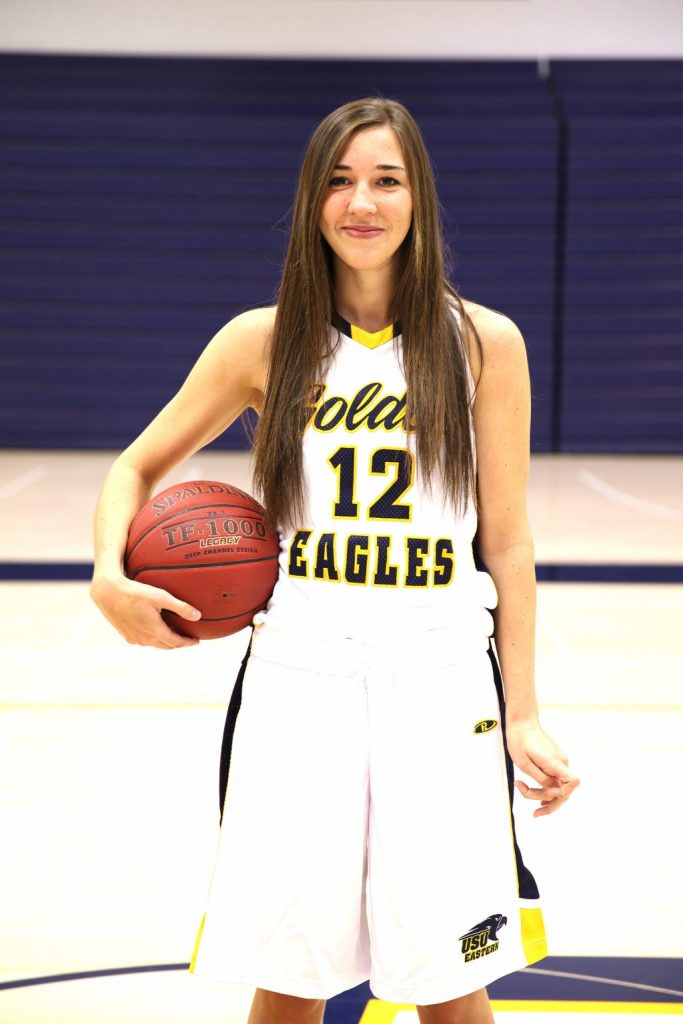 This archived article was written by: Marcelo Ruediger
Lejla Hadzialijagic is a 20 year-old basketball player for the Golden Eagles. She was the driver during a car accident that happened almost five months ago involving three players on her team. Hadzialijagic lost control of the car to avoid road debris and crashed into the medium, getting hit by another car on the left back side of her vehicle. She had a total loss of her vehicle.
On Oct. 23, Hadzialijagic and two of her teammates were riding to Salt Lake City around 8 p.m. when the crash occurred. "Everything happened so fast, and when the car stopped I could not move my left arm. I could not grasp what was happening around me on that very moment. I could just remember Carol next to me trying to keep me awake." Soon a crowd of people stopped to help until the authorities showed up. Hadzialijagic and Shelby Cornforth, who was in the back seat, were taken to the hospital.
Caroline Ficher was in the front with Hadzialijagic and she walked out of the car with no injuries. Cornforth pulled a couple muscles in her back. Hadzialijagic was the most affected: her collar bone broke. "When I found out about my broken collar bone, I was worried about how long it would take me to recover." The girls had their first games at the Jamboree tournament at Salt Lake the very next day, and only Ficher was able to play. Hadzialijagic stayed out for the first eight games of the season. It took her a month to recover.
Hadzialijagic is originally from Austria, with a Croatian and Bosnian background. She lived in the United States since she was 4 and started to play basketball when she was 13. Two years after she started playing basketball, she joined the West Jordan High School team.
Hadzialijagic spent four years at West Jordan High School and was the top scorer and rebounder her junior and senior year. She was all-state her junior year and all-region her senior year. With a good performance her last two years, Hadzialijagic was recruited by the Golden Eagles and accepted their offer. "I thought it was a good place to go because I did not want to be too far from my family the first years of college."
Hadzialijagic joined the Utah State University Eastern team fall 2013. She is a sophomore and has been helped the team a lot to make their best record of 19 – 9 since the 2003 – 2004 season.
"This year we have a strong returning sophomore group who played together last year. Also the freshmen have worked hard and bought into our system fast to help us to succeed," she said. The team is in the fourth position in their conference and have big expectations for the region tournament.
"I was happy to be back and totally recovered from my injury." Hadzialijagic was back in the courts by the end of November. She is now a big contributor for the team, averaging six rebounds per game.
USU Eastern will be hosting the region tournament, Feb. 26-28. "I think we are a hard team to prepare to play against and if we knock down shots and play the way we have been playing the past few games, we will do well in this tournament." The team is hot after road sweeps in Idaho against North Idaho College and the College of Southern Idaho, and in Colorado against Colorado Northwestern Community College.