Women's team finishes strong with a sweep on the road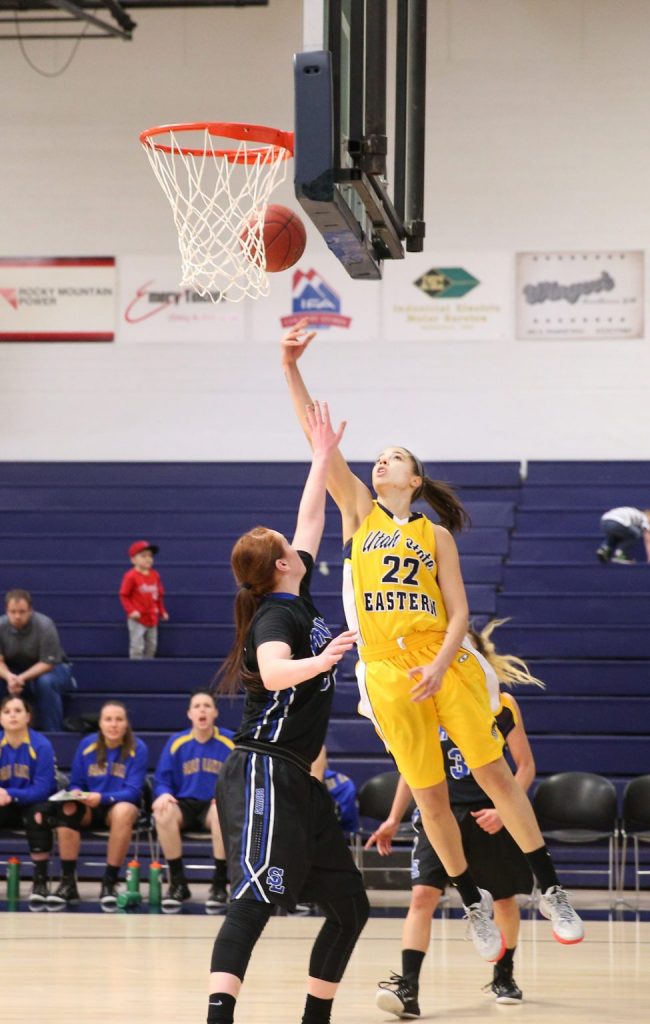 This archived article was written by: Abbie Bird
USU Eastern ended region play on a good note, with a three game winning streak against Colorado Northwestern Community College, the College of Southern Idaho and North Idaho College. They continue to keep the same mentality and stamina from those games as they prepare for the SWAC region tournament held in the BDAC on Feb. 26-28.
They started off their streak by beating NIC on the road on Feb. 12, by six points, 71-65. Sophomore guard and captain Bryanna Adams showed the team the way with 19 points, with Caroline Fischer chipping in 14, Ana Borges 16. Eastern shot 39 percent from the field, and NIC was just short with a percentage of 37.
Adding another win to their record, Eastern beat CSI on the road on Feb. 14, squeezing by with one point, 93-92. Both teams battled hard the entire game, and the leader of the game was back and forth. At the final stretch, Jamie Smith hit a three to cut CSI's lead to two points. Ficher received the ball seconds before the clock went out and dropped another three, giving the Eagle's their one-point lead to end the game. Adams led the team in points with 21; Borges had 14 and Smith 12. Smith also had nine assists and Lejla Hadzialijagic had nine rebounds.
On Feb. 21, Eastern traveled to CNCC, where they acquired their third road win: 74-61. This game was much closer than the past few times Easter played CNCC. Spartan's post Jamie Revels proved to be a worthy opponent throughout the game, as she dropped 26 points on Eastern, but the Eagles answered with four players scoring in double digits. Maddy Murphy had 19, Ficher 15, Borges 15, and Jessica Anderson 13. Anderson had a double double with her 13 points and 13 rebounds.
On preparing for regionals, Adams said, "I think we have done all we can do to prepare for the region tournament. We have played each team and we know how they play, we just need to go in and be mentally tough and ready when we play. I think if we go in and believe that we are going to take it, we're going to take it."
Head coach Dave Paur said, "We have to remember that every team is 0-0 right now. It is a new season and what happened in the past doesn't matter. We may try a few new things on defense and offense, but at this time, execution of what we already have is critical. If we knock down a few threes and don't foul, we will be okay."
USUE finished in fourth place in region; they were tied for third, but lost a coin toss to Snow. Since they are seeded in fourth place, Eastern will play NIC on Feb. 26 at 5:30 p.m. in the BDAC for their first game in the SWAC Region Tournament.