New coach, team with great plans for upcoming season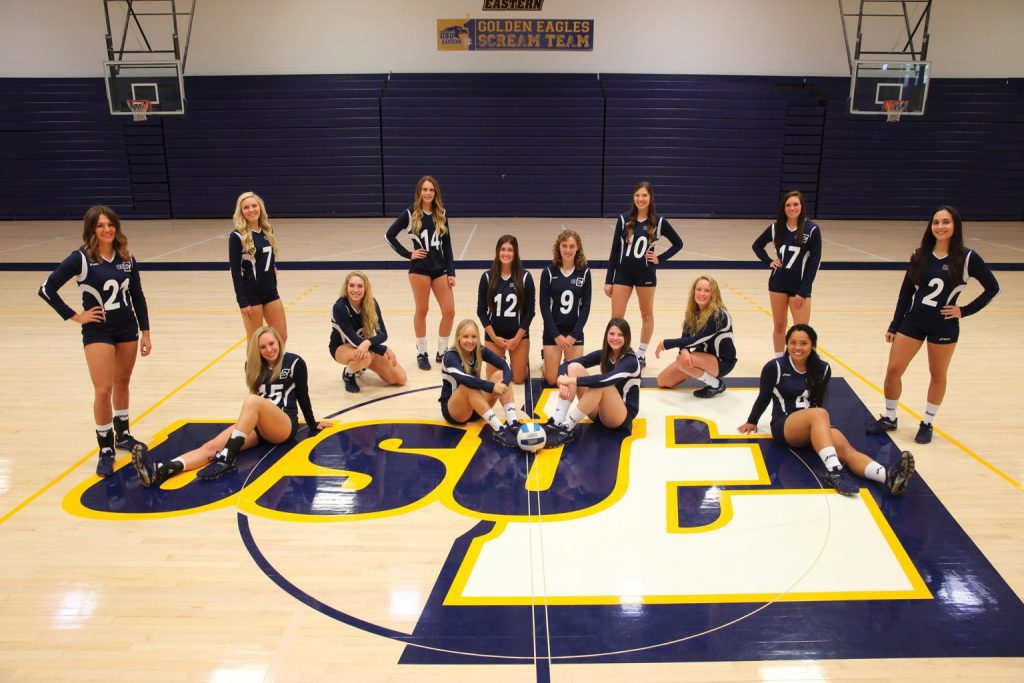 This archived article was written by: Kayla Newman
With a new coach, players from all over the country and a desire to win a national championship, the volleyball women should be the team to look out for.
While most students enjoyed the luxuries of summer vacation, preseason had already begun for the Eagles. Putting in up to nine hours of practice a day, they have been working diligently for a successful season. Paige Eyring said, "We start with a pretty extensive warm-up, then move into ball control drills. After that we go into game-like scenarios where we have to work hard, be intense, and be focused on every point."
Such focused practices can only be the result of the great coach that runs them.
Coach Brittney Lee decided to move from Sothern Virginia University to USU Eastern in May 2015. Most of the women she recruited had already committed and had their hearts set on SVU. Mckenzie Mott commented, "At first when coach called explaining she was moving, all I felt was panic. It was a week before graduation and SVU was what felt right. After I took a few moments to calm down and think about it, USUE felt more and more like the right decision. I wanted to follow Coach Lee and be on her team because she was the reason SVU felt right at first, and now she was the reason USUE felt right now."
Over half the team went from having their heart set on SVU, to completely changing their minds and moving to Price, Utah, just to be coached by Lee. She has big plans for this season and high hopes for this team. The ultimate goal is going to nationals, but the team has set smaller goals to accomplish their bigger one. The team wants to win every home game, don't ever lose in three, win at least 22 games in pre-season, and win state, meaning they beat every team in Utah. Small steps can lead to great accomplishments, and that is exactly what Coach Lee has in store.
The team has already had a special bond, coming together as a family on and off the court. The team all can unanimously agree that team dinners have really been what has bonded them together. All during preseason, after a long day of practice and early morning lifting, they would all gather together at coach's house, eat a nice home-cooked meal, compliments of Jager, Coach Lee's husband, and sit around together and listen to Teah Tuckett, a teammate, sing and play the guitar while everyone finished up eating.
A great volleyball team starts with talent and hard work, and ends with them getting along and working together as a team and with their coaches. The Lady Eagles have all the tools to be not just good, but great this season. Their first home game is Sept. 25, at 6 p.m. against the College of Southern Nevada.