Men's soccer finds consistency, improving to a 7-3 record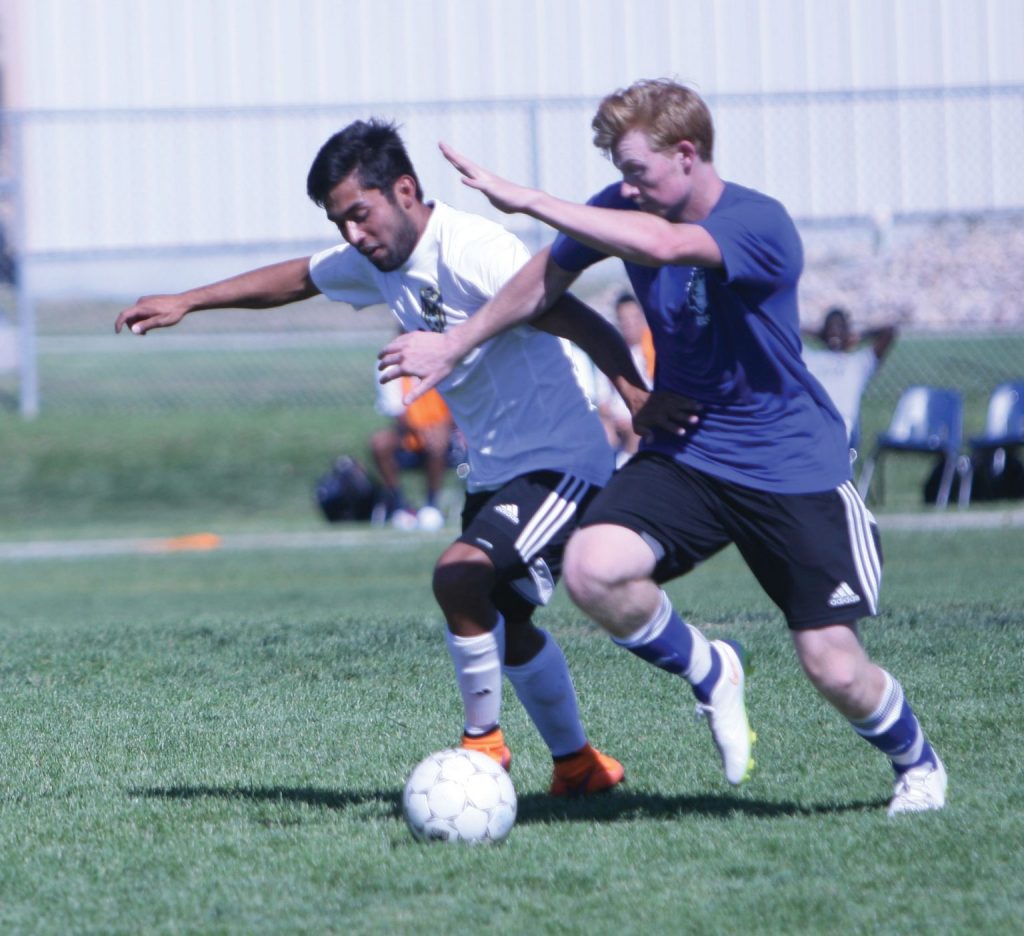 This archived article was written by: Vanessa Gomes
With half of the season over, the men's soccer team is 7-3-0, with latest victories against Trinidad and Otero Community College. Leading the Eagles are forward Youssef Mourchid with six goals and left wing Andres Garza with three goals 2 assists, followed by Jake CLements with two goals and two assists and Luis Rico with two goals and one assist. "We have lost a couple games that we shouldn't have, by making big mistakes, giving the ball away to the other team just 20 yards in front of the goal, pretty much saying here, shoot it, we don't want it, but other than that we are playing the best soccer, so that is a good thing," Coach Bennett said.
Players stepping up and making a difference include Mourchid, goal keeper Dylan Mclllece, Rico, midfielder Alexis Beiza, Clements, right wing Taige Smith, midfielder Peter Funaro, Garza and defender Michael Brady.
The team is on to a good path, and a little bit more focused and unified rather than last year. "There is always things that come up with guys; they are always trying to act like they are the bull on the field, like they are the big guy, and want everyone to see them individually. Last year we had some immaturity problems, this year not as many. They all get along pretty well and recognize our strengths," Bennett said.
"Every team has its strengths, weaknesses and challenges. They might be controlling the ball really well, really good in the counter attack, very athletic, very fast and doing really well offensively, but giving up easy goals is definitely what we need to fix, and with a team of 31 players is even more challenging," Bennett said
"We have a few guys that are probably good enough to play, but there are just a couple of guys that are just a little bit ahead of them, so we have some good players that don't get a lot of playing time. We are a new team, we were here last year but we have a lot of new players and that affected us early, but once we figured out the rotation and the style, we have been a lot better," Bennett continued
Consistency and good decision making seem like the biggest improvements this team needs, they tend to play a really good first half and then not so good second half. "It is a distribution mistake, where we give the other team the ball right in front on top of us and they score on you, so we have to fix that. The last two games, out of 90 minutes, we played about 70 minutes of really good soccer; consistency in that will make some decisions that just lead directly to goals," Bennett said
This team seems like they have it all, and they all want the same thing, to win the region title, and take it all the way to nationals.
"I think we are good enough to do that, but the region that we would have to play in is better. We beat the top teams in the league, but we also lost to one of the bottom teams in the league, and that bottom team has turned around and beat some of the better teams, so there is a lot of back and forth. I think we are good enough to win it, we are good enough to go to Arizona, play those teams and advance to nationals, and that is certainly the goal." Bennett said.