Nolan Salix' "Precious Perspectives" at art gallery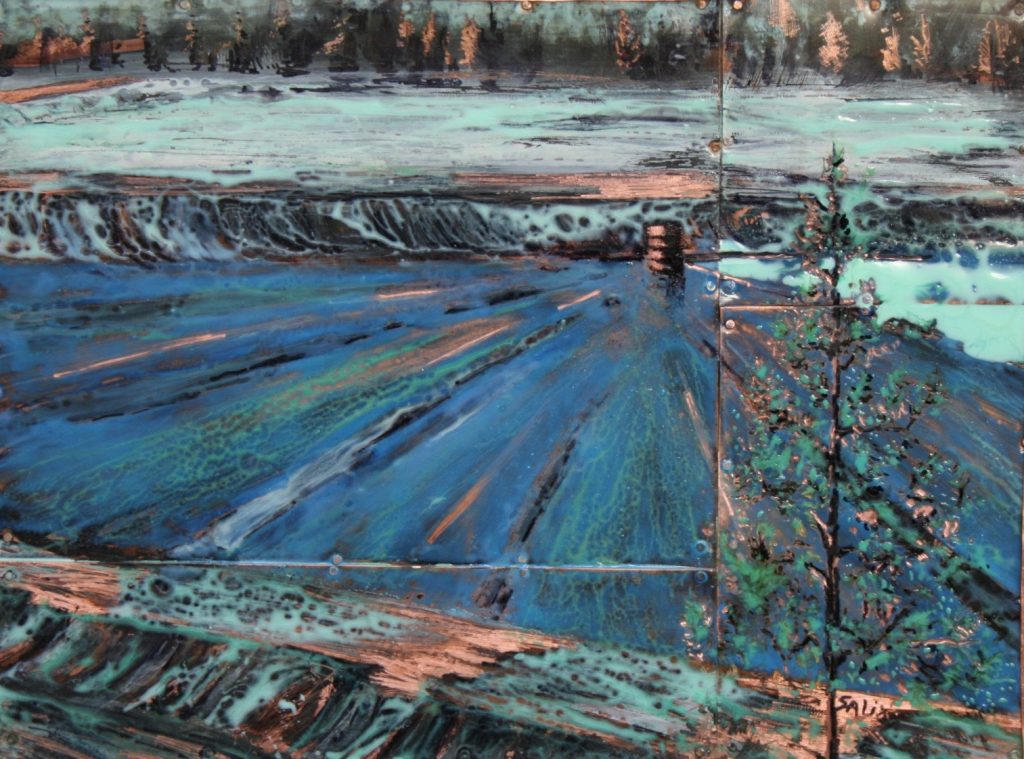 Montana artist Nolan Salix has made the mining industry a major theme of his visceral paintings and he brings his compositions to USU Eastern's Gallery East in a show titled, "Precious Perspectives" from Oct. 5 through Nov. 6.
Salix' work combines the declining mining structures of the West with eroding, weather-beaten landscapes. Often, he even uses the sheet metal made from copper, steel and other alloys that are extracted from these mines as the supports for his paintings. This makes for an unusual pairing of theme and materials.
"My works are representations of mining landscapes across the west," Salix explains. "Utilizing materials that are mined or processed at the sites, I try to communicate about the place.'" The copper and tarnished metals he uses as his painted surfaces are tactile emanations of the mines and mills that fabricate them.
The exhibit evokes opposing paradigms about resources in the landscape: the intact ecosystem with dependent plants and wildlife and the extraction of precious metals embedded within the soils.
Salix' paintings are impressions of observed degraded landscapes, large-scale transformations of mountains and valleys, biologically simplified plant communities, tailings and byproducts from extracting resources from the Earth. "This adulterated landscape with distinct forms and copper hues, mimics clear Caribbean waters and surprises my senses in its stark beauty," he writes.
Salix' imagery is emotional and evocative—colorful visual statements that represent human's use of the Earth's resources and sometimes depredating presence on the landscape. The paintings often depict aging plant stacks, millworks and abandoned open pits, signs that humans left industrialized "marks" on the landscape.
Salix was born in 1970 in the smoggy Los Angles Valley, which took him to the emergency room on occasion for air-pollution poisoning. He was later raised in Dallas and moved to Oregon, where he worked for a travel trailer factory, Boise Cascade Timber Company and various industrial food plants. He served in the U.S. Marine Corp. Reserves six years while attending Aquinas College in Grand Rapids, Mich. A semester of his education was spent on the rural Western Coast of Ireland.
In 2000, he and his future wife moved to Bozeman, Mont., to attend graduate school. Salix studied under Harold Schlotzhauer, Sara Mast and Jay Schmidt, and was encouraged to paint larger, more physically involved works.
In 2004, Salix graduated with a master of fine art's degree in painting from Montana State University. He has since taught art at MSU, Utah State University and is teaching at University of Montana-Western in Dillon.
A reception and gallery talk will be on Friday, Oct. 9, from 6 – 8 p.m. Students, family and the public are invited. The gallery is located in the Central Instruction Building and is free and open to the public during the academic year from 9 a.m. to 5 p.m.
Any questions can be answered by Noel Carmack, Gallery East curator, at 435-613-5241 or email at [email protected].