Staff vs. players round 2: A rematch for the ages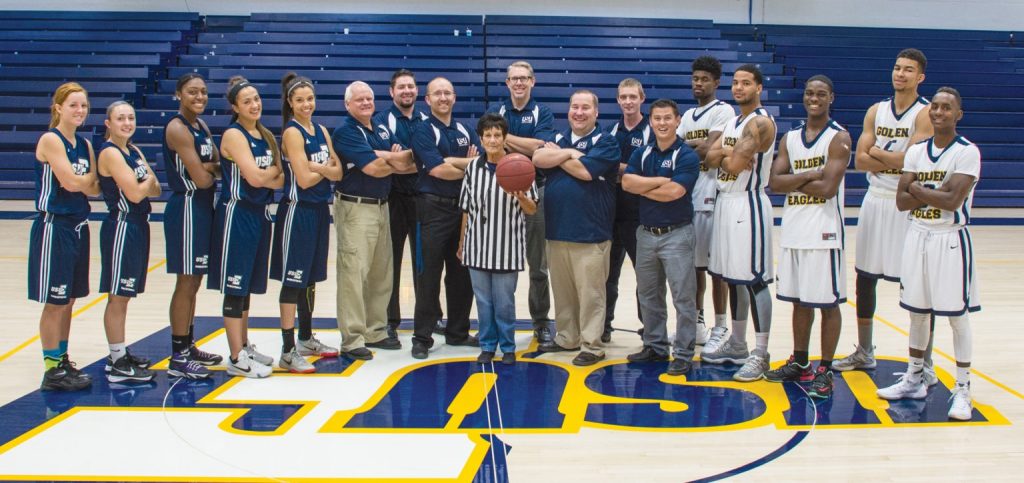 It's officially a challenge. USU Eastern's staff formally challenges the men's and women's basketball teams to the annual match on Tuesday, Oct. 13, at 7 p.m. in the Bunnell Dmitrich Athletic Center. Height, age, gender, speed and athleticism will be featured in the grudge match that pits the best of the staff against the best of the men's and women's basketball teams.
If you thought last year was fun, this year will prove to be even better. "We have done a lot of outreach to the community this year," Jeff Spears, director of residence life and student conduct said. He had professional posters made by Eastern's marketing manager, David Mathis, to advertise the event. Admission is bringing a non-perishable item to be donated to the Carbon County Food Bank, Spears' said. "People get to watch great basketball and help stock the food bank shelves."
Kristian Olsen, director of enrollment, added, "We will also be giving away prizes to the students that attend and have been working out the details for a slam-dunk contest." He hopes the USU Eastern community supports all the staff wanna-be athletes.
Spears said that last year the staff lost by a few points, but had help from Basketball Assistant Coach Justin Brown. "We were substituting every minute. It was like a hockey-line change," Spears smiled as we asked him what he remembers from the game.
"I think we also felt like kids again stepping on the court with athletes of USUE's caliber. This year should be no different," Spears said.