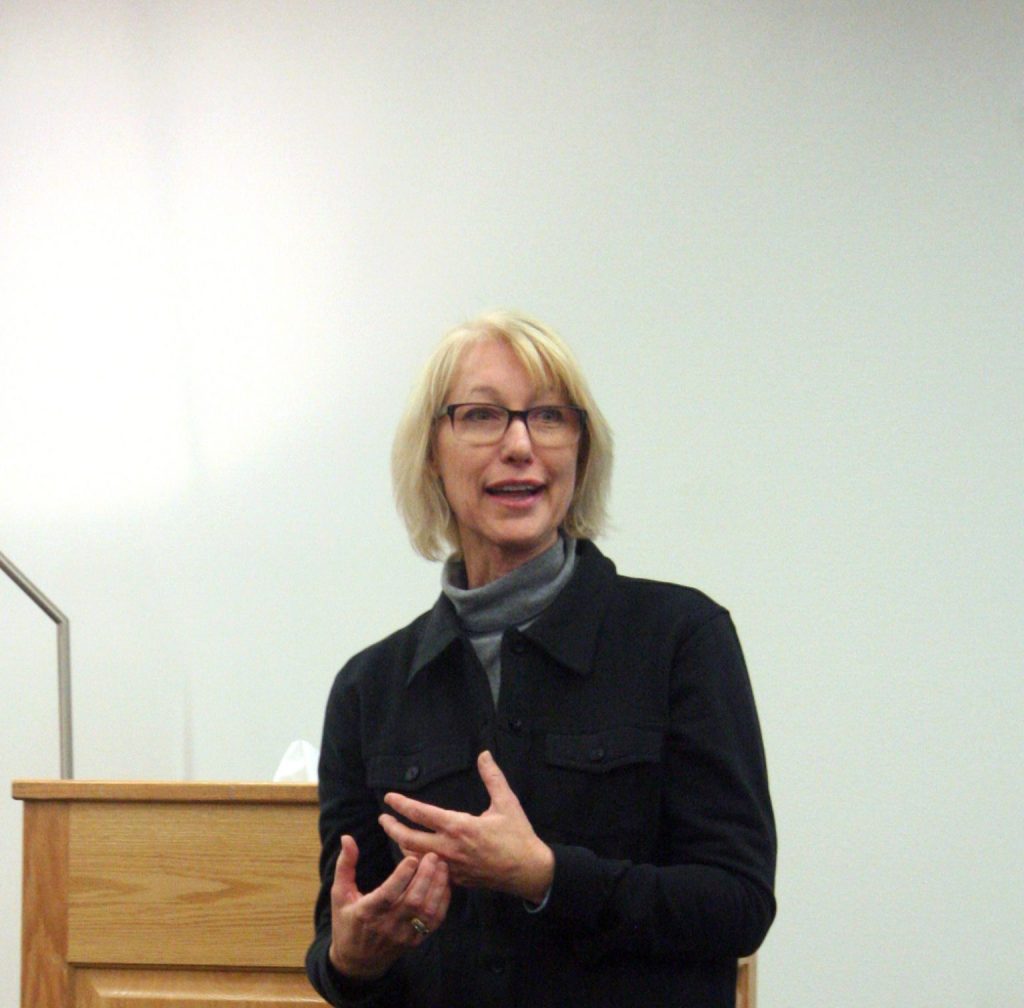 There's no shortage of published authors on USU Eastern's campus, as five spoke about their research in the third annual Author's Night hosted by USU Eastern's library Nov. 12.
Susan Rhoades Neel, Ph.D.; Noel A. Carmack, MFA; Sandie Nadelson, Ph.D.; Stan Martineau and Richard H. Walton, Ed.D., discussed their research ranging from a love story at the turn of the century, solving cold case homicides, Mormon artists on the national scene, teaching methods for patient caring and improving the education system.
Neel's research centered around Earl Douglass' life of determination and hard work. Working for Carnegie Museum, Earl traveled to the Uintah Basin where he found a large brontosaurus south of Split Mountain, plus a dinosaur graveyard representing a variety of genera. He worked tirelessly excavating, packaging and shipping fossils back to Pittsburgh. Homesteading with Pearl and son Gawin, the Douglasses called their Dinosaur Ranch idyllic.
The Carnegie Museum found hunting dinosaur bones expensive and parted ways with Earl. He envisioned the construction of a museum to expose a relief of how they were buried. Without a job, however, the family was left in dire financial circumstances. Earl died impoverished and largely unnoted in the scientific world he so admired. Today fossils from the quarry he discovered reside in many museums, some still considered to be amongst the finest in the world, Neel said.
Carmack's research was on how Mormons became popular artists on the national scene. Beginning with a question, Carmack asked who carved the four president's heads in Mount Rushmore, S.D. Gutzon Borglum, a child of Mormon polygamy in the Idaho Territory of St. Charles. His mother was his dad's second wife and he was trained in Paris at the Academie Julian. He was influenced by Rodin's impressionist light-catching surfaces.
Another Mormon artist was Jyohn Hale Jr., who was born in Salt Lake City and established himself as a well-known artist. He moved to New York where illustrated magazine covers.
Henry Lavender Adolphus played a significant role in the promotion and early economic progress of the West as a writer and landscape painter. Culmer was the first artist to see and depict the area of the natural bridges and arches in Canyonlands. He believed that sublime and magnificent scenery depicted both the beauty and the spirit of America.
With a nursing and education background, Nadelson discussed how to teach "caring" in education. She asked, "how people learn how to care?" She went into nursing school because she cared for people and thus is researching how to make students learn about caring. The top three careers in higher education that qualify for teaching caring in the curriculum is (1) nursing, (2) education, and (3) engineering.
Nadelson believed the longer one stays in education, the more caring they become. "Behaviors," she defined, "is a systematic review that can explore caring in nursing education research and gives some indication that it can be taught.
Can you teach caring, professionalism, Nadelson asked. She is exploring what faculty think and do regarding professionalism.
Martineau's presentation centered on improving the education system throughout the world. He believes in teaching higher-level thinking skills.
His students have a 100 percent pass rate on the electrical test . . . compared to 40 percent nationwide.
His success comes from presenting problems to his students that even professionals fail at solving; "this is one of the hardest jobs we have is working on a problem that previously has been worked on before."
"We all need a few successes to help us out when we are beat up by the next tough one," Martineau said. One thing about his industry, it will come.
Walton was the final presenter of the evening. He explained his research behind investigating cold case homicides through his book, "Cold Case Homicides: Practical Investigative Techniques." His text was based on 31 years in California law enforcement.
"I also drew upon a 13-year quest in which I reactivated perhaps America's oldest active homicide investigation, a series of murders and alleged rapes set amidst official corruption in the heart of the Prohibition era in 1925," he said.