Cooking with Toby: Enjoying left over turkey for days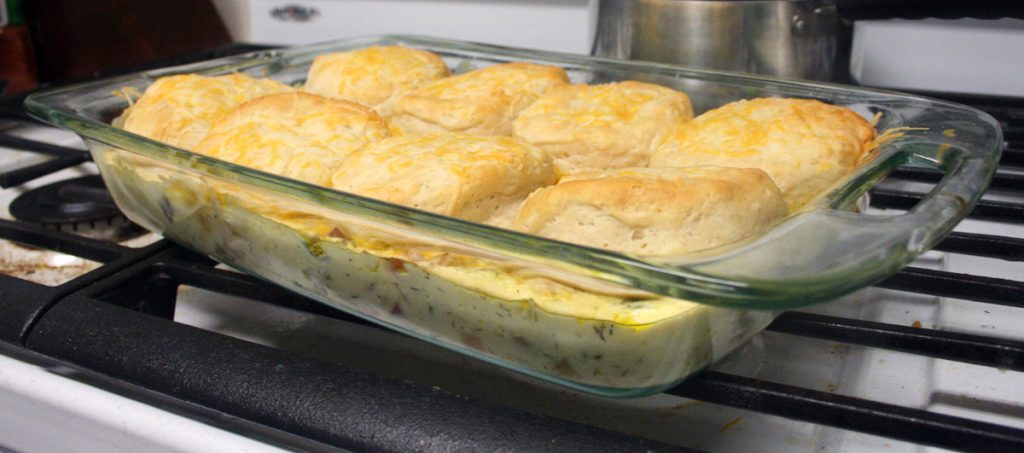 This archived article was written by: Toby Foster
It seems like every Thanksgiving, I hearabout the struggle to finish left over turkey before you are absolutely sick of it. For this article, I have come up with ideas to add variety to turkey so you will not get sick of it. I also came up with a recipe for creamy turkey and biscuits that you can make to use up some of the turkey. If you take this to heart, I want you to beg your parents to let you take as much of the turkey as possible.
One of the most typical uses of left-over turkey is making a sandwich, but this gets old fast. To combat this, simply add different condiments. BBQ is a simple one and so is horseradish. I like to make my own spiced mayo. Some common combinations include garlic and basil or paprika and thyme. Lemon pepper and cilantro give it a great zing as well. Also experimenting with some different types of cheese can help. If you want to take it a step further, you can turn your sandwich into a Monte Cristo. This is not a healthy choice, but is delicious. If you do want to do this, toothpick the corners of the sandwich closed and dip it in a batter made from mixing the following ingredients until smooth:
1 ½ cups water
1 egg
½ tsp salt
1 tsp sugar
1 ½ cups flour
1 tbsp baking powder
Deep fry it at 350 degrees F until golden brown. You can eat them plain, with jam or top with powdered sugar. This makes enough batter for four or five sandwiches. Also, do not use vegetables on a Monte Cristo. It will not end well.
If you do not want to have sandwiches, my family tradition is to make soup out of the leftover turkey. We usually boil the entire carcass so that we get turkey broth. If you are just working with some of the meat chicken broth will work fine. Then cook vegetables in the broth and add the meat and pasta. It really does not matter what vegetables or what pasta you use. You could even leave the veggies or pasta out if you don't want them. Season with salt and pepper. If you want more flavor, adding sage, rosemary, garlic and/or thyme.
Depending on how much of a purist you are, can consider doing fried turkey just like you would fried chicken. Since the turkey is already cooked, cook it at a higher temperature so that the meat does not dry out, but the breading does get fully cooked.
For the creamy turkey and biscuits, you can do this with chicken or just buy turkey for this recipe. Just keep in mind that the meat needs to be cooked before you start any of the other steps. Boiling it would be the easiest, but you can oven roast or grill it.
Creamy Turkey and Biscuits
½ a large red onion
1 poblano pepper
2 tbsp cooking oil
2 tsp minced garlic
4 cups chopped, cooked turkey meat
1 (10 oz) can condensed cream of chicken soup
1 cup sour cream
1cup milk
1 tsp dill weed
2 tsp salt
1 cup shredded cheese
1 can (8 count) uncooked biscuits
Pre-heat oven to 350 F.
Dice the onion. Remove the stem, vein and seeds from the poblano and dice its meat. Heat the oil in a skillet over medium heat. Saute the onion, garlic and pepper until the onion turns pail.
In a medium mixing bowl, combine turkey, soup, sour cream, milk, dill weed, salt and the sauteed mixture. Mix well, spread into a greased 11-by-7-inch baking pan. Bake 15 minutes.
Remove from the oven, sprinkle ¾ cup of cheese over the top. Place biscuits on top evenly spaced and sprinkle remaining cheese over top. Return the pan to the oven and bake 20 minutes or until biscuits are fully cooked and golden brown.