Hold 'em, fold 'em at Casino Night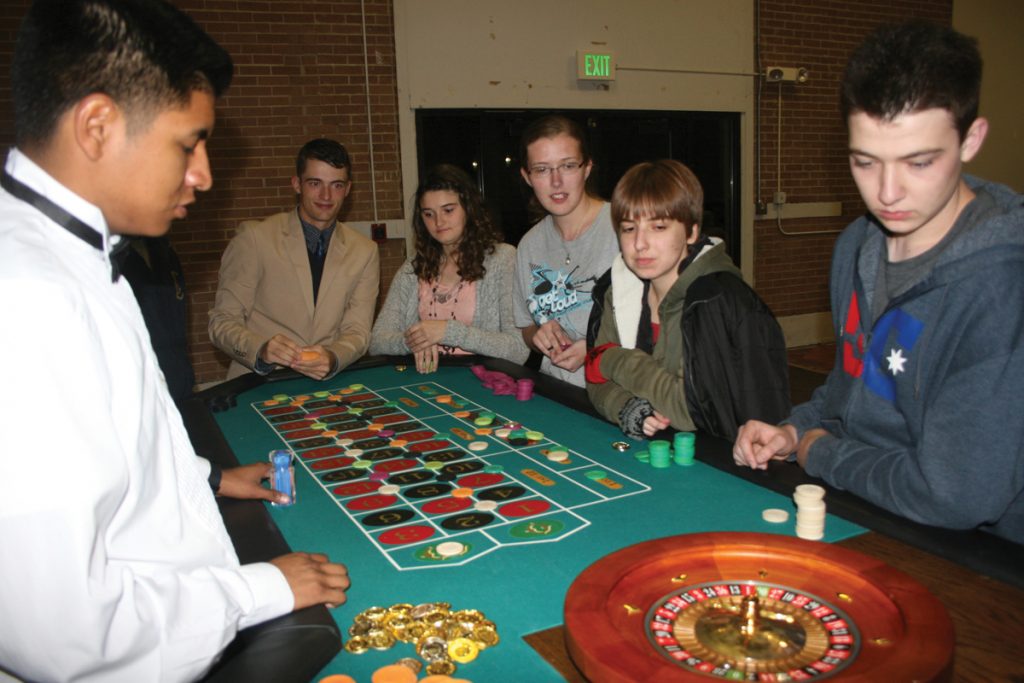 This archived article was written by: Stacy Graven
Wagering chips, rolling dice and spinning a roulette wheel were part of USU Eastern's annual Casino Night on Nov. 5, in the Student Activity Center building.
Students were dressed to the occasion with fancy clothes and hairstyles. Upon entrance, coins were given to each student. These coins could be exchanged for tickets for a prize drawing at the end of the event. To win tickets, games were played.
The games included blackjack, craps, roulette, and Texas hold 'em. The tables with these games were specially placed around the room in the SAC building with people crowding around cheering on friends and players. To add to the ambiance, a table near the stage contained pretzels and ginger ale. Individuals walked around providing refreshments for the players. On either side of the stage, music fitting the time frame filtered through the speakers.
At the end, once the fun was complete, it was time for the drawing. The prizes were an Xbox one, TV, headphones, a videogame, PS4, Razor scooter, phone case, Longboard, movies, straightener, sleeping bag, vacuum, and a nail kit. Each winner celebrated in his/her own way to retrieve their prize. Applause rose for each and shouts of support reverberated off the walls. Laughter seemed to linger, as well.
Casino Night provides students who love to play the games, but don't enjoy the atmosphere of a real casino, get their fix of pleasure on the games they enjoy playing. Casino Night also brings students from across campus together. Unity is important to success and Casino Night brought this along with other activities that campus provides.