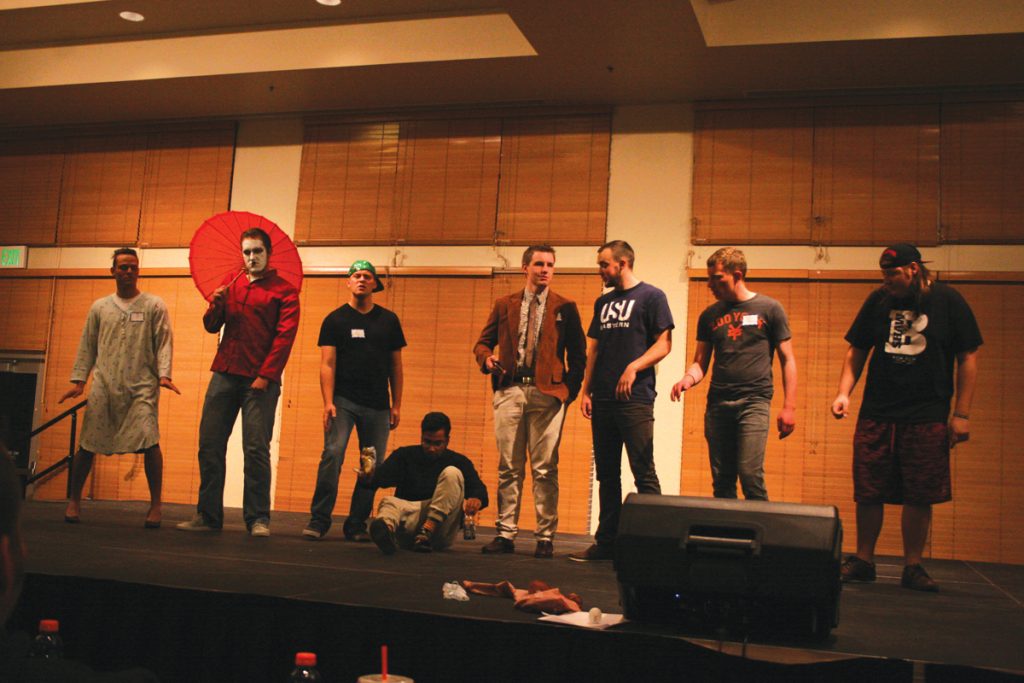 This archived article was written by: Stacy Graven
A sophomore from Mona, Utah, Cameron West was crowned Mr. USU Eastern 2015 in the annual spoof pageant. Campus men competed in events including a thrift-store outfit, talent, Disney karaoke, dance off and twerking contest.
First runner up was Dallen Garvin, Price, while Mark Dickey, Price, was named second runner up. All three winners were ambassadors for Eastern.
"I really was excited to be a part of the Mr. USU Eastern Pageant," West said. "I have always loved doing man pageants because they are supposed to be fun. I love performing and getting up in front of people and Mr. USUE was an opportunity for me to showcase some of my funny talents.
"I love being able to make others laugh. Coming up with a talent was hard because I wanted to do something different, and yet funny at the same time.
"I was not exactly set on winning because I really just wanted to have fun doing it. Winning was an added bonus because I was really just wanting to have fun. I really am so proud that we had such a great turnout of people watching and participating in Mr. USUE.
"I love participating in all of EUSA's activities because they really put such hard work into making fun activities. If I could say anything to the
students at USU Eastern it would be to come to the activities that EUSA puts on because the more the merrier. They are fun when people come and that's why I loved doing Mr. USUE so much was because so many people came and supported."
West thanks everyone who came to support and especially Abby McBride and EUSA for sponsoring such a fun event.