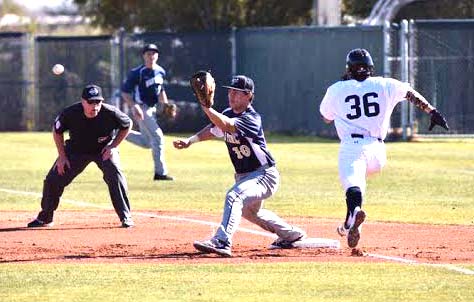 This archived article was written by: Cory McKendrick
While snow was falling this past weekend in Price, Utah, the Utah State University Eastern baseball team was in 75 degree weather in Tucson, AZ. Being able to practice and play outside again after months of being confined to the gym had its disadvantages for the Eagles as they dropped four games against Pima Community College on Jan. 29-30. "It was great being outside and on a field again. We had to make adjustments to get back into the swing of things but that wasn't all that was challenging this past weekend. We didn't play to our potential, and made mistakes that we will address in the coming weeks of practice before we play again," said sophomore Reggie Gates.
In the first game of the season for the Eagles, PCC played well, amounting 11 hits and scoring 13 runs. The Eagles offense was held scoreless in the game. The Eagles offense improved as the series progressed. In game two of the series sophomores Will Bierlein and Cory McKendrick provided a spark on offense when they each hit home runs. The first home run of both of their college careers. Bierlein said on how hitting his first home run felt, "Honestly I don't think I can put it into words. It was just a great feeling from hearing the sound of the bat and our team's reaction. It is definitely something I'm not going to forget."
From the first game of the series the Eagles had to make adjustments in the batter's box to be successful. Without seeing a live 80-85 mph pitch in months, the second game of the series was a step in the right direction. "What helped me be successful hitting this past weekend was that I felt like I was seeing the ball well from the pitcher's hand and being able to apply adjustments Coach Madsen was giving me throughout the weekend" Beirlein said.
Bierlein paced the Eagles offensively throughout the weekend with four hits including the home run and 3 RBI's. McKendrick and freshman Nathan Hedberg had two hits a piece. Freshmen Mitch Kay and Dallas Jolley added extra base hits each tallying a double in the series.
Another thorn in the side of the Eagles in the weekend of games was pitching. PCC capitalized on mistakes thrown by the Eastern pitching staff. PCC had several games in the series where they tallied double digits in the hits category.
Sophomore pitcher Bennett Bradford said, "Getting back into the rhythm and pace of a game was better than throwing in the gym without an actual hitter in front of you, but we can improve in getting ahead early in counts against hitters for next week."
Walking batters plagued the Eagles as well over the weekend. Sophomore pitcher Jason Maughn said, "Looking back to last year we started off very similar, but we ended up doing very well once conference games started. In two weeks we head back down to AZ., and I think now we have all of the jitters out of us. As a pitching staff we need to focus on throwing more strikes. We allowed too many runs to score because of walks and fixing this starts in practice."
The team will go back to AZ., on Feb. 11-14. They are scheduled to play Eastern Arizona College and Central Arizona College.