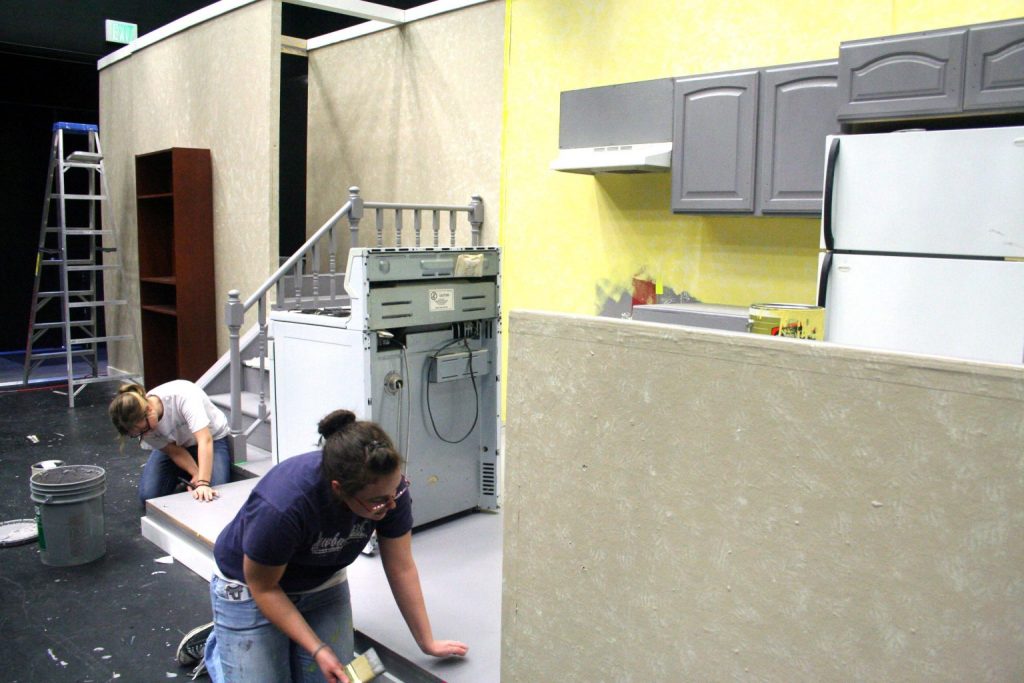 With at least 100-set designs under his belt, Brent Innes, USU Eastern associate professor of theatre, is finishing his design/build for "Rabbit Hole," set to run Feb. 18-20 and 25-27 in the Peterson Black Box Theatre.
Written by David Lindsay-Abaire, "Rabbit Hole" won the 2007 Pulitzer Prize for Drama and nominated for several Tony Awards. It premiered on Broadway in 2006.
"This is not a happy show. It's a drama about the ways family members survive a major loss," Innes said.
Five characters make up the cast including Becca and Howie, 30-something parents of Danny who was killed at age 4; Izzy is Becca's irresponsible, but well-wishing sister and Nat, Izzy and Becca's mother. Jason Willete is the 17-year-old boy who accidently hit Danny with his car.
"The play deals with having to go on after losing a child; what you have to do to get through it. The family finds some humor in the situation and events," Innes said. "It's a great script."
The entire play takes place inside Becca's and Howie's house. "The play uses the entire house and backyard, but because of space limitations, we built a kitchen and front room on our stage," Innes said.
"We use creative exits and entrances to depict other rooms in the house," he said.
The kitchen has appliances and cabinets and countertops, while the front room has all the furniture and technology used when the play was written. Sears provided a stove and refrigerator to use on set. "The appliances were going to be scrapped so they told us if we picked them up, we could have them at no cost," Innes said.
The set for this play costs between $1,500 to $2,500 with a lot of the basic structure reused from prior plays. Royalties for each night run $130 with the furniture purchased from second-hand stores for $200.
Innes begins designing each set after reading the script and imagining how the set will look in either the Geary or Black Box Theatre. Since the Geary Theatre is being renovated, all productions will be in the Black Box Theatre until 2017.
"I usually have to pair the set down to fit the theatre stage. I look at the director's blocking to best show how to tell the story best," he said. "I ask myself how the script and design best works for me. I also have to ask myself what my staff of mostly inexperienced students are capable of producing in the allotted time frame. I design to the skill set I have available. "
Designing a set for theatre in the round can be complicated because at some point someone in the audience will be blocked. He said, "I design the most audience-friendly sets I can to make sure the show is enjoyed and can be seen by everyone."
Most of the set for "Rabbit Hole" has been built and students are painting the kitchen walls. We are two weeks out and my students build the sets in the day while the actors rehearse at night. "It gets pretty hectic at this point in the schedule as everyone is getting ready for opening night," he said.
"Rabbit Hole" begins at 7:30 p.m. with Eastern students $1 with ID, high school students, faculty and staff $5, senior citizen $7 and public $10. The play is directed by Corey Ewan, Ph.D., director of USU Eastern theatre.