Jason Chaffetz speaks to USU Eastern, community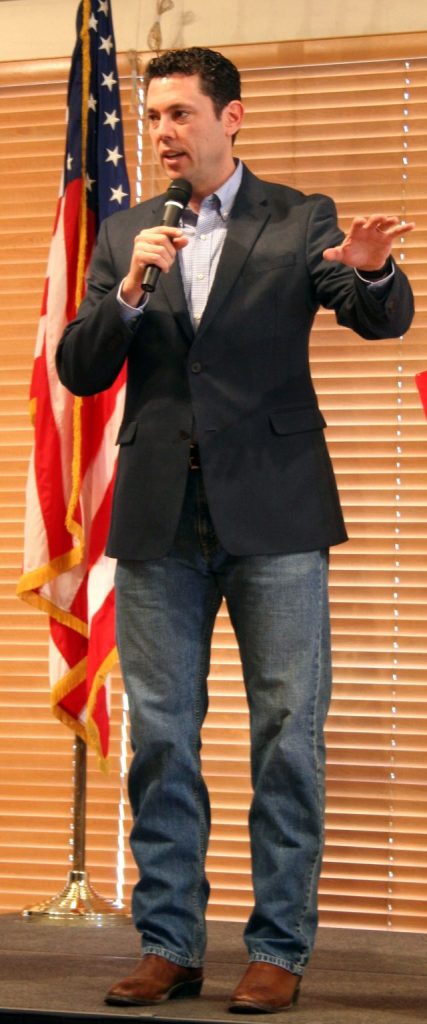 This archived article was written by: Travis Hill
The representative for Utah's 3rd Congressional district spoke on Feb. 16 in USU Eastern's multi-purpose room to an audience packed full of students, faculty, staff and the community.
Jason Chaffetz is chair of the House Oversight and Government Reform Committee and has been in Washington, DC nine years. He says that he has big ambitions as he is running for Speaker of the House. However he still finds time for the little guys.
Chaffetz opened the meeting by discussing issues he deemed most important not only for himself, but for Congress to undertake.
The issue Chaffetz voiced most passionately about was his concern over executive power. He believes there has been a shift in power and in recent years, the executive branch has become too strong. Chaffetz went over many examples to prove his point including the "Fast and Furious" plan developed by Obama, the Michigan led in water crisis and the EPA.
He said, "President Obama, is now taking a strategy particularly in his final 11 months that is very destructive to the nation. It does scare me what he [the president] is doing." Chaffetz was not shy in voicing his opinion about the president nor the EPA. "They [the EPA] are doing more harm than they are good."
The second portion of the gathering was Q&A which many subjects were covered. The audience had many questions including minimum wage, public lands, healthcare, pharmaceutical companies and transportation. The congressman had firm positions on each topic.
Chaffetz believes that minimum wage should be left up to the state, public lands should be left public for the citizens to enjoy and not have the federal government use to develop energy, healthcare should be reformed once again, drug companies should be regulated and transportation should be left up to the states to regulate.
Even when answering the audiences' questions, he would still make his way back to the subjects that he wanted to talk about.