Meet USU Eastern's new vice provost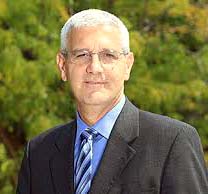 This archived article was written by: Donnie Corwin
After spending the past 20 years in administrative positions in higher education, and years before that teaching and managing departments, where do you go next? If you're Gary Straquadine, you bring your years of experience to USU Eastern.
Straquadine arrived at this position after obtaining a doctorate degree from Ohio State University, and spending decades amassing an impressive resume, most recently spending time as a department chair in Ohio State University's College of Food, Agriculture, and Environmental Sciences. Before that, he spent three years as the first Dean of USU's Tooele campus, a few years as vice provost of faculty and the associate dean for the College of Agriculture at USU.
Add in many years of teaching high school agriculture, and you have someone in Straquadine who is more than qualified to hold the position of vice provost at USUE and the surrounding campuses.
The title of vice provost may be one not everyone is familiar with, but it entails some essential duties on Straquadine's part. He oversees the technical programs on campus (automotive, diesel mechanics, cosmetology, business, welding, etc.), and acts as an "administrative front" for the departments found in the McDonald Career Center. His duties include managing these departments, and more prominently, to connect this campus to Logan within these departments and to USU campuses statewide.
Straquadine is also the associate chair of the School of Applied Technology and Education of USU's College of Agriculture and Applied Sciences, where he helps oversee programs such as tractor mechanics, agricultural systems and technology education. To sum up his positions and responsibilities, Straquadine said, "My main job is that I meet with people. One-on-one, or in small group, we meet to accomplish not just higher education management, but higher education leadership."
Straquadine says that there is a strict difference between management and leadership, and that he strives to promote leadership that asks "Where do we want to be five years from now?" rather than simply running through an agenda.
"My goal in this job is the death of status quo," Straquadine said about his aspirations for USUE. "We can't be doing the same things we were doing five years ago — we need to be innovative." Straquadine also wants to ease the transition of students from USUE to the main campus in Logan, something he outlines as a specific goal for this semester.
A self-proclaimed small-town guy, he is excited to be called to Price to focus on this new position. Admittedly a fan of "small towns and low lights" the former Dean of USU Tooele says he's just fine sitting in the rural backdrop of Carbon County, bringing with him his many years of experience, plans of leadership, and a "bloom where you're planted" attitude.