USU Eastern men's basketball: one hell of a season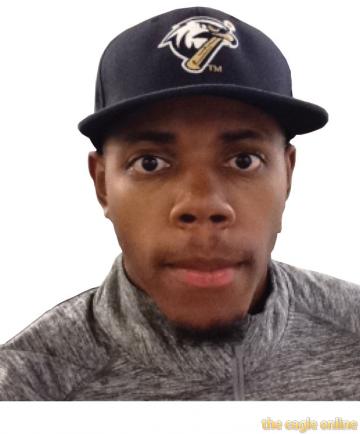 This archived article was written by: Edmond J. Sanders Jr.
The Utah State University Eastern fall semester sports started with volleyball and soccer who all had amazing seasons; however, anxiousness was felt throughout the campus and Price, Utah, USA, as the 2015 basketball campaign approached for take-off.
After a disappointing 11-win season the prior year, it was a concern, but great expectancy coming into the season with a new-looking squad of familiar faces. As pre-season training commenced for the 18-man roster of elite talent, adversity struck and distraught was evident.
As fall rolled in, the basketball program was hit with accusations of multiple sexual assault cases that transpired in the campus residence halls. As an effect to these denunciations, the entire program was suspended indefinitely.
Frustration amongst the team and coaches was apparent, categorizing of the players amid peers and public was felt. Adversity struck at the wrong time; however, the seriousness of these allegations could not be neglected.
As time went on and vexation grew, it seem to keep going downhill as players withdrew from school, quit the team, while others were suspended and dismissed from the program. Then a normality of the game happened in the midst of a defugality; injury.
The predications and anticipation of a season to remember seem to far-fetched, never to be witnessed, obliterated. The team managed to finish the first half of the season 12-6 with all the misfortune they were hit with; however, the hardship continued as more adversity occurred that left the program to start the second half of the campaign with an eight-man-active roster.
So far in the second half of the season, Eastern sits at 5-6 with an unfortunate loss to Salt Lake Community College on Fan Appreciation Night in OT, two-huge wins coming against Snow College in Ephraim and double OT victory against the College Southern Idaho at the Bunnell-Dmitrich Athletic Center.
With Eastern's point guard out with a concussion sustained against CSI two-days prior, Eastern took on the undefeated and nationally ranked #3 North Idaho College at home. The end result was a loss on the stats sheet; however, with all the hard times Eastern continues to encounter, they played one hell of a game.
As they approach Eastern's last home game, they head into knowing that they are a dangerous team when they bond together and eight guys or 18, no team in the nation can beat Eastern when they don't beat themselves.
As Feb. 20 approaches, this team prepares for a strong ending to the regular season while celebrating the sophomores who will be playing their last home game as Golden Eagles.
Shout out to Brandon Sly and Phil Winston who over the past games are averaging 40 minutes per game and Phil Winston who played 50 minutes against CSI and still had enough in the tank to hit the game-winning three. Solomon Rolls-Tyson who has also been clutch for the Eagles, Hamdi Karoui who went down with an ACL injury and sharp shooter-Austin Anderson as they celebrate their final home game, but the start of their basketball futures.
Also, huge shout out to the coaching staff, Head Coach Adjalma Becheli, Assistant Coaches Justin Brown and Scott Field, as they stayed optimistic and devoted to working with the team they have. Coaching these guys to the best of their abilities to make noise in the Scenic Western Athletic Conference and the nation that they have fallen, but continue to grow and they are a team to be reckoned with.
If you live in Price, Helper, Salt Lake City, St. George or anywhere in Utah, come to the BDAC on Feb. 20 starting at 3 p.m. to support both the women and men's basketball programs as they prepare for battle against Colorado Northwestern Community College and say farewell to the USUE Golden Eagle sophomores on their night.
This is the last regular season game, but the season is beginning as the Eagles prepare for first-round of regionals against Snow on Feb. 25, in Twin Falls, Idaho. They have overcome every adversity thrown their way, grew stronger as a team, continued to turn heads, always prepared to battle when many wrote them off and overlooked them. They used it to fuel their motivation and keep that pre-season prediction of a season to remember.
All that's left to say is they are USU Eastern, they are your Golden Eagles and they are here to re-introduce themselves, they are brothers and battle for each other. Go Eagles and good luck!