Old SAC finally comes down after 79 years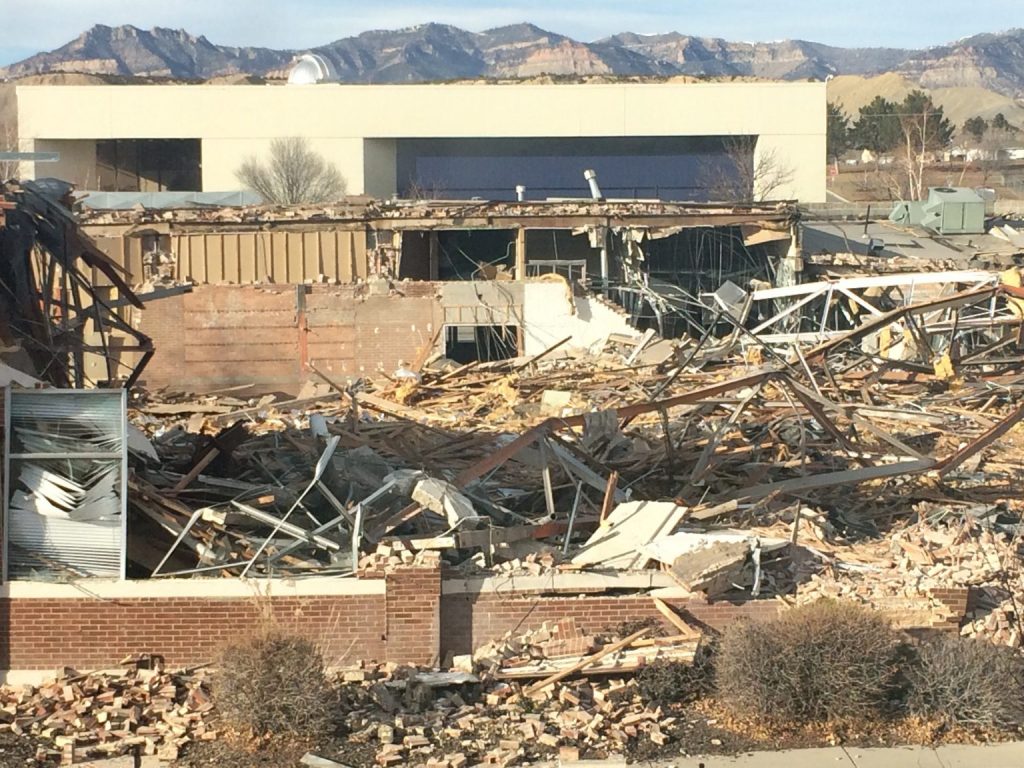 When the first pictures of the old SAC being demolished went up on social media Wednesday, Feb. 24, it lit up with hundreds of former student's comments and sad-face emojis of how they felt that the building was being demolished after 79 years.
Aimee Lauritsen, USU Eastern library, added the first photos and wrote, "It seems surreal to see the Old SAC on the USU Eastern-Price campus come down. I was in about the first grade when my mom started working on the campus in the library. By the time I was in the third grade, she had moved to the SAC to be the administrative assistant to the dean of student life. She worked in that building for nearly 20 years. Many of my days had visits to my mom in this building. Goodbye Old Sac, thanks for being the home to many memories!"
Former Eagle editor Mae Goss wrote, "Say what? The SAC building is gone? I may cry."
A member of the theatre department, Zachari Michael Reynolds, wrote, "wow, so many improv shows there."
Former communication's associate professor, Troy Hunt wrote, "I literally left flesh and blood in that building. (The radio station was often hungry.) That's the last of the buildings that existed when it was Carbon College. Now there is nothing left of the original place that was…"
Another Eagle editor Emily Williams Manley wrote, "Booooo! I hate it!"
Former Eagle photographer and editor, Scott Frederick wrote, "It makes me sad to see the building going away. This was a place I spent many hours with special people."
Another Eagle staffer, Kate Johnson, wrote, "This is super sad! Many a memories were spent in this building! My newspaper family began there and I received my graphic design education also in this building! And many a laughs were had in the little theater during awesome improv shows with only the best! Lots of laughs and memories! I'll miss it!"
Kimball Johnson, former faculty, wrote, "What about the historical site status?"
Another editor from the late '90s and early 2000, Les Bowen, wrote, "Many, many good times there. I'll certainly miss that ol' drafty pile of bricks."
Former student body president from the '80s, Mackae Potter, wrote, "Spun a lot of vinyl in the SAC ballroom with David Spencer. I was always surprised that Dave didn't burn the place down because he wouldn't measure the powder for the synchronized pyro tech!"
With tears on their cheeks, several faculty who worked in the building watched the demolition. They all agreed how sad to see it come down.
Watch the final two minutes of the building being torn down: