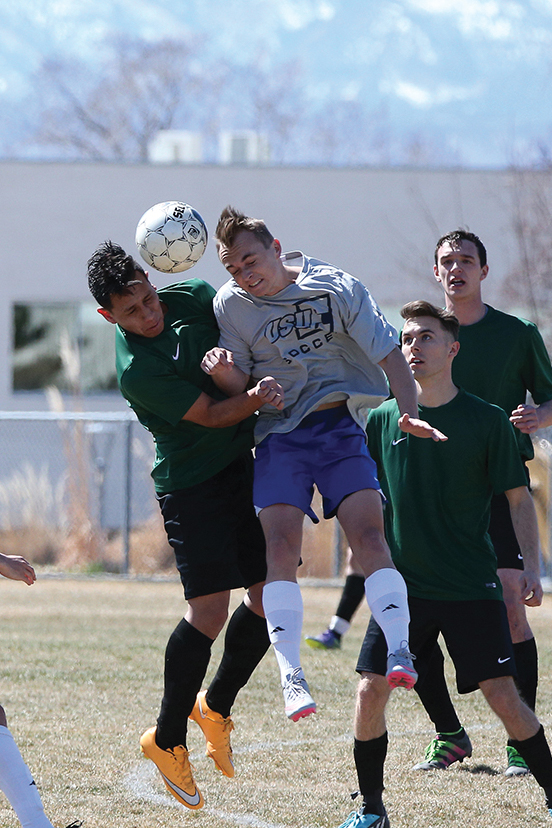 This archived article was written by: Austin Fietkau
Optimism and excitement fill the hearts of players and coaches alike for this year's USU Eastern's mens soccer team. With 18 new players, nine reigning from foreign countries including Italy, France, Germany, England, Brazil, Mexico, Columbia plus Trinidad and Tobago, the expectations for success are higher than ever, according third-year-head-coach Ammon Bennet. 
With so many different playing styles and personalities coming in, team-captains admitted they were "a little worried" for how well everyone would blend together. After the first week, one of four-team captains, Chandler Fietkau said they had already formed a "brotherhood," and that this season is "going to be one [he would] never forget."
The team is implementing changes to improve their chances at walking away as champions in their conference this year. One of the changes is their team motto: "Strive not to be a success, but rather to be of value" is written on the backs of each player's training shirts.
Assistant coach, Jared Woodhouse believes eliminating selfishness and "self-accomplishment" is key to them reaching the heights they wish to reach.
This mentality seems to be paying off as both Fietkau and Kenneth Marse, another team-captain, said that the players are "more united," "disciplined," and "ready to play as one" than they were last year.
The team instituted a salute, which the players on the field give to their teammates on the bench when they score. The gesture is given as a "thank you" to the players on the bench for all to remember that the successes on the field would not be possible without the effort of all players giving their all, whether first string or third. 
Along with mental game plan changes for this season, there are some gameplay tactics the team hopes to achieve. One of the biggest changes that the team hopes to improve upon from last year, Fietkau said, "[is doing] a lot more possession, rather than chipping the ball all the way across the field… Possession is the main key."
"We don't just want to always bang the ball forward," Coach Bennett said, "We want to get the ball forward, but [we need] to get it there in a more productive way."
A player to keep an eye on this season is Kiernan Blouin, from Germany. "He's been exactly what the coaches and team are looking for," Fietkau said, with not only his ability to defend skillfully, but also attack offensively. The freshman is starting left wing and scored in all but one game thus far.
Another player said to be key in this year's attack is Fabio Massaro, a freshman midfielder from Italy. Fietkau said he's excited to have Fabio because "[they] lost a couple key midfielders last year." However, with his "insane" offensive thought, they have no doubt Fabio will do great things for them this season.
With pre-season coming to an end, the team is charging into its regular season with intense momentum. From tying teams like Colorado's Northeastern Junior College and Utah Valley University's club team, to triumphing over Western Wyoming Community College 4-1, the Eagles are heading in to conference play with 0 losses.
Eastern is on the road this weekend playing in Las Vegas, Nev. They'll be playing College of Southern Nevada from Vegas on Thursday, then Allen Hancock College from Santa Maria, Calif. for a match on Friday. "Back to back games are always tough," said Bennett, but the team is excited and hopeful to come home with a couple wins after the long weekend.