USU Eastern volleyball bringing home wins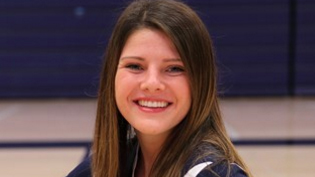 This archived article was written by: Kayla Newman
The womens volleyball team has been hard at work preparing for this upcoming season. After waking up for early morning lifting, and finishing their days with late night practice, they have been working for three- full weeks before school started, focusing on nothing but bettering their game.
They're hard work has paid off as they transition into preseason tournament play. With seven returners from last season, the team has the talent and experience needed to have a successful season.
Starting their season in Las Vegas, Nev., the games were hard fought, but the team came home with a 0-4 record for the first weekend.
Beginning with Lee College, the match went five games, each point crucial in determining the winner of the game. Lee took the first game, winning 25-23, USUE won the second, 25-21, Lee took the third, 25-23, USUE took fourth, 25-22, and in the final set, Lee won 15-13. The team never trialed more than two points behind Lee, so although they didn't get the win, the team was satisfied as to how the first match of preseason went.
The second match was against Laramie Country College. The team battled, but fell short and lost in three-short games.
On the second day of tournament play, the women's team lost to Yavapai 3-1 and to Arizona Western, 3-0. Kayla Newman, Emily Bender and McKenzie Mott were all key components of the two matches. Bender had a total of 16 kills, Mott 29 assists, and Newman 32 total digs between the two matches.
This past weekend, the team traveled to Prescott, Ari., to participate in the Yavapai Roughrider Invitational. With three days of practice between the two tournaments, the women practiced hard, finishing the weekend 3-1.
The first match against Eastern Arizona went five games, each one as close as the next, and the Eagles ended up falling short and losing the first match of the tournament. They didn't let the win get them down as the continued to beat the next three teams they faced, one of them being in the Scenic West Athletic Conference.
The Eagles beat Phoenix College, College of Southern Nevada and South Mountain Community College, all 3-1.
CSN is in the SWAC conference as well and beating them in preseason was huge for the team. "Beating CSN felt absolutely amazing, but I feel like it's jus the beginning of what we are capable of accomplishing this season," says sophomore middle blocker, Alison Kittell.
The team travels to Twin Falls, Idaho, and again to Las Vegas to wrap up preseason the next two weekend. They begin conference play on Sept. 24 against rival CNCC at home.