Art students tour Spiral Jetty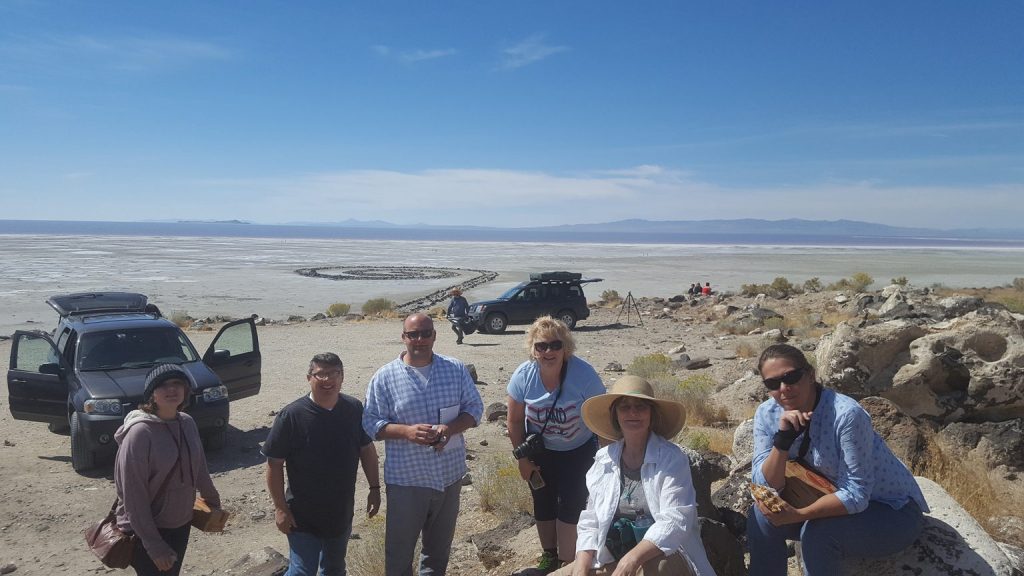 Students and faculty from USUE's Art Department participated in a field trip to Robert Smithson's Spiral Jetty on Sept. 17. The group joined other students from the Caine College of the Arts on this excursion to the renowned 'earthwork' on the north shore of the Great Salt Lake.
Located at Rozel Point peninsula on the north shore of the lake, Smithson's earthwork was created, with the assistance of a contracted team of heavy equipment operators, by moving over 6,000 tons of black basalt rock and earth to form into a coil shaped land form that juts out into the lake.
The spiral shaped jetty is 1,500 feet in length and 15 feet wide and winds counter clockwise from the shore into the water.
In 1999, through the generosity of artist Nancy Holt, Smithson's widow, and the Estate of Robert Smithson, the artwork was donated to the Dia Art Foundation which maintains signage and access to the site.
A bill was introduced earlier this year, in February, to declare the Spiral Jetty the official Utah State artwork.
Individuals who participated from USUE are: Noel Carmack, Chris Kanyusik, Lisa Waite, Pam Rodriquez, Linda Patterson, and Jazlyn Maxwell.
Approximately 60 students from USU and USU Eastern, comprised of art, music, and theater students, arrived in three busses. Art Department chair Laura Gelfand was the hosting advisor. Art history professor Marissa Vigneault gave a talk on Smithson's conception of the Jetty and its construction on the site. Students enjoyed a box lunch provided by the Caine College of the Arts.
Much of the time was spent walking on the basalt rocks that make up the Jetty and exploring the desolate lake shoreline.