Richard Worsham's intriguing path to become an Eagle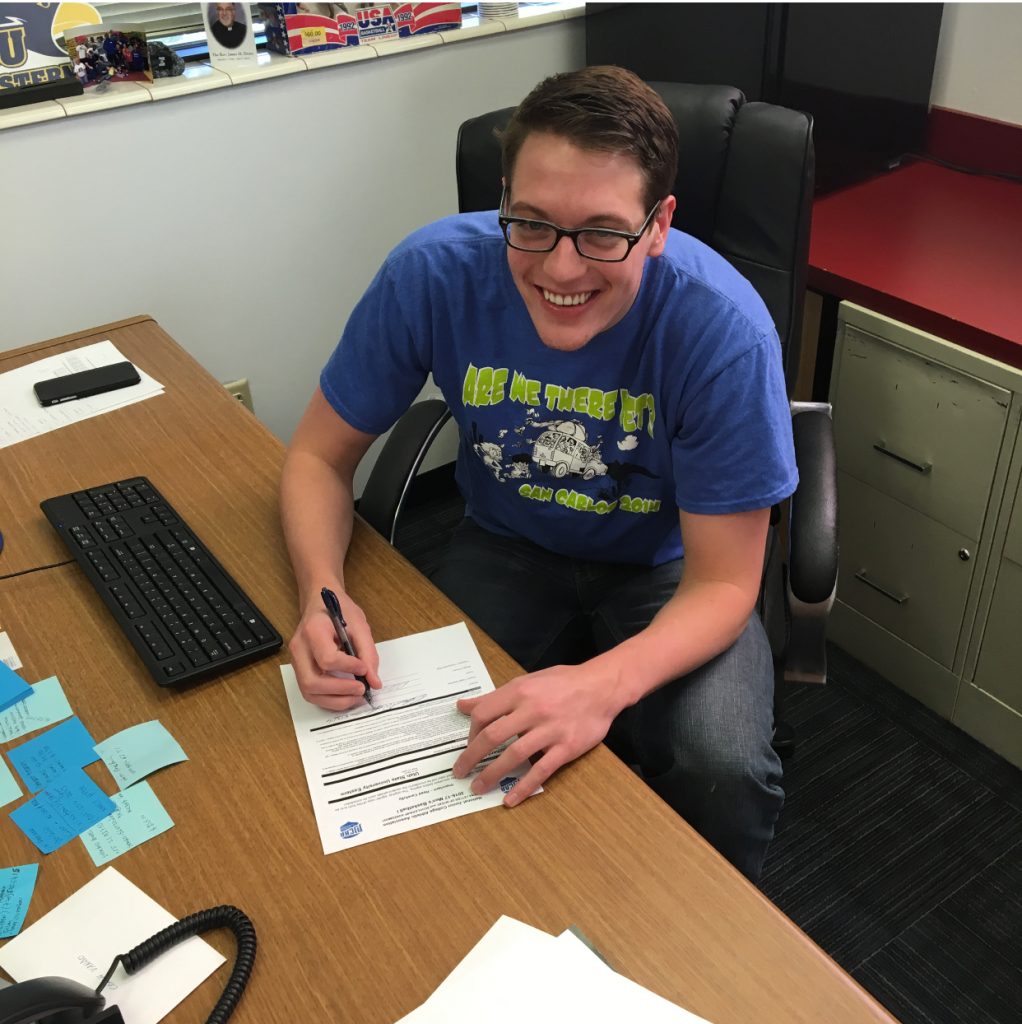 This archived article was written by: Alex Morell
Richard Worsham's Journey to Utah State Eastern isn't a familiar journey for most but one that he is most proud of. The 6'8" Forward/Center from Riverton, Utah and is a Freshman on this year's Men's Basketball team.
After Worsham graduated from High school he had no plans of playing basketball at the college level. He planned to serve a mission for the church of Jesus Christ of Latter-day Saints and then to return home to focused solely on his education.
After completing a two-year mission in Paraguay, he returned home to his family Shortly after he started attending school online through Brigham Young University-Idaho in Rexburg, Idaho to do his under graduate studies. While he completed his online studies, he worked a full time job. While doing his online classes, he felt like it just never quite felt right and that he needed to figure something else out.
He decided that for him personally that it would be best for him to attend Utah Valley University and commute from home. Attending Utah Valley for only a week, he received a call from Coach Scott Fields asking him about his thoughts of coming to USU Eastern to be a member of the men's basketball team here. Worsham respectfully told Coach Fields that he was grateful to be able to receive this opportunity and that he would get back to him after thinking it through and discussing with his parents.
Worsham knew that he always wanted to play college ball and felt he had unfinished business when it came to the game of basketball. After thinking about it for a couple of days and discussing it with his parents, he came to the decision that he would come down to Price spring semester, 2016.
With the eligibility rules of the NJCAA, he would not be allowed to dress and play for the Eagles however. He would only be allowed to attend school spring semester and be on the practice squad for the team, since he had not attended school at USU Eastern in the fall.
Although it was tough at times not having a game to look forward to. Worsham was a great addition to the team and helped bring the best out of the big men on the team and helped tremendously prepare them for opponents they were facing.
After completing a semester at USU Eastern, Worsham made the decision that he would return to play for the 2016-2017 Eagles. He is excited to be a part of a new brand and new era of the program with a new coach coming in and the excitement of a reloaded roster.
On his thoughts about the upcoming year, Worsham said, "I'm excited with the team in which Coach Fields and Coach Vando [Belcheli] have brought into this upcoming season, and look forward to the possibilities we have as a team."
The Eagles are lucky to have Worsham as he is a highly talented big man. He's a great inside scorer and defends the post well. He's also a unselfish player and makes sure to always put the team first in all situations.
He's also a very good student in the classroom and maintains a very high GPA; although he doesn't quite know what he wants to major in. With the student he is, he will succeed in anything that he decides to go into.
Worsham will be a great contributor to this year's team and all Eagle fans should be excited about him!